Read DaBaby's Full Apology After Being Pulled From 3 Festivals Due to Homophobic Comments
Rapper DaBaby issued an apology on Monday for making homophobic comments that sparked a wide-ranging backlash and resulted in his being dropped from at least three music festivals.
Writing on Instagram Monday, the rapper apologized "for hurtful and triggering comments" after he made crude remarks toward members of the LGBTQ community and people with HIV and AIDS during a Miami performance last week.
"Social media moves so fast that people want to demolish you before you even have the opportunity to grow, educate, and learn from your mistakes. As a man who has had to make his own way from very difficult circumstances, having people I know publicly working against me—knowing that what I needed was education on these topics and guidance—has been challenging," DaBaby wrote.
"I appreciate the many people who came to me with kindness, who reached out to me privately to offer wisdom, education, and resources. That's what I needed and it was received," he continued.
"I want to apologize to the LGBTQ+ community for the hurtful and triggering comments I made. Again, I apologize for my misinformed comments about HIV/AIDS and I know education is important. Love to all. God bless," he concluded.
The statement comes after the rapper, whose given name is Jonathan Lyndale Kirk, made widely condemned comments during a performance at Miami's Rolling Loud music festival.
DaBaby told his audience to raise their cellphone flashlights in the air if they "didn't show up today with HIV/AIDS or any of them deadly sexually transmitted diseases that will make you die in two to three weeks." He also made other, more explicit comments that were seemingly aimed at members of the LGBTQ+ community.
"Ladies, if your p**** smell like water, put your cellphone lighter up. Fellas, if you ain't sucking d*** in the parking lot, put your cellphone lighter in the air. Keep it f****** real," he told the audience.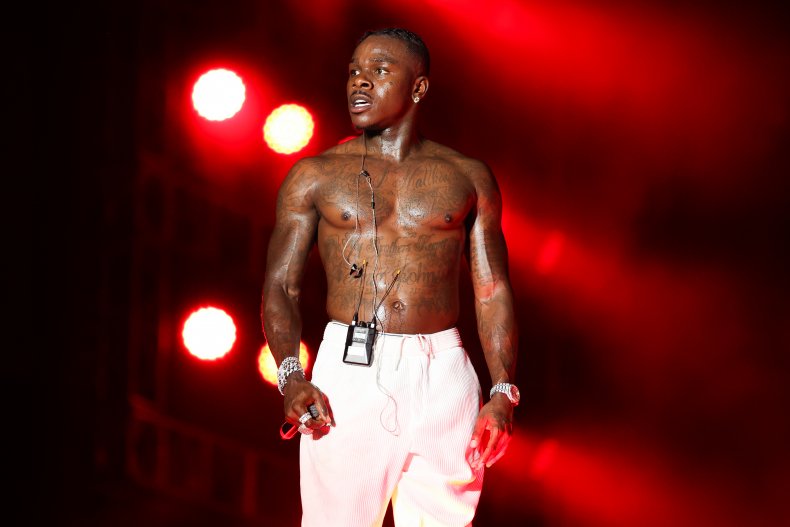 The rapper has since been dropped from the lineup at such music festivals as Lollapalooza, Governors Ball and Day N Vegas.
A new lineup without DaBaby was posted for the Governors Ball festival on Monday. Its promoters released a statement that said the event, held on Randall's Island in New York City, "does not and will not tolerate hate or discrimination of any kind."
Similarly, Lollapalooza said Sunday that the festival was "founded on diversity, inclusivity, respect, and love," before announcing that the rapper would no longer be performing that night. DaBaby also lost a deal with the clothing brand boohooMAN and has been condemned by several musicians, including Dua Lipa, Elton John and Madonna.
"I'm surprised and horrified at DaBaby's comments," said Lipa, whose 2020 "Levitating" remix featured a verse from the rap star. "I really don't recognize this as the person I worked with. I know my fans know where my heart lies and that I stand 100 percent with the LGBTQ community. We need to come together to fight the stigma and ignorance around HIV/AIDS."
On Tuesday, DaBaby apologized for his comments, saying on Twitter that anyone who was affected by AIDS or HIV had "the right to be upset." He later said that "y'all digested that wrong."