Miley Cyrus Roasts Joe Rogan Podcast Over 'Drag Race' Jibe
Miley Cyrus doesn't like it when you criticize her friends—as Joe Rogan found out the hard way this week.
The singer joined Rogan for a long-ranging interview on The Joe Rogan Experience podcast this week, where the two discussed everything from Cyrus' sing voice, relationships, diets, and taste in television, namely, RuPaul's Drag Race.
The "Midnight Sky" singer is famously a huge fan of the RuPaul Charles fronted drag competition, having featured many well-known contestants in her performances. She also professes to be friends with all the queens who have taken part in the series. "I know every single one of them," she told Rogan.
So when Rogan criticized a 'lip-synch for your life' dance number on RuPaul's Drag Race, it did not go down well with Cryus who sharply pulled the host on his own show's format.
As the two watched some clips from the show, namely of Kennedy Davenport performing an impressive death drop, Rogan attempted to diminish the dance moves and athleticism of drag.
"They all do the same move," Rogan complained. "They drop down and do the splits."
Without missing a beat, Cyrus casually replied: "That's what I think when I'm watching your show too—all the same stuff."
The interaction has gained a lot of traction on Twitter, with many users loving Cyrus' witty comeback.
One tweet of the clip, with more than 33,000 likes, features the caption: "Joe Rogan was NOT ready for that."
Another person tweeted the clip and wrote: "We must protect her at all costs."
Former contestant, Derrick Barry appreciated the nod from Cyrus and tweeted: "The fact that @MileyCyrus may know who I am because of @RuPaulsDragRace is all I need to get me through the next episode of #DragRaceVegas #VegasRevue."
Elsewhere in the interview, the 27-year-old opened up about her divorce from Liam Hemsworth, saying it "f****** sucked."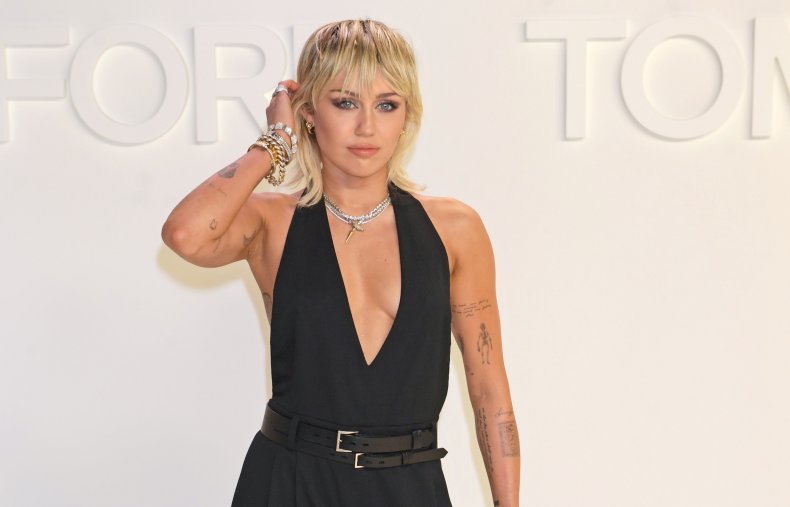 "What really sucked about it wasn't the fact that me and someone that I loved realized that we didn't love each other the way that we used to anymore," she said.
"I can accept that. I can't accept the villainizing and all those stories. It's just amazing to me that the public kind of thinks that there's no gap of time that they didn't see that could possibly be what led to this. 'One day you were happy on the carpet and the next day you were making out with your friend in Italy! What the f***?' Well, there was a lot of time between that that you didn't see...I didn't, you know."
The Joe Rogan Experience is now streaming on Spotify as part of the podcaster's exclusive deal with the streaming platform.
As episodes were uploaded on to the service this week, fans noticed that a number of installments featuring interviews with guests who could be considered controversial—such as Chris D'Elia and Alex Jones—were not included.