Military Drones and Surveillance Planes Remain An Option For U.S.-Mexico Border, Documents Show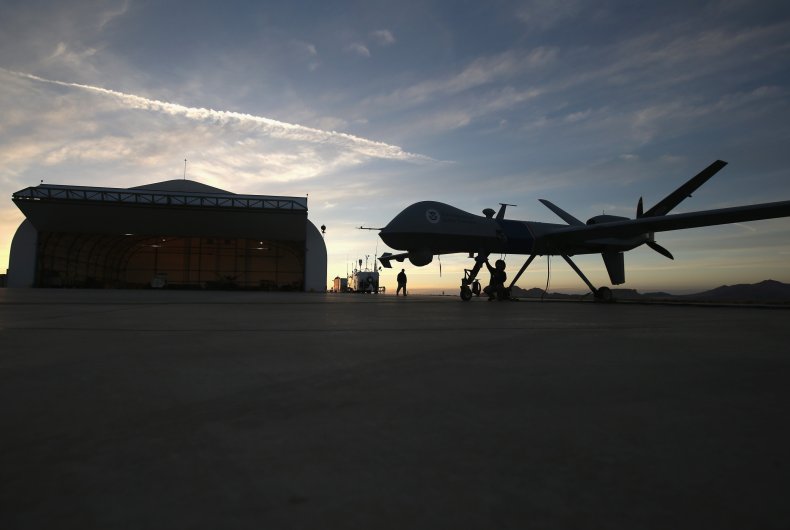 Pentagon officials are open to the idea of deploying reconnaissance planes and drones built for war to the U.S.-Mexico border, according to a new cache of documents obtained by Newsweek. But the support needed for such operations is "still in the staffing process."
Operation Guardian Support documents created by U.S. Northern Command in late July and as recent as last Monday show Defense Department planners still mulling over sending surveillance aircraft and unmanned aerial systems, known colloquially as drones, per the approved U.S. Customs and Border Protection request then-Acting Defense Secretary Patrick Shanahan signed off on back in May.
Military planners crafting the operational orders dated for July 26 show that U.S. Army North, which oversees the military support to U.S. Customs and Border Protection, was slated to receive airplanes designed for reconnaissance and intelligence gathering, along with U.S. military drones, according to the documents.
In another document created last week on August 12, military planners indicated they were going to delete the entry that would have sent drones and fixed-wing surveillance aircraft to the border.
However, another paragraph from the same document seems to suggest that sending U.S. military drones to the U.S.-Mexico border is not off the table.
The passage labeled, "3.C.12.B.1.," is scheduled to be changed but shows that the 1st Air Cavalry Brigade, a U.S. Army aviation unit out of Fort Hood, Texas and currently assigned to the border mission, was scheduled to receive helicopters and drones. Newsweek was unable to determine what changed in line 3.C.12.B.1.
"As for the aviation support request, at this time, there are six H-60s assigned to this request. There are no UAS [unmanned aerial systems] currently assigned to support this request. Department of Defense airborne detection and monitoring support is currently still in the staffing process," Defense Department spokesman Lieutenant Colonel Christian Mitchell told Newsweek last week on Thursday via email.
It's not clear why the airborne detection and monitoring support has not been staffed, given that the gap was identified earlier this year.
In June, Newsweek reported on exclusive documents obtained from the Departments of Defense and Homeland Security that showed Shanahan approved a request for additional assistance to U.S. Customs and Border Protection on the southwest border and directed the joint chiefs of staff to backfill a void in troops and aircraft at the U.S.-Mexico border.
The shortage of personnel and military hardware was created in February when Democratic state governors pulled their National Guard troops from the border in a sharp rebuke of President Donald Trump's rhetoric about undocumented migrants posing a national security risk to the United States.
Earlier this month, Newsweek reported on additional obtained documents pertaining to the personnel and aircraft shortfall. The slides created by U.S. Northern Command showed a cluster of potential drones that could be tasked to the U.S.-Mexico border. Among some of the drones the Defense Department identified the MQ-9 Reaper and the ScanEagle—aircraft that see continual use in both Afghanistan and Yemen.
Pentagon officials considered providing U.S. Customs and Border Protection with four MQ-1 Predator drones. The Border Patrol's aviation wing has operated a version of the MQ-9 Reaper, known as the Predator B, since at least fiscal year 2006.
The Pentagon told Newsweek in the same report it had decided to deploy 1000 troops and six UH-60 Blackhawk helicopters to the U.S.-Mexico border to backfill the void in personnel left by the National Guard troops in February.
"As of today, there are approximately 3,000 active duty service members supporting Customs and Border Protection along the Southwest border," Mitchell told Newsweek last Thursday via email. "This includes about 600 Marines and 2,400 Soldiers. Marines from 1st Battalion, 4th Marines are replacing the Marines from MWSG-37 who are currently assigned to the southwest border support mission."
"This transition is part of routine troop rotations in support of the Department of Homeland Security. For operational security reasons, we do not comment on specific dates or specific command relationships," added Mitchell.
The operational order dated for August 12 lists the units rotating down to the U.S.-Mexico border and what U.S. military installations are slated to support both U.S. troops and personnel from U.S. Customs and Border Protection through the end of the current fiscal year. The new units assumed responsibility for their assigned areas along the southwest border this past weekend on Sunday.
Pentagon sources, who asked not to be named, provided the pages to Newsweek because they felt Defense Department transparency about the U.S. military deployments to the southwest border had eroded, they said.
The documents are unclassified, but for official use only. U.S. Army North commander Lieutenant General Laura J. Richardson authenticated the operational orders dated for July 26 and August 12, according to the documents.
Newsweek redacted personal identifiable information of U.S. military personnel from the documents.
James LaPorta reports on national security and the Defense Department for Newsweek. He is a former U.S Marine infantryman and intelligence cell chief. You can follow him on Twitter at @JimLaPorta