DOD Medical Task Force Deployed as Texas Battles Rise in COVID-19 Cases
As coronavirus cases in Texas approach nearly 244,800, a medical team from the U.S. Department of Defense (DOD) will be deployed to the Houston area to provide additional hospital staff support following a recent surge in COVID-19 patients in the state, Texas Gov. Greg Abbott announced Friday.
The DOD's Urban Area Medical Task Force is scheduled to arrive in the region on Monday, while a DOD Urban Area Medical Task Force has already begun operating in Bexar County, whose county seat is San Antonio.
The latest deployment follows Abbott's ongoing efforts working with Vice President Mike Pence and members of the Trump Administration, "to ensure the medical needs of Texans will be met," the governor noted in a statement Friday.
The DOD task force joins seven other federal Disaster Medical Assistance Teams (DMAT) that have been announced to be deployed across the Texas cities of Dallas, Houston, Austin, San Antonio, McAllen, Laredo and El Paso.
DMAT members have already been sent to San Antonio and Houston, U.S. Secretary of Health and Human Services (HHS) Alex Azar confirmed Thursday.
Seventy-two DMAT members have been pre-positioned in San Antonio, Austin and McAllen. They will be relocated to the hospitals identified to be in need of support following an assessment process, a spokesperson for the HHS.
The DMAT members include doctors, physicians assistants, nurses, nurses aides, nurse practitioners, respiratory therapists and paramedics. Texas is also reportedly working with the Federal Emergency Management Agency (FEMA) to address hospital staff shortages, CBS Dallas Fort-Worth reported.
"Texas is grateful to the federal government as well as the President and Vice President for working swiftly to provide additional resources to the state as we work to mitigate COVID-19 and care for our fellow Texans," Abbot said in the statement Friday. "We will continue to work with our local and federal partners to ensure all resources and needs are met throughout the state."
On Friday, Abbot renewed the statewide disaster declaration previously issued back in March, authorizing "the use of all available resources of state government and of political subdivisions that are reasonably necessary to cope with this disaster," Abbott said.
Hospitalizations continue to climb in Texas, spiking to 10,002 on Friday, the highest level recorded since April 4, according to the latest report Friday from the Texas Department of State Health Services (DSHS).
The Houston area was reported to have the highest number of COVID-19 hospitalizations, with nearly 3,000 reported Friday. The Dallas Fort-Worth and San Antonio regions were reported to have nearly 1,900 and 1,500 hospitalizations, respectively. The Reynosa–McAllen area, near the state border with Mexico, reported nearly 1,300 hospitalizations, as of Friday, according to the Texas DSHS.
New infections in Texas have been increasing on a sharp incline from around mid-June. Several dramatic spikes were seen days following the Fourth of July weekend, including Thursday when a record of around 11,600 new cases was reported, the highest daily case count since the outbreak began, according to data compiled by Johns Hopkins University.
Last month Abbott announced a "temporary pause" on further reopenings in the state following the rise in new cases in recent weeks.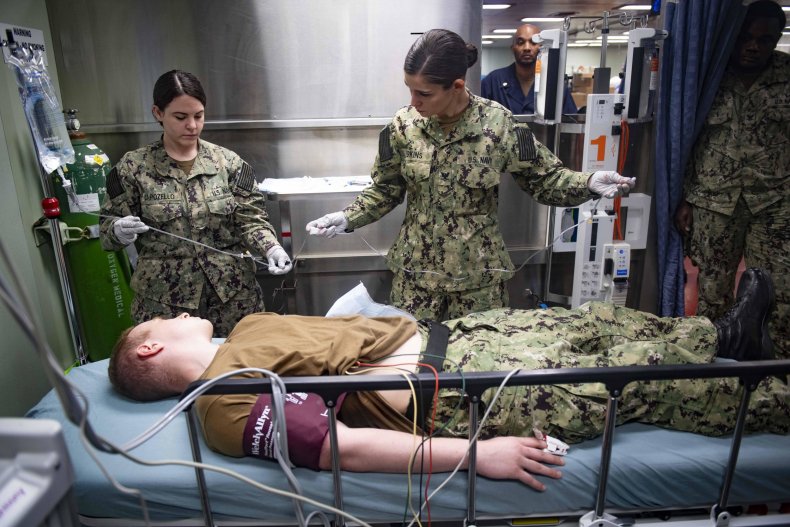 The novel coronavirus, first reported in Wuhan, China, has spread to more than 12.5 million people across the globe, including over 3.1 million in the U.S. Over 6.8 million globally have reportedly recovered from infection, while over 560,500 have died, as of Tuesday, according to the latest figures from Johns Hopkins University.
The graphic below, provided by Statista, illustrates the surge in COVID-19 cases in the U.S.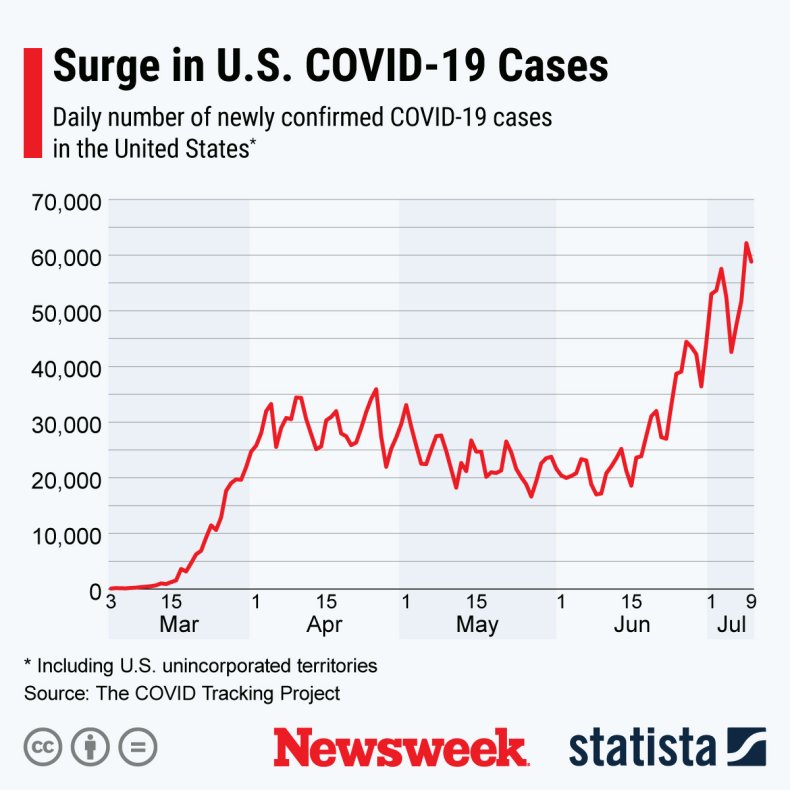 The graphic below, provided by Statista, illustrates the spread of COVID-19 across the U.S.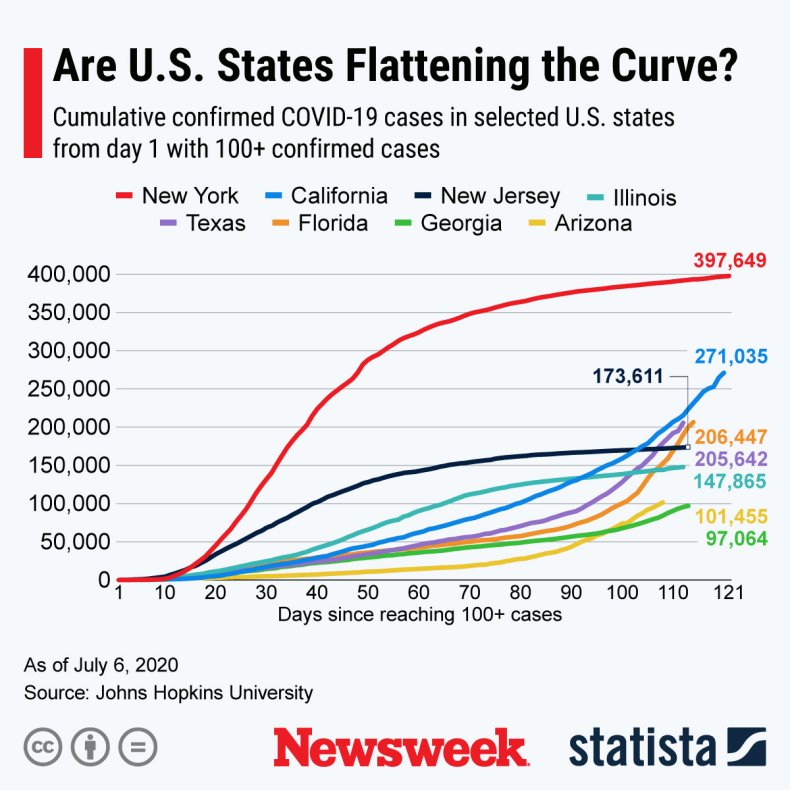 The graphic below, provided by Statista, illustrates the countries with the most COVID-19 cases.