Federal Disaster Medical Teams Deployed As Texas Coronavirus Cases Surge
As novel coronavirus cases in Texas approach nearly 236,600, seven federal Disaster Medical Assistance Teams (DMAT) are being deployed across Texas to provide additional medical staff and help hospitals cope with the surge in COVID-19 patients.
DMAT members have already been sent to a couple of Texas cities, U.S. Secretary of Health and Human Services (HHS) Alex Azar confirmed Thursday.
"We've already sent teams to San Antonio. We've sent medical disaster teams, doctors and nurses into Houston, and we're going to keep fulfilling governor Abbott's requests there to make sure the people of Texas are supported through this," Azar told Houston's ABC13.
Federal medical teams will also be deployed in the cities of Dallas, Austin, Laredo, Midland and McAllen. The teams include doctors, physicians assistants, nurses, nurses aides, nurse practitioners, respiratory therapists and paramedics, CBS Dallas Fort-Worth reported.
"These teams will work with local officials to determine the needs of hospitals within their jurisdictions, including the type and number of federal medical personnel needed and for how long," a spokesperson for the HHS said, CBS Dallas Fort-Worth reported.
There are 72 DMAT members pre-positioned in San Antonio, Austin and McAllen who will be relocated to the hospitals identified to be in need of support following an assessment process, the spokesperson confirmed.
"All of the deployed will support the medical care needs of COVID-19 patients. Federal support is designed to relieve the pressure on medical staff who work in emergency departments and intensive care units. NDMS [National Disaster Medical System] personnel typically deploy for up to 14 days," the spokesperson said.
The state is reportedly also working with the U.S. Department of Defense, Department of Veterans Affairs and the Federal Emergency Management Agency (FEMA) to address hospital staff shortages, CBS Dallas Fort-Worth reported.
Dallas Mayor Eric Johnson confirmed at least one hospital will receive federal medical staff in a post Thursday on his official Twitter account.
The federal team sent to Parkland Memorial Hospital in Dallas will work in a "variety of roles at the health system," a spokesperson for the hospital said, Dallas Morning News confirmed.
The DMAT members in Dallas are expected to work in two week stints to allow hospitals time to recruit more nurses, Dallas County Judge Clay Jenkins confirmed Thursday.
"The thing we need most right now is nursing," Jenkins told the Dallas Morning News.
Chief of the Texas Division of Emergency Management, Nim Kidd, confirmed Thursday the state has more than 11,300 general purpose hospital beds and nearly 1,000 intensive care unit (ICU) beds currently available, CBS Dallas Fort-Worth reported.
The latest projections predict that Parkland and other hospitals across Dallas County will need more beds by the end of the month, according to Jenkins.
The latest deployment of federal disaster teams follows requests for support from the federal government made by Abbott and Johnson, who was said to have made a request to Dr. Deborah Birx, a member of the White House COVID-19 Task Force, the Dallas Morning News reported.
Earlier this week, Abbott also confirmed the HHS will provide free virus testing in the city of Edinburg in southern Texas until July 14 "as part of the federal government's surge testing efforts in hot spots throughout the country," in a statement Tuesday.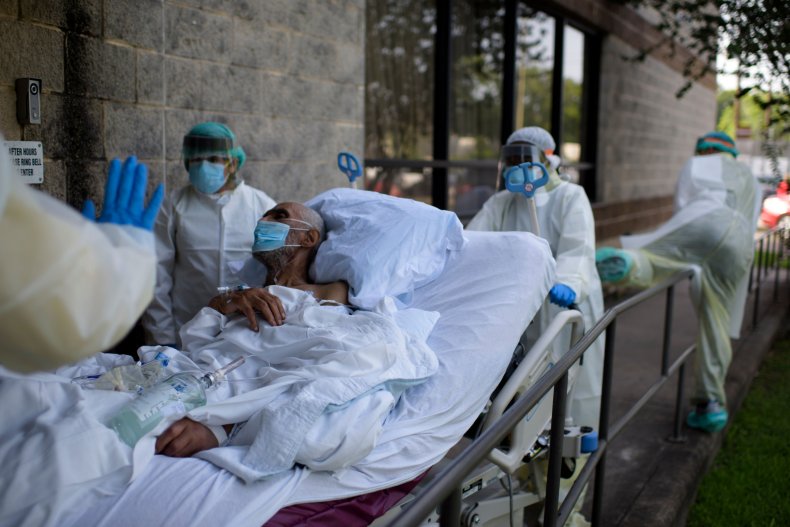 Hospitalizations in Texas continue to spike, with 9,869 hospitalizations reported Thursday, the highest level recorded in the state since April 4, according to the Texas Department of State Health Services (DSHS).
There are at least five regions in Texas with less than 10 ICU beds available, including in the Beaumont area, which is reported to have one remaining ICU bed, as of Thursday.
Other Texas regions reported to have less than 10 available ICU beds include Corpus Christi (three ICU beds), Lufkin (six), Waco (seven) and College Station (nine), according to the Texas DSHS.
Last week, hospitals in Houston, the county seat of Harris County, were reported to be moving patients to facilities outside the city due to the surge in cases and lack of beds.
Also last week, nearly two dozen COVID-19 patients in San Antonio were reported to be waiting in emergency rooms (ER) for beds to be available.
The novel coronavirus, first reported in Wuhan, China, has spread to more than 12.2 million people across the globe, including over 3.1 million in the U.S. Over 6.7 million globally have reportedly recovered from infection, while over 555,300 have died, as of Tuesday, according to the latest figures from Johns Hopkins University.
The graphic below, provided by Statista, illustrates the surge in COVID-19 cases in the U.S.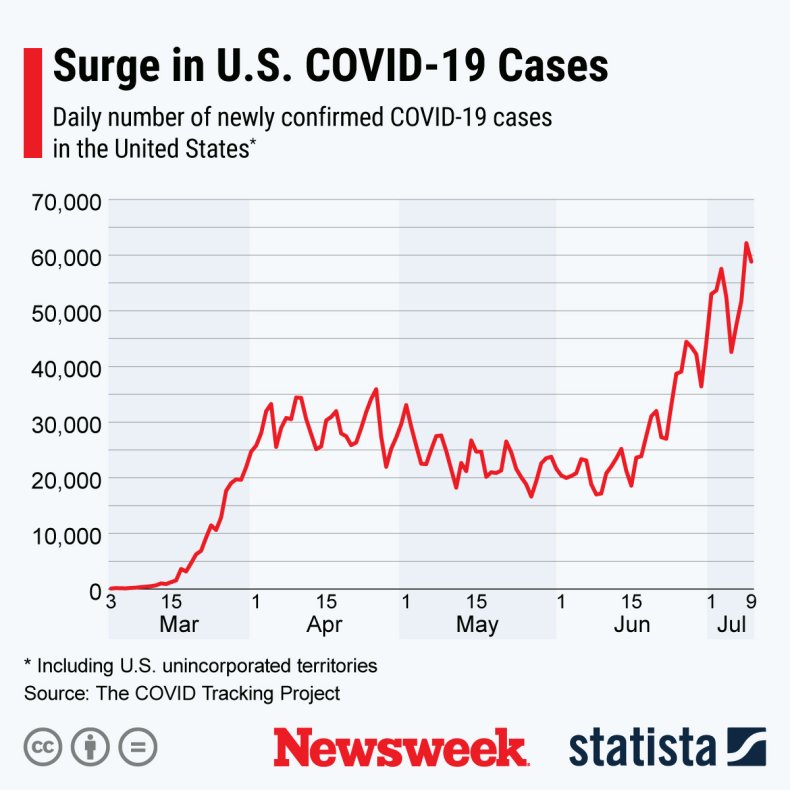 The graphic below, provided by Statista, illustrates the spread of COVID-19 across the U.S.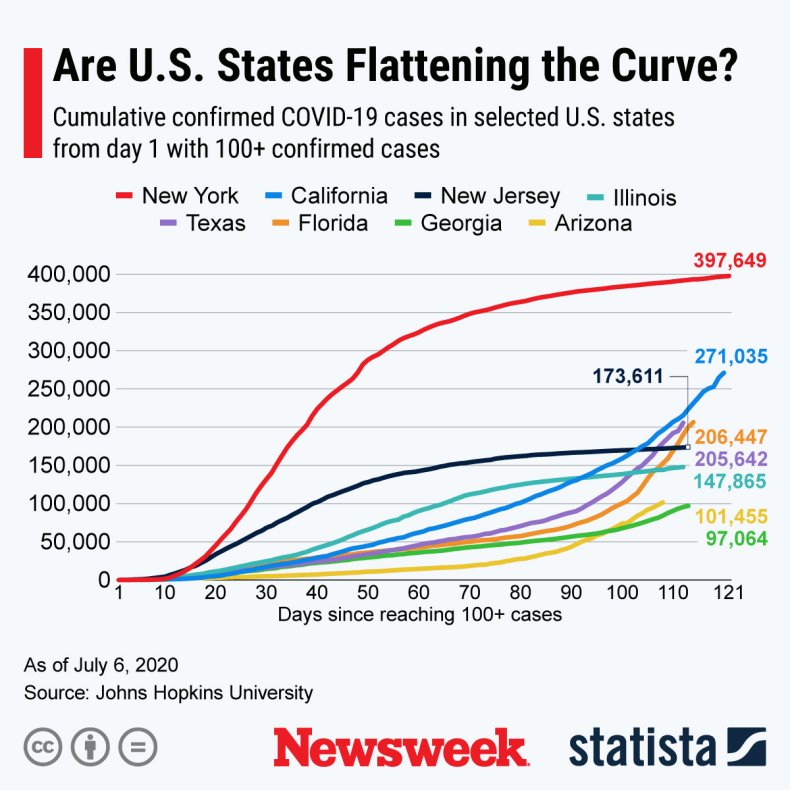 The graphic below, provided by Statista, illustrates the countries with the most COVID-19 cases.