Houston Moves COVID-19 Patients to Other Cities: 'We Don't Have Capacity'
With novel coronavirus cases in Texas approaching nearly 161,900, hospitals in Houston, the county seat of Harris County, are moving patients to facilities outside the city in a bid to cope with the surge in COVID-19-related cases and lack of beds.
Harris Health System, which operates Houston's Lyndon B. Johnson Hospital and Ben Taub Hospital, has transferred patients to the University of Texas Medical Branch in the cities of Galveston and Conroe as well as the Woodlands community in a scramble to find beds for patients, Houston's ABC13 reported.
Charlie McMurray-Horton, the associate administrator for clinical integration and transformation at Harris Health System, told ABC13: "We are actively trying to transfer out ICU [intensive care unit] and surge patients that are COVID positive and under investigation, just because we don't have the capacity to treat those patients.
"It really has intensified in the last month or so," McMurray-Horton said.
In the Houston area, currently there are 2,449​​​​​​​ hospital beds and 183 ICU beds available, with 2,059​​​​​​​ lab-confirmed COVID-19 patients reported to be hospitalized, according to the latest report Tuesday by the Texas Department of State Health Services (DSHS).
Transfer times of patients transported by ambulance were reported to be taking significantly longer than usual over the past three weeks. On over 560 occasions, firefighters were reported to be holding patients in the ambulance for more than an hour, more three times longer than the normal transfer time of around 20 minutes, according to Houston Fire Department Chief Sam Pena.
"Our firefighters are working extra hours, they're racking up the overtime," Pena told ABC 13. "They know there's not one easy shift," he said.
McMurray-Horton noted: "That same flow that's hitting us, is hitting all the other emergency centers in the [Texas] Medical Center."
Dr. Hashibul Hannan, who works at Houston's SignatureCare Emergency Center, told ABC13 on Saturday, there's been a massive spike in COVID-19 patients at nine stand-alone emergency rooms in the Houston area.
"We're having to send patients far away. Like from Houston, we have to send people to Galveston, to Beaumont, to Huntsville," Hannan told ABC13.
On Tuesday, Texas reported a record 6,975 new cases, the highest daily case count since the outbreak began, according to the latest report Tuesday from the Texas DSHS.
Harris County is home to the highest portion of the state's total confirmed cases, with 31,422 infections, 20,300 of which are in Houston, according to the latest report Tuesday by Harris County Public Health.
Hospitalizations in Texas began steadily increasing from around June 1, about a month after the state reopened at the start of May. On Tuesday, the state reported 6,533 hospitalizations, the highest number reported since April 4, according to the Texas DSHS.
Across the state, there are 13,711 hospital beds and 1,405 ICU beds available, according to the latest count Tuesday reported by the Texas DSHS.
On Monday, doctors in San Antonio reported hospital beds were running out, with nearly two dozen COVID-19 patients reportedly waiting in emergency rooms for beds to be available.
"We're in a crisis," Dr. Jair Melo, the director of critical care at San Antonio's Methodist Healthcare System, said at a press conference held by doctors from the health system, News Channel 4 San Antonio reported.
San Antonio Mayor Ron Nirenberg confirmed a facility has been set up at the Freeman Coliseum sports venue with 250 beds on the floor ready to admit non-COVID-19 patients, including those recovering from surgeries, should hospitals reach full capacity.
Dallas is also looking to open a temporary hospital at Kay Bailey Hutchison Convention Center in a bid to cope with the surge in COVID-19 patients.
The Texas Children's Hospital in Houston last week announced it is admitting adult patients to help create additional bed space for COVID-19 patients.
On Sunday, the Texas Medical Center, Houston's leading source of intensive care unit (ICU) data, was reported to have deleted all previously published reports of ICU data from its website, amid a statewide spike in hospitalizations related to the novel coronavirus.
On Thursday, Abbott announced a "temporary pause" on further reopenings, noting the outbreak has taken "a very swift and a very dangerous turn in Texas over just the past few weeks," at a press briefing.
"This temporary pause will help our state corral the spread until we can safely enter the next phase of opening our state for business," Abbott said in a statement Thursday.
Restrictions were reinstated, with bars and similar businesses who "receive more than 51 percent of their gross receipts from the sale of alcoholic beverages," closed from 12 p.m. local time on Friday, according to an executive order issued Friday.
From Monday, restaurants were allowed to operate dine-in services but with a 50 percent capacity limit for indoor occupancy.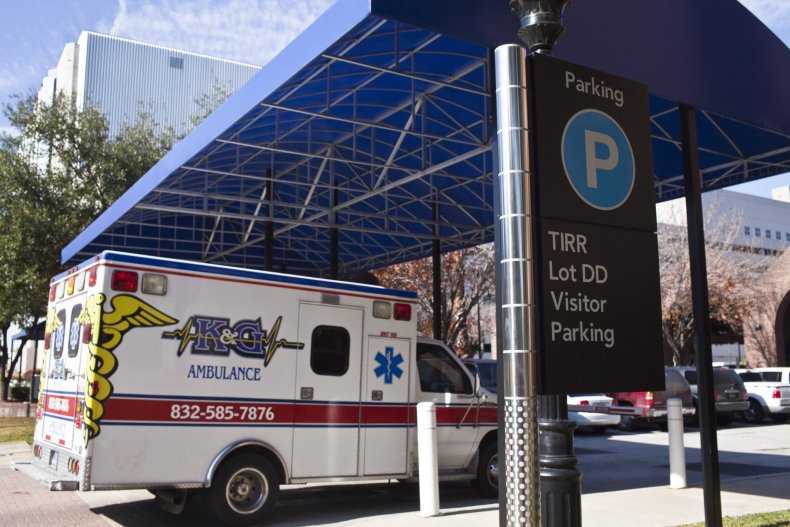 The novel coronavirus, which was first reported in Wuhan, China, has spread to more than 10.4 million people across the globe, including over 2.6 million in the U.S. Over 5.3 million globally have reportedly recovered from infection, while over 511,500 have died, as of Wednesday, according to the latest figures from Johns Hopkins University.
The graphics below, provided by Statista, illustrate the spread of COVID-19 in the U.S.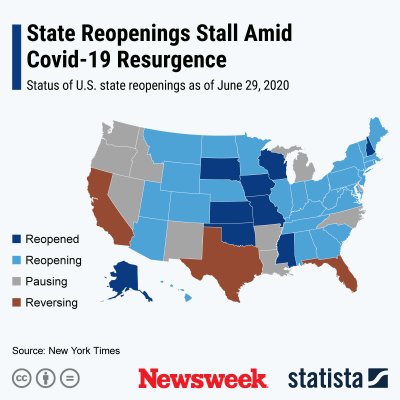 The graphic below, provided by Statista, illustrates the seven-day rolling average of new COVID-19 cases in the U.S. and European Union.