Houston's leading source of intensive care unit (ICU) data had seemingly removed all previously published reports from its website on Sunday morning, as Texas health officials continue to report a statewide spike in hospitalizations related to the novel coronavirus.
The Texas Medical Center (TMC), a cluster of hospitals and health care research institutions located in central Houston, previously released ongoing reports detailing ICU admission numbers throughout the pandemic. Its reports included information about patients admitted to Houston-area ICUs with novel virus infections as well as patients admitted for other illnesses. The data was collected from at least seven hospitals affiliated with the TMC's medical network.
The TMC also published data that showed ongoing changes to Houston's overall ICU capacity, which reached 100 percent late last week. On Wednesday, when 3 percent of the city's ICU beds remained available, the TMC's most recent report noted that nearly 900 additional beds could be added to local hospital units under the medical center's "sustainable surge" and "unsustainable surge plans."
The former plan would allow for an indefinite increase of 373 ICU beds across medical facilities, while the latter would temporarily introduce 504 beds for emergency purposes.
Newsweek reached out to the TMC for comments regarding the apparent removal of its ICU charts, but did not receive a reply in time for publication.
Alongside several other U.S. states, Texas has seen a substantial rise in new cases and hospitalizations related to the respiratory syndrome since the beginning of June, about one month after statewide businesses began to reopen in-person services. More than 57,000 new virus cases were diagnosed in Texas since June 13, bringing the state's total to at least 143,371 positive tests on Saturday afternoon.
Texas hospitalizations reached a new peak Saturday, with 5,523 virus patients admitted to medical facilities across the state. The latest figure surpassed record-high hospitalization numbers reported by the Texas Department of State Health Services (DSHS) throughout the second half of the month.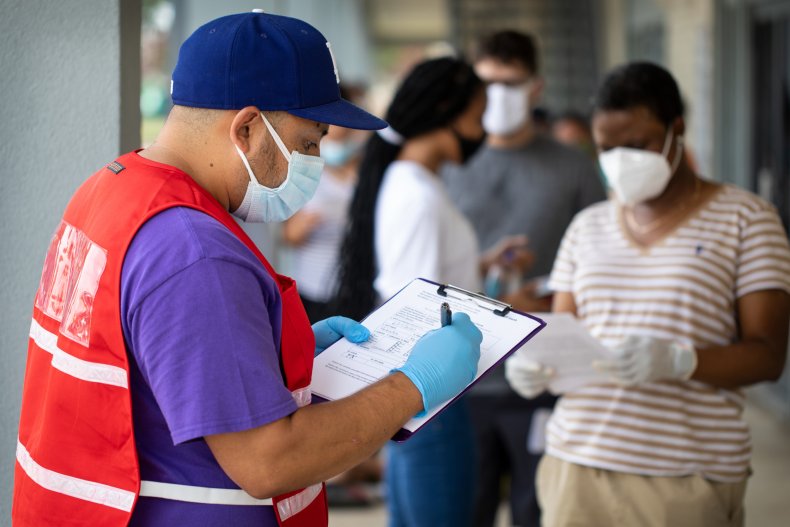 More than half of Texas patients currently hospitalized with symptoms of the novel virus were admitted during the last two weeks. According to the Texas DSHS, slightly more than 1,300 ICU beds were unoccupied throughout the state as of Saturday, as were close to 13,000 general-use hospital beds.
In response to the recent influx of cases and hospitalizations, Texas Governor Greg Abbott paused statewide reopening procedures on Thursday and re-implemented certain restrictions formerly applied to bars and restaurants. He also ordered hospitals in Bexar, Dallas, Harris and Travis counties—which have reported the highest concentrations of virus cases compared to other areas of the state—to suspend elective surgeries as means to "ensure hospital bed availability" for novel coronavirus patients.
Houston is located in Harris County.