Coronavirus Hospitalizations Peak in California and Texas as Cases Soar
Hospitalizations related to the novel coronavirus reached new highs in California and Texas on Saturday, as both states continue to diagnose more infections rapidly and in large quantities.
The California Department of Public Health (CDPH) reported 5,790 total hospitalizations, which accounted for both patients with lab-confirmed virus infections and suspected cases.
About 1,500 patients were admitted to intensive care units (ICU) throughout California with either lab-confirmed or suspected infections. Roughly 1,000 people were hospitalized with the virus just last week, and roughly 300 people were admitted to ICUs. Statewide hospitalizations have increased by more than 30 percent over the last 14 days.
At least 5,523 virus patients were admitted to medical centers throughout Texas on Saturday, according to the Texas Department of State Health Services (DSHS), furthering a sharp uptick in statewide hospitalizations reported throughout June. Texas DSHS data shows hospitalizations have increased by about 250 percent over the past two weeks, with more than 3,200 new patients admitted with virus symptoms. The health department noted that about 20 percent of Texas' hospital beds were still available for use on Saturday, as were about 1,300 intensive care unit beds and 5,700 ventilators.
California and Texas also reported significant increases in virus diagnoses on Saturday, with health officials in both states confirming upwards of 5,500 new cases. In California, the CDPH confirmed almost 6,000 new infections, while the Texas DSHS confirmed 5,747.
In California, Saturday's additional cases fell below the state's record daily increase in virus cases—more than 7,100 positive tests—confirmed on Wednesday. Though data published by the CDPH shows fewer new infections reported daily since then, the latest case count was higher than single-day increases reported on any day outside of Wednesday since the start of the pandemic. More than 206,433 people have tested positive for the virus in California as of Saturday. The state's total case count has increased by about 40 percent over the past 14 days.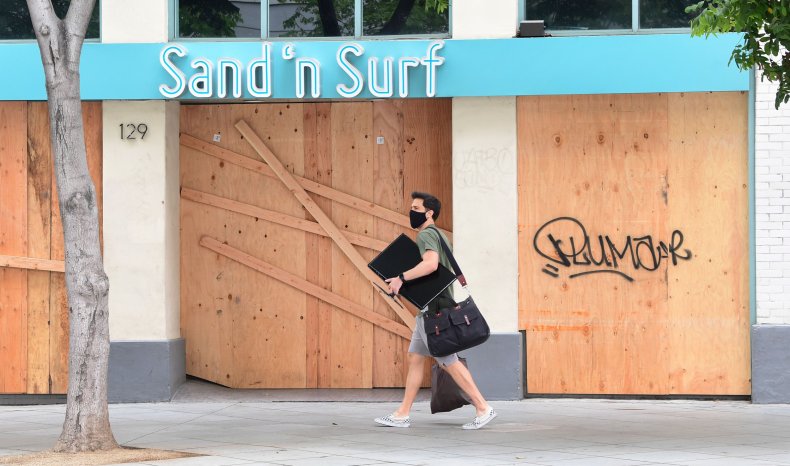 As in California, Texas' latest increase in virus cases fell slightly below its record daily high of 5,996 new diagnoses, reported by the DSHS on Thursday. Additional cases confirmed Saturday brought Texas' overall case count to 143,371, having increased more than 66 percent over the last 14 days.
Government leaders in California and Texas have recently implemented new policies to halt further virus transmission without reversing reopening procedures. On June 19, the CDPH released guidelines requiring California residents to wear face masks in most public spaces, particularly those that do not allow for adequate social distancing.
On Thursday, Texas Governor Greg Abbott responded to the state's highest single-day jump in cases with an announcement halting further reopening developments throughout the state. His order also required certain businesses already permitted to reopen, like restaurants, to scale back capacity limits to 50 percent.
Newsweek reached out to CDPH and the Texas DSHS for additional comments regarding both states' latest virus data, but did not receive replies in time for publication.