Texas Children's Hospital Admits Adult Patients As Coronavirus Cases Surge
As coronavirus cases in Texas approach nearly 118,000, including more than 23,000 in Harris County, a children's hospital in Houston (the county seat of Harris County) is now accepting adult patients to help provide additional beds for the state's surging number of COVID-19 patients.
The Texas Children's Hospital in Houston is "providing additional capacity through ICU [intensive care unit] and acute care beds across our hospital campuses to take on both pediatric and adult patients," a spokesperson for the hospital confirmed in a statement.
COVID-19 patients will be treated at an expanded special isolation unit at the hospital's west campus in the city of Katy, just outside Houston. Texas Children's Hospital will also be accepting non-COVID-19 adult patients to help hospitals free up bed space for COVID-19 patients, a spokesperson for the hospital confirmed.
The latest plan at Texas Children's Hospital was reportedly prepared in April to cope with a possible surge in patients, but wasn't needed at the time.
Other hospitals in the Greater Houston area are also prepared to activate their respective surge plans, which would see the expansion of available ICU beds to above normal maximum capacity levels.
Dr. David Persse, health authority for the Houston Health Department, said: "There is a limit to the number of hospital beds that we currently have and hospitals are seriously considering activating their surge plans."
The decision to activate the surge plan at Texas Children's Hospital came hours after Houston Mayor Sylvester Turner said at a press briefing: "We are moving very fast in the wrong direction," noting the city's surging case count, including a record single-day rise of 1,789 new infections on Monday.
"This is very real. This is a healthcare crisis. And quite frankly, your failure, for example, to wear masks and or to engage in social distancing directly impacts on somebody else," Turner said.
In Harris County, there was reported to be a 177 percent increase in positive/suspected COVID-19 patients in general/isolation beds since May 31, the Houston Health Department confirmed in a post Monday on its official Twitter account.
The department also noted a 64 percent increase in positive/suspected COVID-19 patients in ICU beds since May 31.
Noting the situation was "rapidly worsening", the department warned "WE MUST ACT NOW. Wear a mask, social distance & wash hands," in a post on Twitter.
On Monday, Texas reported 3,711 COVID-19 hospitalizations, the highest number recorded since early April. Monday's figure more than doubled the 1,778 hospitalizations reported May 1, when the state entered phase one of its reopening, according to the latest report Monday from the Texas Department of State Health Services (DSHS).
The total COVID-19 hospitalizations reported from June 16 to 22 (21,773) increased by around 30 percent from the 15,238 COVID-19 hospitalizations reported the previous week, according to the Texas DSHS.
The total number of new cases reported in the state this week doubled from the number reported the previous week. The state recorded 27,600 new infections from June 16 to 22, double the 13,800 reported from June 9 to 15, according to data compiled by Johns Hopkins University.
In a statement Monday, Texas Gov. Greg Abbott said: "COVID-19 is now spreading at an unacceptable rate in the state of Texas, and it must be corralled.
"We have several strategies to reduce the spread without shutting Texas back down, but it is up to all of us to do our part to protect ourselves and others," Abbot said, urging residents to follow all safety protocols including staying at home if they're unwell, social distancing and wearing face coverings.
"COVID-19 hasn't gone away, but neither has our ability to slow the spread of it...together, we will keep Texans safe and we will keep our state open for business," he added.
As of Sunday, the alcohol permits of 12 bars across Texas have been suspended for 30 days following an undercover investigation showing several were violating reopening restrictions.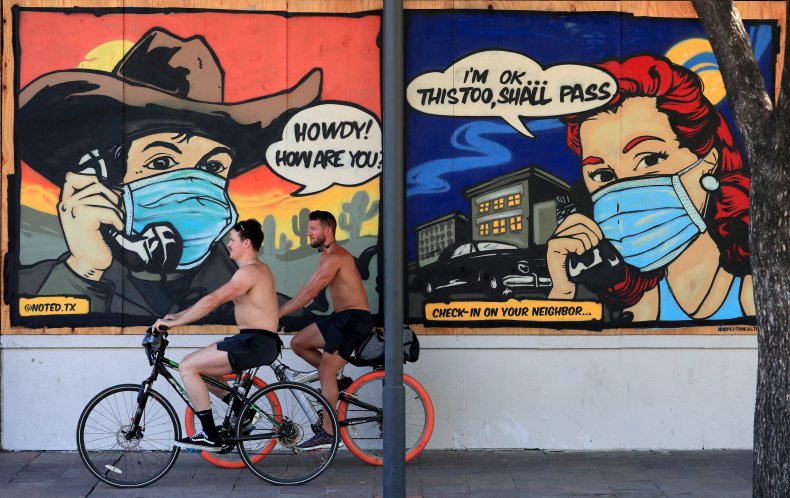 Last week, several reopened bars and restaurants in the Houston area were temporarily shut down after some employees tested positive for the virus.
Texas entered the third phase of its reopening on June 3, which allowed all businesses to operate at 50 percent capacity, with some exceptions, while most outdoor areas are not subject to capacity limits. Bars are allowed to resume at 50 percent capacity as long as customers are seated.
Restaurants were allowed to increase their capacity to 75 percent from June 12, while amusement parks and carnivals in counties with more than 1,000 cases were permitted to resume at 50 percent capacity from June 19.
The novel coronavirus, which was first reported in Wuhan, China, has spread to over 9.1 million people across the globe, including over 2.3 million in the U.S. More than 4.5 million globally have reportedly recovered from infection, while nearly 472,500 have died, as of Monday, according to the latest figures from Johns Hopkins University.
The graphics below, provided by Statista, illustrate the spread of COVID-19 in the U.S. and the worst-affected countries.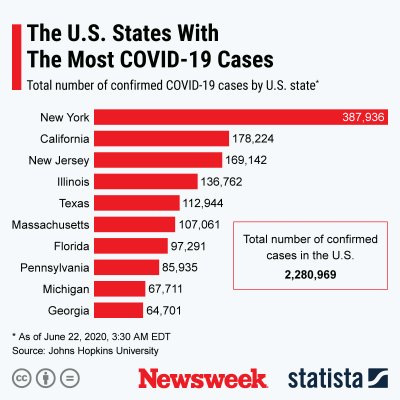 The graphic below, provided by Statista, illustrates the percentage of COVID-19-related hospitalizations, ICU admissions and deaths in the U.S.