Texas Restaurants and Bars Closing Again as Coronavirus Cases Spike
As cases of the coronavirus in Texas surpass 93,000, several reopened restaurants and bars in the Houston area have been closed after some employees tested positive for the virus.
On Tuesday, the state reported a record nearly 3,400 new cases, the highest daily case count since the outbreak began. Tuesday's case count is double the 1,700 new infections reported Monday.
The total number of new cases reported in the last week increased by nearly a third from the total reported the previous week. The state saw around 15,500 new infections from June 10 to 16, a nearly 30 percent jump from the 10,938 new infections reported from June 3 to 9, according to data compiled by Johns Hopkins University.
At least a dozen restaurants around the Houston area have announced temporary closures, CBS News reported, after reopening in May.

The Taste of Texas, a steak house in Houston, was closed after an employee tested positive. In a post Saturday on the Facebook page of the venue, the restaurant confirmed: "We have made the difficult decision to temporarily close Taste of Texas out of an abundance of caution due to a positive COVID-19 test by a team member.
"Once 100 percent testing of our Taste of Texas team is complete, we will reopen," the post added.
On Friday, Houston's Relish Restaurant & Bar also announced its temporary closure after one of its workers also tested positive.
The restaurant noted on its Facebook page: "Our restaurant will temporarily close as one of our employees tested positive for COVID-19. This individual was last in our restaurant on June 6th. We appreciate this employee's transparency and proactiveness so that we are able to take immediate action. In an abundance of caution, we are withholding service as we begin testing all of our employees."
The venue noted it will "sanitize and deep clean the entire restaurant and continue monitoring the symptoms of our team. When we are confident we can safely and responsibly reopen our doors, we will continue to follow all restaurant safety protocols," on its Facebook page.
Yaga's Cafe in Galveston also announced its temporary closure in a post Sunday on its Facebook page after an employee who presented a loss of taste tested positive. The entire venue, including, the kitchen, upstairs loft and outdoor patio furniture, has been sanitized, the company confirmed on Monday.
"Yaga's Cafe Guests - if you dined with us last week and you're concerned, we encourage everyone who is worried to go get tested. Due to confidentiality, we are restricted from providing medical information about individuals by name or otherwise, and unfortunately, we don't have all the answers at this point in time," the venue added in another post on its Facebook page.
The Buddy's Houston bar in the Montrose neighborhood of Houston also reported a handful of its employees and the owner tested positive for the virus and announced its temporary closure this past weekend.
The Blur Bar in Montrose, where several workers also tested positive, will be shuttered for two weeks.
On Tuesday, the Texas Alcoholic Beverage Commission (TABC) warned that all bars and restaurants "must follow the state's protocols to help ensure health and safety as Texas reopens or face license suspensions," in a statement.
"These requirements include indoor customer capacity limits of 50 percent for bars and 75 percent for restaurants, along with social distancing of at least six feet between groups of customers," the statement added.
The TABC will strictly monitor bar and restaurant activity and any "violations that are a threat to public health and safety," will result in up to a 30-day license suspension in the first instance and a 60-day suspension for the second offense, the TABC confirmed.
Texas Gov. Greg Abbott also noted the latest warning issued by the TABC at a news conference Tuesday.
Abbott said: "There have been pictures that I have seen and others have seen about these bar type settings where clearly the standards are not being followed.
"Enforcements from the TABC should bring these types of settings more and align to being safer standards," he added.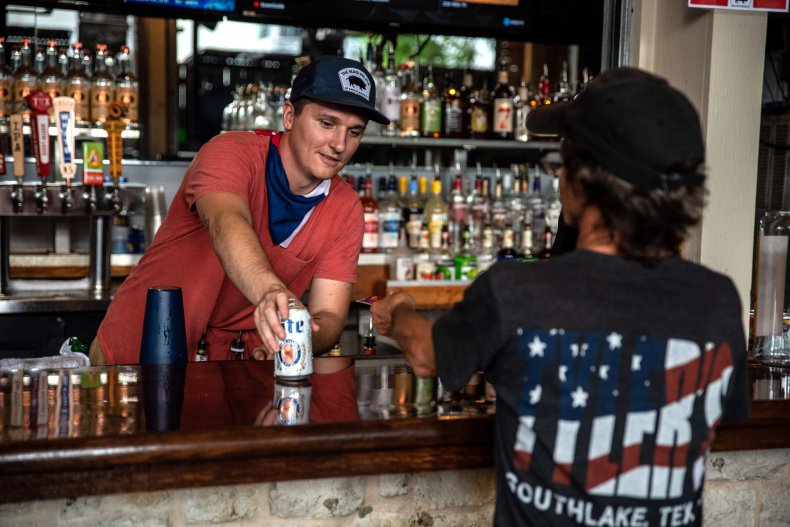 The percentage of positive virus tests in Texas has been on a mostly increasing trend since May 18, when the state began the second phase of its reopening, according to the latest figures from Johns Hopkins University.
Last week, a health official in Texas warned that parts of the state, including San Antonio, are seeing "a very large increase" in cases and "we are entering a second wave."
The novel coronavirus, which was first reported in Wuhan, China, has spread to more than 8.2 million people across the globe, including over 2.1 million in the U.S. More than 3.9 million globally have reportedly recovered from infection, while over 444,500 have died, as of Wednesday, according to the latest figures from Johns Hopkins University.
The graphics below, provided by Statista, illustrate the spread of COVID-19 in the U.S. and the worst-affected countries.