Texas Coronavirus Outbreak Takes 'Dangerous Turn,' 5,000 New Cases Each Day
Cases of the novel coronavirus in Texas have climbed to over 150,100, following nearly a week of over 5,000 new cases reported daily, according to the latest figures reported Monday by Johns Hopkins University.
Texas Gov. Greg Abbott on Sunday warned the outbreak has taken a "very swift and a very dangerous turn in Texas over just the past few weeks," at a press briefing.
From June 23 to 28, Texas has seen around 5,400 to nearly 6,000 new cases per day. On June 25, the state recorded 5,996 new cases, its highest daily case count since the outbreak began, according to data compiled by the Texas Department of State Health Services (DSHS).
Daily COVID-19 patient hospitalizations across the state also climbed past 5,000 for three consecutive days from June 26 to 28, including 5,523 reported on June 27, the highest level reported since April 4. The number of hospitalizations has increased daily from June 11 to 27, according to the Texas DSHS.
The daily case count in Texas has been on a mostly increasing trend from around June 8, just days after the state entered the second phase of reopening on June 3.
On Thursday, Abbott announced a "temporary pause" on further reopenings following the recent spike in new infections. Businesses that reopened under previous reopening phases were allowed to resume at limited capacity and under the standard health guidelines provided by the Texas DSHS.
"The last thing we want to do as a state is go backwards and close down businesses. This temporary pause will help our state corral the spread until we can safely enter the next phase of opening our state for business," Abbott said in a statement Thursday.
On Friday, Abbott issued an executive order reintroducing restrictions on bars, restaurants and outdoor gatherings. Bars and similar businesses who "receive more than 51 percent of their gross receipts from the sale of alcoholic beverages," were closed from 12 p.m. local time on Friday.
"These businesses may remain open for delivery and take-out, including for alcoholic beverages, as authorized by the Texas Alcoholic Beverage Commission," a statement from the governor's office confirmed.
From Monday, restaurants were allowed to operate dine-in services but with a 50 percent capacity limit for indoor occupancy.
Rafting and tubing businesses were also closed, while outdoor gatherings of 100 or more people require approval from local governments, with certain exceptions, the statement confirmed.
Abbott said in the statement: "As I said from the start, if the positivity [test] rate rose above 10 percent, the State of Texas would take further action to mitigate the spread of COVID-19.
"At this time, it is clear that the rise in cases is largely driven by certain types of activities, including Texans congregating in bars. The actions in this executive order are essential to our mission to swiftly contain this virus and enhance public health," he added.
On Sunday morning, the Texas Medical Center (TMC), Houston's leading source of intensive care unit (ICU) data, was reported to have deleted all previously published reports of ICU data from its website, amid a statewide spike in hospitalizations related to the novel coronavirus.
On Thursday, Abbott issued an executive order suspending elective surgeries at hospitals in the Texas counties of Bexar, Dallas, Harris, and Travis in a bid to ensure hospital bed availability for COVID-19 patients.
Dallas was also reported to be looking to open a temporary hospital at Kay Bailey Hutchison Convention Center in a bid to cope with the surge in COVID-19 patients.
The Texas Children's Hospital in Houston last week announced it would be accepting adult patients to help provide additional beds for COVID-19 patients.
Last week, the Trump administration announced measures to end federal funding for community-based testing sites in five states, including seven in Texas.
On Friday, Abbott confirmed the federal government has granted his request to resume operations at community-based testing sites across Texas.
"The federal government will maintain support for the program while surging resources to Dallas and Houston in order to support testing needs within the community," the governor's office said in a statement.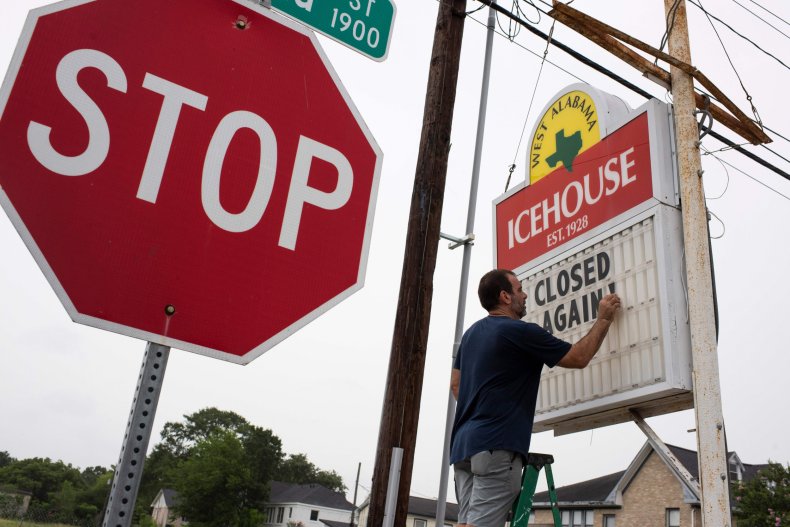 The novel coronavirus, which was first reported in Wuhan, China, has spread to over 10.1 million people across the globe, including over 2.5 million in the U.S. More than 5.1 million globally have reportedly recovered from infection, while nearly 502,000 have died, as of Monday, according to the latest figures from Johns Hopkins University.
The graphic below, provided by Statista, illustrations the daily number of newly confirmed COVID-19 cases in the U.S.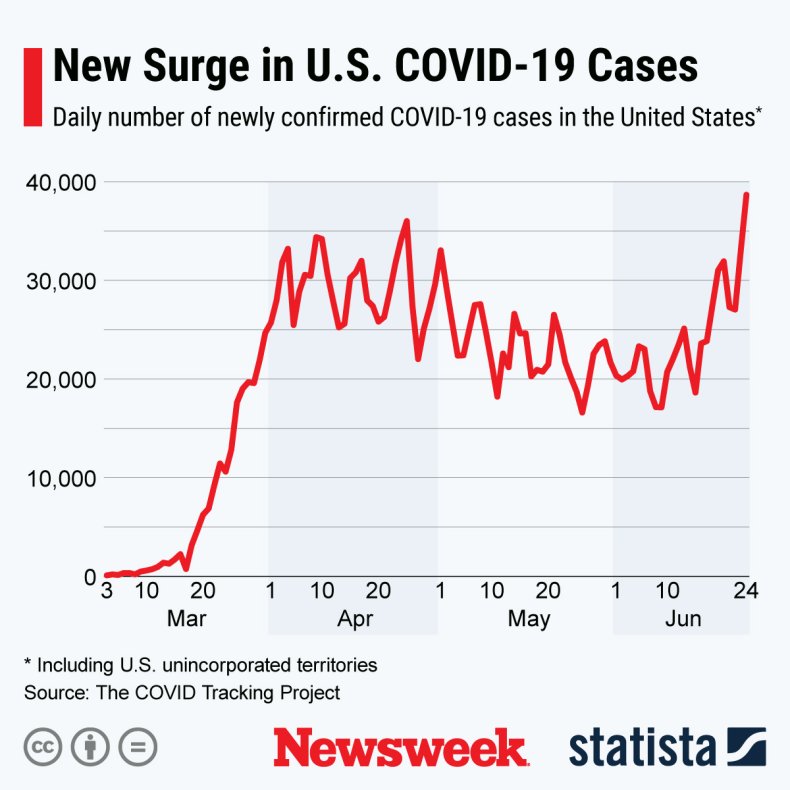 The graphic below, provided by Statista, illustrates the seven-day rolling average of new COVID-19 cases in the U.S. and European Union.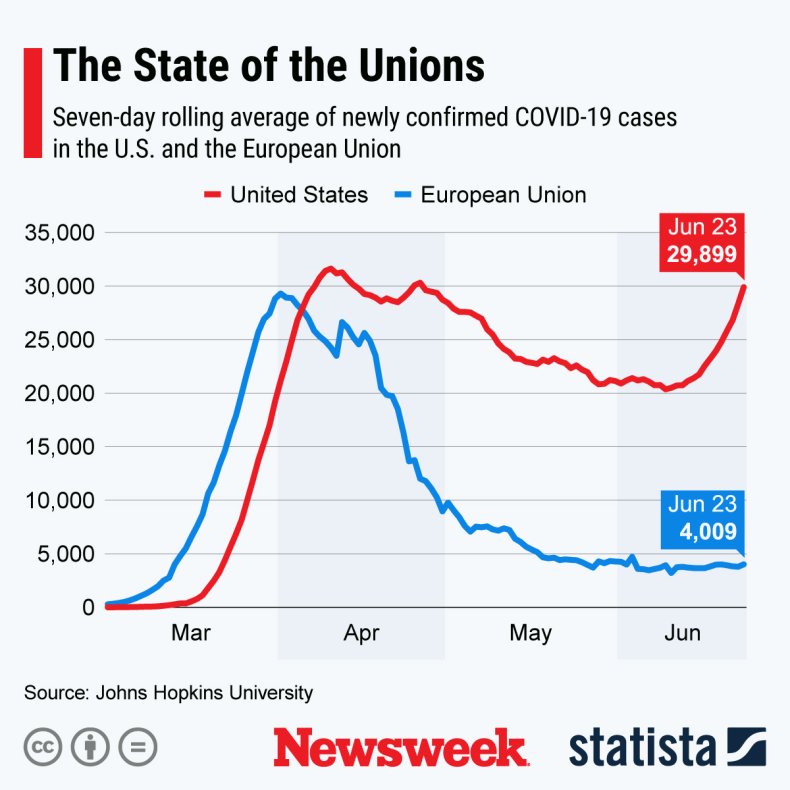 The graphic below, provided by Statista, illustrates the percentage of COVID-19-related hospitalizations, ICU admissions and deaths in the U.S.