Nearly 90 Percent of Americans Have Not Been Tested for Coronavirus
As coronavirus cases in the U.S. continue to rise, climbing past 3 million, the vast majority of Americans have not been tested for the virus, nearly six months after the first U.S. case was reported in late January.
As of Thursday, 37,431,666 people in the country have been tested, according to data compiled by Johns Hopkins University. This amounts to around 11 percent of the U.S. population of nearly 329 million, with about 90 percent of Americans not tested.
Around 87 to 92 percent of people in Texas, Florida and California, each of which has seen restrictions reintroduced following a recent spike in new cases over the past few weeks, have not been tested, as of Thursday.
California, the country's most populous state, has tested the most number of people in the country (4,996,175) which is just over 12 percent of its nearly 39.5 million residents.
Texas, the country's second-most populous state, tested around eight percent (2,258,708) of its population of 28.9 million, while Florida tested around 11 percent (2,320,207) of its nearly 21.4 million residents.
Pennsylvania has tested around seven percent (866,526) of its nearly 12.8 million population, according to Johns Hopkins University.
Among the top 10 states with the most cases in the country, New York tested the highest portion of its population (around 22 percent) to date, with 4,402,452 of its 19.5 million residents tested, as of Thursday.
Texas was among the states where federal funding for community-based testing sites was expected to be cut from June 30, the Trump Administration announced last month.
On June 26, Texas Gov. Greg Abbott announced the federal government had granted his request to extend operations of community-based testing sites across the state.
"The federal government will maintain support for the program while surging resources to Dallas and Houston in order to support testing needs within the community," the governor's office confirmed in a statement.
Earlier this week, Abbott also confirmed the Department of Health and Human Services will provide free virus testing in the city of Edinburg in southern Texas "as part of the federal government's surge testing efforts in hot spots throughout the country." in a statement Tuesday.
This new site, which will be operated until July 14, was reported to offer 5,000 tests per day, the statement noted.
Federal funding for two community-based sites in both Illinois and New Jersey, and one in both Colorado and Pennsylvania, also ended from June 30.
Back in May, speaking to Newsweek, Dr. Anthony Fauci, the director of the National Institute of Allergy and Infectious Diseases and member of the White House COVID-19 Task Force, noted that testing and contact tracing would be key to avoiding a second wave of the outbreak in America.
Fauci told Newsweek: "We have four months to make sure we have in place the system, the test, the capability, the manpower to do the kind of identification, isolation and contact tracing as cases begin to reappear in the fall, because they will reappear.
"For the kind of contact tracing that needs to be done, you need manpower. You need people who can be mobilized efficiently to do the kinds of contact tracing we need. If we have that, we could avoid a resurgence or what people would be calling a second wave," Fauci said.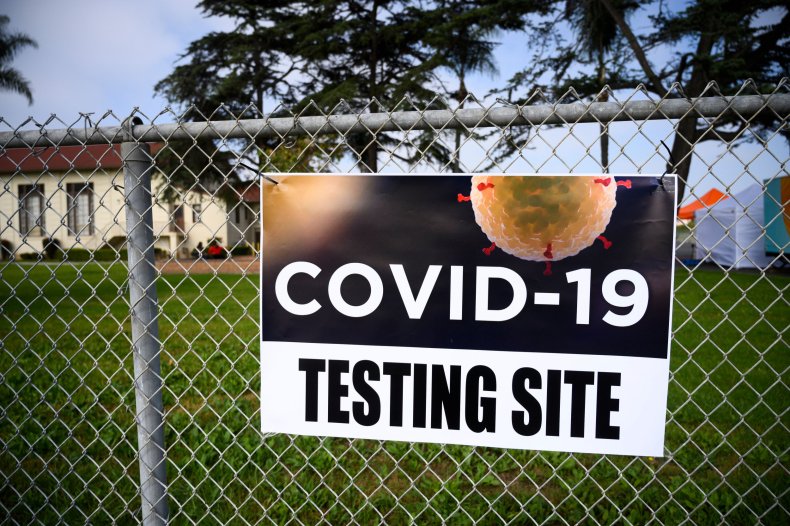 Last month, experts claimed that conducting 20 million COVID-19 tests a day in the U.S. may still not be enough to protect the public from the virus.
The authors of the Roadmap to Pandemic Resilience, a report published by Harvard's Center for Ethics, warned that for social distancing measures to be eased without a spike in cases, five million tests would need to have been conducted daily in the U.S. by early June.
"This number will need to increase over time (ideally by late July) to 20 million a day to fully remobilize the economy. We acknowledge that even this number may not be high enough to protect public health," the authors noted.
The novel coronavirus, first reported in Wuhan, China, has spread to more than 12 million people across the globe, including over three million in the U.S. Over 6.6 million globally have reportedly recovered from infection, while over 550,100 have died, as of Tuesday, according to the latest figures from Johns Hopkins University.
The graphic below, provided by Statista, illustrates the spread of COVID-19 in the U.S.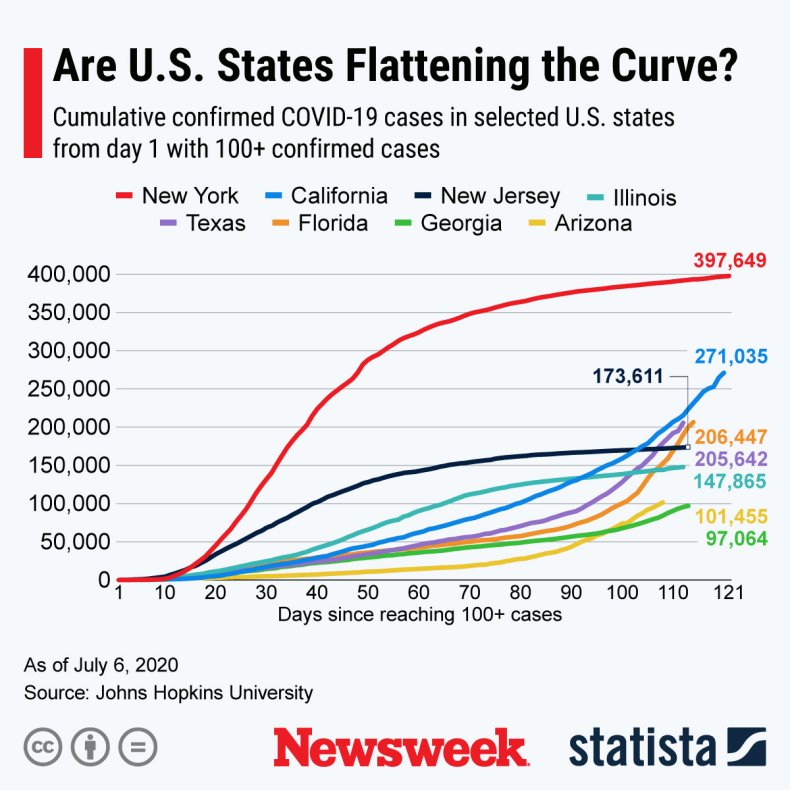 The graphic below, provided by Statista, illustrates the portion of people who wore a mask in April and May amid the ongoing pandemic.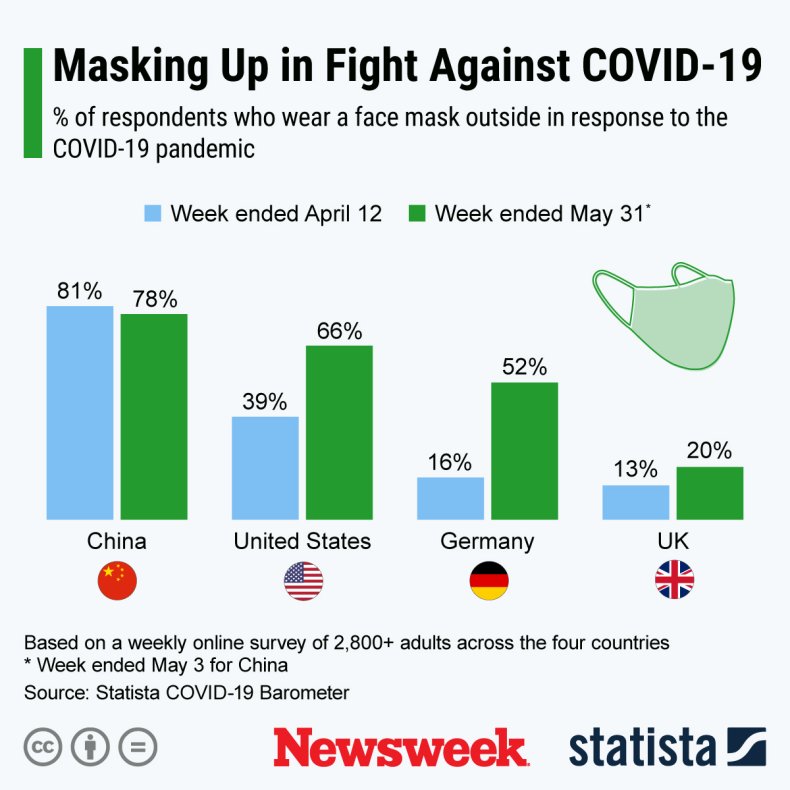 The graphic below, provided by Statista, illustrates the seven-day rolling average of new COVID-19 cases in the U.S. and European Union.