Military Plane Fleeing Afghanistan Shot Down, Uzbek Officials Say In Disputed Report
Conflicting reports from Uzbekistan detailing the recent crash of an Afghan plane surfaced today, with Uzbek authorities offering separate explanations for the crash.
The AP reported on Monday that Uzbekistan's air defense system confirmed that it downed an Afghan military plane on Sunday that was attempting to enter its airspace illegally. They said the takedown took place in the southeastern portion of the country near Surkhandarya where the nation shares a border with Afghanistan.
In an exchange with RIA Novosti, Russia's state news agency, Uzbekistan's Defense Ministry said that the air defense system, "averted an attempt by an Afghan military plane to illegally cross Uzbekistan's air border."
Within hours of this report, the AP wrote that the Prosecutor General's office in Uzbekistan released a statement writing that the plane had collided with an Uzbek plane that had been assembled to escort it from an airport in Termez, a city in Surkhandarya.
Subsequently, the office retracted the "hasty" statement which also claimed that 22 warplanes and 24 military helicopters from Afghanistan carrying 585 servicemen "illegally crossed" into Uzbek airspace during the weekend had was ordered to land in Termez.
News of the crash was originally reported by local media, prompting Uzbekistan's Defense Ministry to announce it had studied the reports and deemed the incident a verifiable crash. It has not yet been made clear what type of plane it was or how many people were aboard.
The AP said it has not yet been able to "reconcile" the differing reports.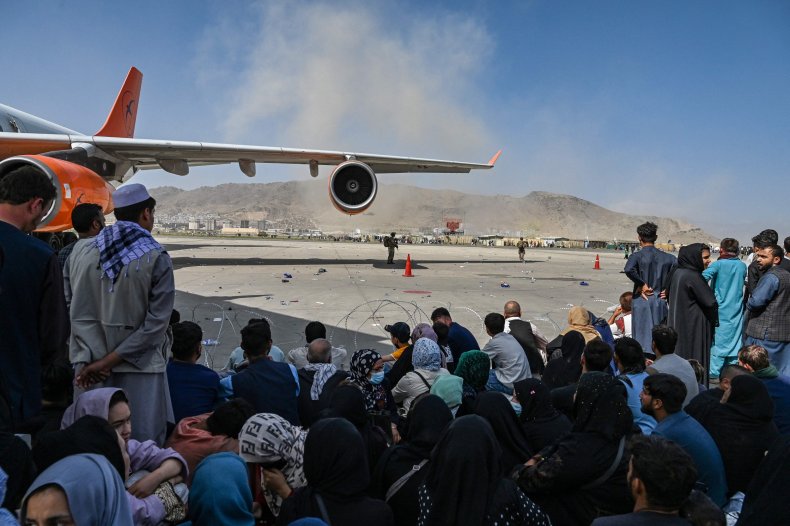 Following the Taliban's seizure of Afghanistan's capital, Kabul, thousands of Afghans were seen crowding the city's tarmac as they looked for ways out of the country. One video showing three men falling from a U.S. military plane that they had clung to in an attempt to escape.
Efforts to evacuate those who could be targeted by the Taliban appear underway. On Monday, a plane sending an SOS signal transported 100 Afghan troops into Tajikistan, according to the country's foreign ministry. And on Sunday, 84 Afghan service members submitted to Uzbek border authorities where they requested medical attention for three injured troops.
The communications office for Arkansas Senator Tom Cotton, who served in Afghanistan, told the AP that his office was working to support the Afghan pilots who fled to Uzbekistan.
"We're working with an intermediary who's been in touch with the pilots," Cotton's office said. "We have not heard from them since last night (Washington) time. We know Uzbekistan has taken their cellphones. Our primary concern is making sure Uzbekistan does not turn them over to the Taliban. We are frantically reaching out to the State Department on this case and trying to get them asylum and literally can't get a response."
Newsweek previously reported on the precarious situation of the thousands of U.S. military interpreters who are currently stranded in the country as they await U.S. visas. How the U.S. will support these individuals under the current threats stands to be seen.
This is a developing story and will be updated as more information becomes available.