Military Vets Group Blasts 'Corrupt' GOP Rep. Dan Crenshaw As 'Disgrace to All of us Who Served'
A war amongst U.S. military veterans from both ends of the political spectrum broke out Friday afternoon on Twitter. Left-leaning veterans group Common Defense slammed Republican Rep. Dan Crenshaw of Texas, who the group had confronted on video Thursday, calling the congressman "corrupt" in a Friday afternoon tweet.
The group's video confrontation with the congressman, which was posted Thursday night, set off a series of comments from veterans, including heated reactions from vets who apparently disagreed with the message or tactics of the group.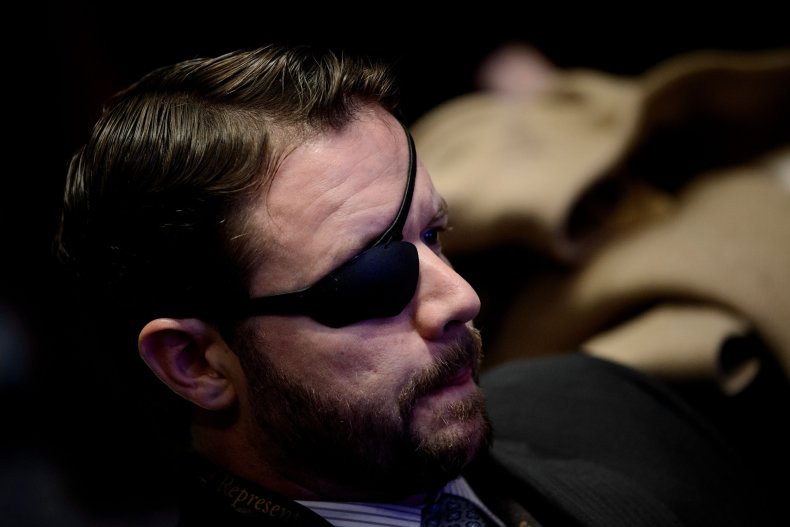 Common Defense describes itself as "a national grassroots movement of diverse veterans and military families mobilizing against Trump and his dangerous agenda."
In the Thursday video, two veterans from the group are seen confronting Crenshaw, himself a former Navy Seal, while walking alongside the GOP congressman. One of the men asks, "How can you let a criminal like Donald Trump run roughshod over our democracy, and shred everything that you and I fought for?"
Crenshaw engages with the men for around two minutes, saying they "hadn't made one actual point," before walking into the members-only elevator as the men follow him inside. The video ends with the congressman walking away as the men ask him to "do his duty," responding with "I'm going to keep walking."
Author Sean Parnell responded to the video by disapprovingly tweeting, "If I were in Congress and these three spindly losers bowed up on me, they would have gotten the viral video they wanted. I guess it's a good thing I'm not in Congress. Props to @RepDanCrenshaw for keeping his cool."
Conservative columnist Kurt Schlichter tweeted similar feelings, saying, "Falcon status: Blue... I keep saying it... Everybody who was in the service knows these clowns. There's a couple in every unit. When there's work to be done they're gone. They always know better than those guys who outrank them. And they always have an excuse."
In a tweet that appears to have since been deleted, the group responded to Schlichter's tweet by slamming the congressman, saying "The sniveling, show-boating, wielding-their-veteran-status-like-a-cudgel type of veteran you are describing would be @DanCrenshawTx. He's a corrupt, self-serving, self-promoting #BlueFalcon. And he's a disgrace to all of us who served."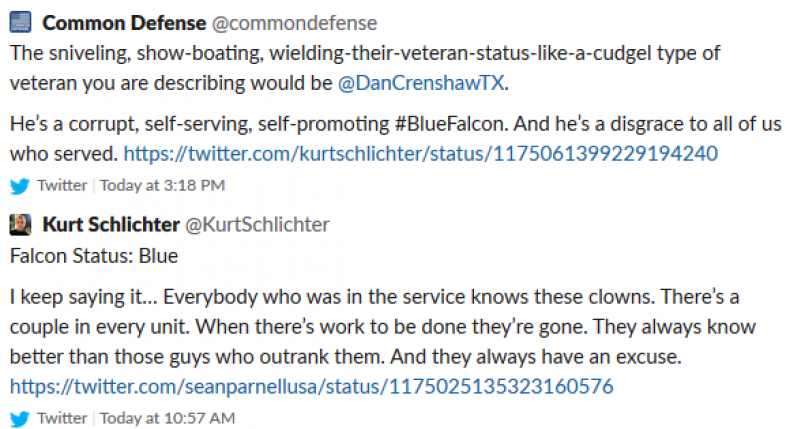 The term "Blue Falcon," so named for a vulgarity with the initials "B.F.," is military slang for a self-serving soldier who is allegedly willing to "sell out" their fellow soldiers for personal gain.
Rep. Crenshaw does not appear to have responded to the group, or any of the resulting tweets.