Millennial Couples on Why They Eloped: We Had No Support From Our Family
As the pressure from social media to have the picture-perfect wedding rises, many brides are no longer walking down the aisle and choosing, instead, to ditch tradition and elope with their partners.
Historians have traced the origin of the word 'elope' to the 13th century when it meant 'to leap'. Over the following centuries, its meaning evolved, and by the 1600s, it had come to describe a situation in which a wife runs away from her husband to be with her lover.
Fast forward to the 20th century, and eloping was still associated with sleaze—conjuring up images of drunk couples in Las Vegas tying the knot in a speedy and secretive chapel/casino service, often forgetting their nuptials the next morning.
While its history may sound scandalous, eloping nowadays is hardly shocking. If anything, it's becoming more common for modern couples.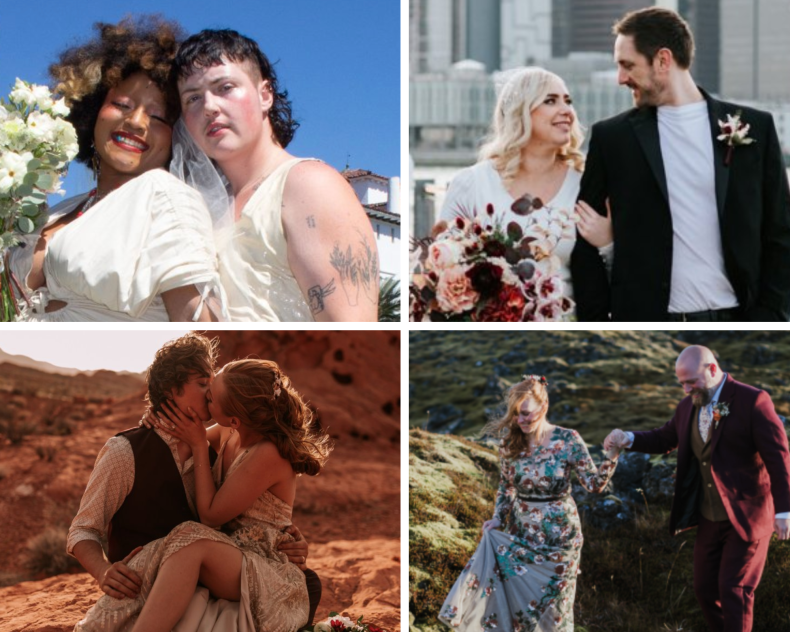 During the COVID-19 pandemic, views around eloping seemingly shifted. Anyone with a date to say 'I do' in 2020 would have had to come up with a Plan B. Couples who were unable to have their dream wedding day with friends and family opted, instead, to elope.
In 2022, a Kansas-based jewelry shop Helzberg Diamonds surveyed 1,000 U.S.-based couples who were engaged. The results found that 62 percent would consider eloping.
"According to the survey results, the average wedding cost is up to $33,204, and 26% of couples think they are spending too much. When respondents were asked which wedding day services they would go without in order to save money, the elimination of the top answers, including flowers, alcohol, a band/DJ and a videographer, could save couples on average $19,480," the survey found.
Speaking to Newsweek, Jenny MacFarlane, the founder of the wedding service Eloping is Fun, explained the most common reasons for eloping:
To save money
To save time
To avoid family dynamics and family pressure
To focus on each other instead of the performance that is a wedding
To avoid being the center of attention
Newsweek reached out to four couples who eloped to ask why they decided to ditch a traditional wedding.
'We Had To Protect Our Peace, so We Eloped'
Newsweek spoke to Grey and Grayson Prnce, a Los Angeles-based artist couple who tied the knot in August 2022. They said some family members don't approve of their relationship and so, elopement was their only option.
Grayson, 25, who is non-binary, said: "We knew we were going to get married from the moment we met. But as we began planning, it was getting more and more complicated for us.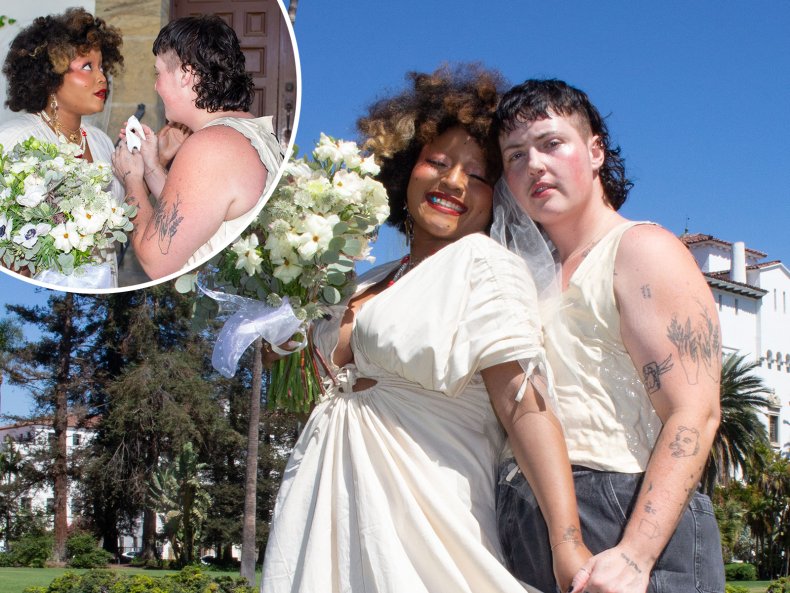 "I am from a Mormon family so my parents wouldn't attend as we aren't a Mormon couple. They are supportive though and starting to see us as a regular couple, but it is hard for them."
It wasn't just Grayson's family who had their reservations, but Grey's family from North Carolina too.
"We didn't want to spend the day with people who don't understand our relationship. When certain family members met Grayson for the first time, I realized quickly there was an issue. I didn't know if it was because my partner was white, transmasc, or a combination of both. But either way, they had no interest in getting to know him and they kept directly misgendering him," Grey recounted.
Grey said: "It may have been a generational thing but on purpose simultaneously. I have cut off some family members who made transphobic comments about us."
On August 30, 2022, the couple rented an old truck and drove to Santa Barbara to tie the knot. In total, they spent $200 on the ceremony and $80 on the truck.
Grey added: "We had to protect our peace so we decided to elope. Even having our friends would have been good but we wanted it to be just us two. Our big day was like the movies, it was so perfect. It was a community-driven ceremony, a stranger filmed it for us, and people passing by watched."
'We Decided To Be Selfish, We Didn't Want the Spotlight on Us'
This couple was swayed towards an elopement because of location logistics.
Rachel Hunter, 30, is from Belfast, Northern Ireland, and her now husband Robert, 36, is originally from Hull, U.K., which is a flight or ferry ride away.
Rachel told Newsweek she didn't want the stress of trying to organize a big wedding knowing both sides of the family would rather stay put in their respective home countries.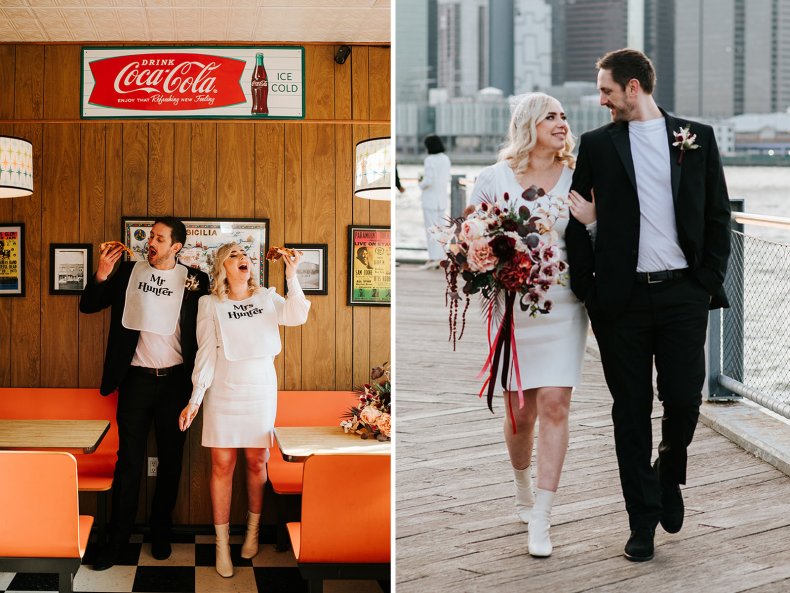 Instead, Rachel and her sales consultant partner got hitched in Brooklyn, New York, on March 15, 2022—their non-traditional big day involved site seeing and a pizza stop-off.
Rachel, a mental health nurse, said: "We got engaged in November 2019 and instantly knew elopement would be the best for us. We didn't want the hassle of getting everyone together and the disagreements about where the wedding will be.
"So we decided to be selfish and do what we wanted."
Rachel said her mom was disappointed with the couple's decision at first but "when she realized how much easier it would be, she understood."
"We are also a low-key couple and we didn't want the spotlight to be on us," she said.
In total, the couple spent $4,000 on their wedding—this included the photographer and officiant.
"I wouldn't change a thing—we went site seeing at Brooklyn Bridge, [we went] to a pizza shop, [we] walked around the industrial part of Brooklyn, and had the ceremony at the Brooklyn Bridge.
"It was so relaxed and memorable and we just focussed on each other—everything was done just us two. It felt special and it was really nice," Rachel said.
'We Had Already Sent the Wedding Invites Out'
MacKenzie Waine, 21, and Wesley Waine, 22, found themselves in a similar situation to the Hunters and had a change of heart after planning their festivities.
MacKenzie, a former preschool teacher, told Newsweek: "My family was in Missouri and Wes's family lived in Texas—both sides would've liked our ceremony to be in their state.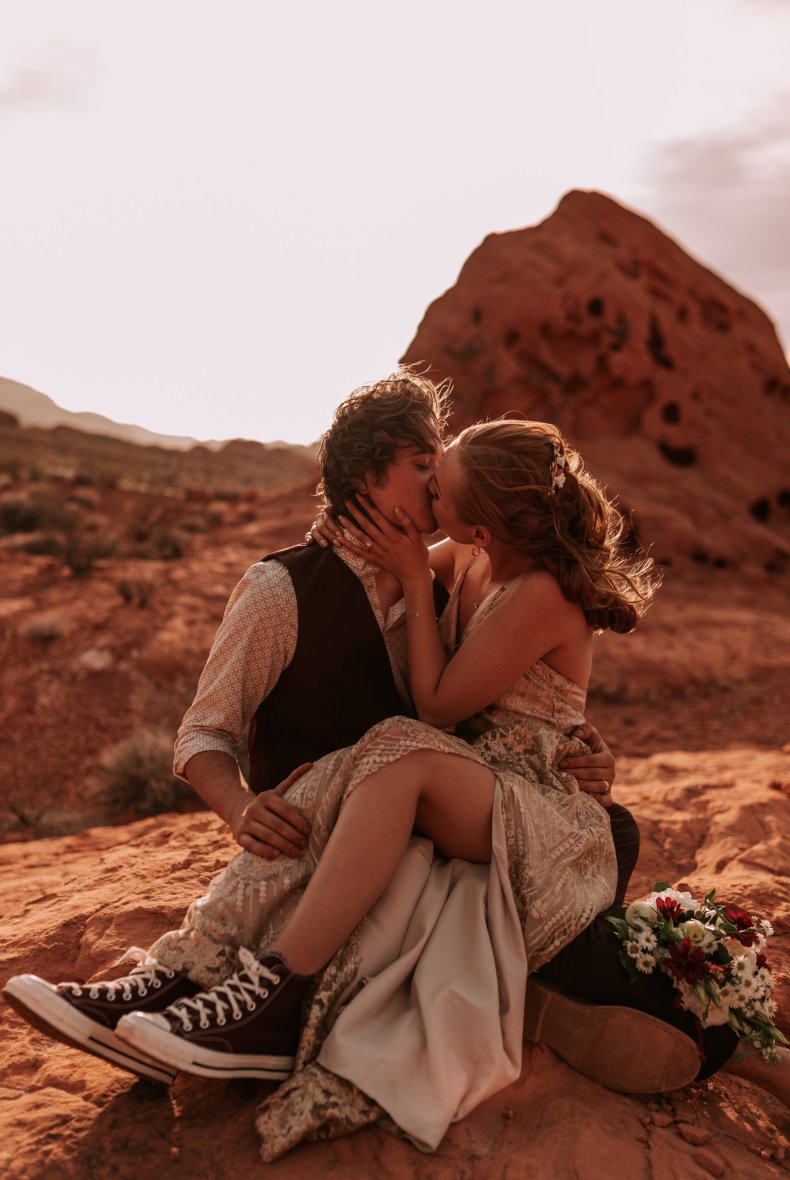 "We were having trouble with everyone being able to travel to wherever we picked. Of course, everyone had their own opinions about the way that we should do the wedding."
Originally, MacKenzie and Wesley, a travel surgical technologist, decided to have a small Bohemian-themed wedding with 50 guests in the woods in Texas.
MacKenzie said: "We had already sent out our wedding invitations but then, Wes and I wanted to do everything our way special between just us."
Instead, the couple spent $5,000 on an elopement in the Valley of Fire, which is 45 minutes away from Las Vegas.
"After the officiant married us, we had a photo shoot for about an hour and a half. We felt like celebrities! It was so special that it was just him and I. Afterwards, we drove to Red Lobster to have dinner and went back to our hotel for a romantic bubble bath, and spent the night together. It was the perfect day. We wouldn't have changed any part of it," she said.
'We Told Our Family on the Day of the Ceremony'
Brian, 38, and designer Kate Griffin, 35, from Brooklyn, had always wanted to visit Iceland so they decided to make a holiday out of their wedding.
Having been to plenty of weddings as guests, the couple became disinterested in the "pomp and circumstance of a typical wedding."
Speaking to Newsweek, Brian, a software salesman, said: "As much as we both love weddings, it always seemed like the ones enjoying it the least were the couple celebrating their nuptials."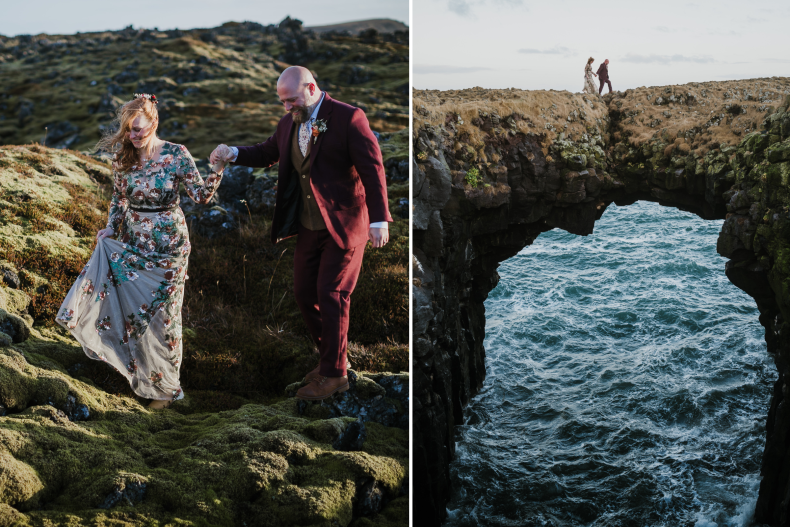 "Previously we had planned a trip to Iceland, which was a bucket list vacation for us, and there was a moment where it all made sense to elope while we were there.
"Of course, in any special moment, you want to share it with all of your loved ones, but also, it was a special and intimate day for two people expressing their love. An intimate ceremony gave us the opportunity to really focus on each other and bask in the moment," Brian said.
He added: "We told our family on the day of the ceremony when we were done taking pictures. Everyone expected us to get engaged there, but they were pleasantly surprised to hear about our nuptials."
In total, the couple spent $7,000 on the ceremony in Iceland and a further $6,000 on accommodation for two weeks, rental cars, and a trip to Paris before heading back to New York in November 2022.