Miller's 'White Life' Flub Follows Cornyn Tweet Attacked as Pro-Segregation
Republican Representative Mary Miller of Illinois has been criticized for describing the overturn of Roe v. Wade as a "victory for white life" on the same day that Senator John Cornyn's tweet was attacked for allegedly being pro-segregation.
"President Trump, on behalf of all the MAGA patriots in America, I want to thank you for the historic victory for white life in the Supreme Court yesterday," Miller said Saturday, as crowds cheered and applauded at a "Save America" rally in Mendon, Illinois.
Trump-endorsed Miller is running for reelection in the 15th Congressional District against GOP Representative Rodney Davis. The state's primary is set for this Tuesday.
Meanwhile, some Twitter users pointed out that some individuals in the crowd didn't seem to be affected by Miller's comment, including columnist Ahmed Baba who tweeted: "Whether it was a slip or not, the audience heard 'white life' and didn't flinch. They applauded."
Miller's spokesperson Isaiah Wartman told the Associated Press Sunday that her remark was "a mix-up of words," and that the congresswoman meant to say that the overturn of Roe v. Wade was a victory for a "right to life."
"You can clearly see in the video...she's looking at her papers and looking at her speech," Wartman said.
However, some Twitter users didn't find Wartman's argument convincing enough. Twitter user @tooronlists said: "In what universe does someone mix up 'white life' and 'right to life'? There's no Freudian slip here. Mary Miller said EXACTLY what she wanted to say, echoing Barrett's sentiment for a domestic supply of 'white' babies."
Meanwhile, left-leaning pundit Ron Filipkowski tweeted: "I realize she will say it was a mistake, but it's what's in their head. They are constantly complaining about white birth rates."
Miller has made similar controversial comments in January during a Moms for America "Save the Republic" rally where she quoted Nazi leader Adolf Hitler's speech.
"Hitler was right on one thing. He said, 'Whoever has the youth has the future.' Our children are being propagandized....This is the battle," she said. The GOP lawmaker initially defended her comments, but later apologized.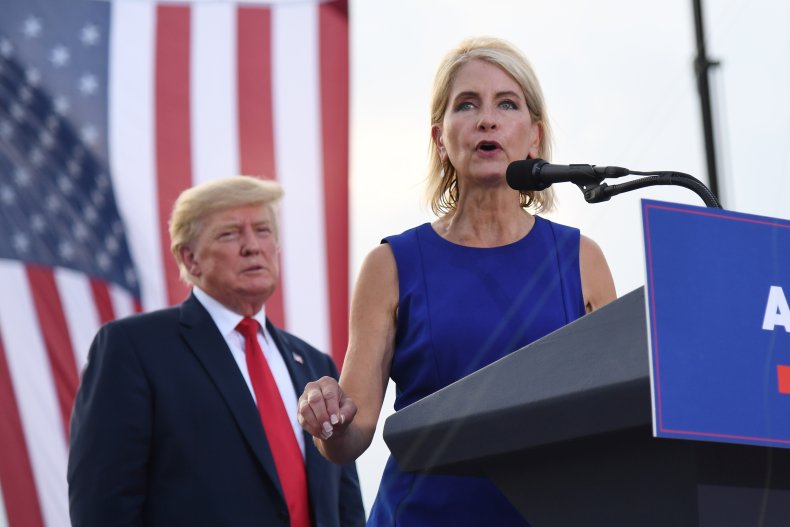 Social media users also took a hit at Cornyn, a Texas Republican, earlier on Saturday after he tweeted about the Supreme Court case Brown v. Board of Education, accusing him of being pro-segregation.
Brown v. Board of Education was a landmark decision made by the Court in 1954 that wiped away segregation by overruling the 1896 ruling Plessy v. Ferguson that legalized the practices of "separate but equal."
Cornyn was targeting former President Barack Obama's comments about the Supreme Court reversing Roe v. Wade, when he mentioned the 1954 ruling.
"Today, the Supreme Court not only reversed nearly 50 years of precedent, it relegated the most intensely personal decision someone can make to the whims of politicians and ideologues—attacking the essential freedoms of millions of Americans," Obama tweeted on Friday.
In response, Cornyn then tweeted: "now do Plessy vs Ferguson/Brown vs Board of Education."
The senator's tweet went viral, with some social media users thinking that he was suggesting that the Supreme Court should overturn Brown v. Board of Education.
"Sounds like you're arguing for a return to segregated schools, Senator," Texas Democratic Representative Joaquin Castro tweeted Saturday.
However, Republican pollster and political operative Logan Dobson jumped to clarify Cornyn's tweet, arguing that the senator didn't mean to suggest returning to segregated schools, but that "he's saying is that Brown v Board of Education correctly overturned 50+ years of Plessy's precedent, thereby pointing out that something being precedent for 50 years doesn't really have anything to do with it being correctly decided."
In a follow up tweet, Cornyn wrote: "Thank goodness some SCOTUS precedents are overruled."
Newsweek reached out to Cornyn's media office for comment.