No, Those Millie Bobby Brown Homophobic Memes Are Not Real
Stranger Things star Millie Bobby Brown is trending after an old video of her allegedly using a homophobic slur, the d-word, began doing the rounds on Twitter today.
The controversy comes as her co-star Noah Schnapp has denied using the n-word after a video of him rapping along to a song started circulating online.
However, many have pointed out that the clip of 16-year-old Brown, who appears to be much younger in the video, has been taken out of context.
The clip shows the actress was asked to name a romantic couple nickname for Stranger Things characters Dustin (Gaten Matarazzo) and Mike (Finn Wolfhard). She combined Dustin with Mike and blurted out the word which is a homophobic slur against lesbians.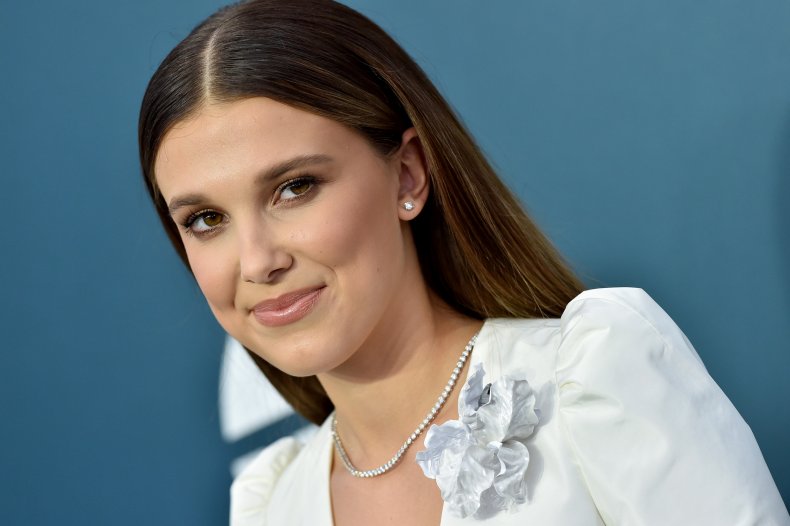 As well as sharing the video, multiple Twitter users also resurfaced an absurd meme that led to the Enola Holmes star quitting the social platform back in 2018.
The hashtag #TakeDownMillieBobbyBrown was used with many people sharing fake, ridiculous, and nonsensical stories that painted Brown as a homophobic bigot.
One tweet from 2017 reads: "it's time to share my story. one day i saw millie bobby brown in the mall and i asked for a selfie and she said "i don't take selfies with f***, homo sex is sin" and broke my iphone X. i couldn't stop crying i'm so ashamed. #TakeDownMillieBobbyBrown."
There was also an abundance of photos of Brown with fake homophobic quotes accredited to her widely shared.
No one really believes these stories are true, but they became part of a larger takedown of the young actress.
The clip with Brown saying the d-word that is now circulating ties in with the meme, making it perfect fodder for a Twitter storm.
One tweet from today reads: "i thought millie bobby brown was already homophobic but apparently that was a joke but she is actually homophobic and said the d slur Um."
While another reads: "HOMOPHOBIC MILLIE BOBBY BROWN IS REAL."
As for 15-year-old Will Byers star Schnapp, he has since denied using the slur and insisted he replaced it with the word "neighbor" while singing along in the video.
Taking to his Instagram story, he wrote: "Hi guys, recently a video from last summer has gotten out of me dancing and singing while singing the word "neighbor" over the n word. i would truly never say the n word and i'm not the type of person."