Millions of Undocumented Immigrants Could Be Given Path to Work Under Biden's New Bill
Democrats added a new provision to President Joe Biden's $1.75 trillion social safety net plan that could open a path to legal work for the roughly 7 million undocumented immigrants living in the U.S.
Under the new policy, undocumented immigrants would receive permission to apply for work and travel permits for five years, the Associated Press reported. The rule would also allow the federal government to admit additional people into the country through unused work visas.
The Senate parliamentarian ruled twice already that Democrats could not put immigration measures into the bill that would be passed through the reconciliation process. But with pressure over the Biden administration's handling of the border mounting, many Democrats feel reforms are needed.
"We have to have something for our immigrants," said Representative Judy Chu, a California Democrat and a member of the Progressive Caucus, according to the AP.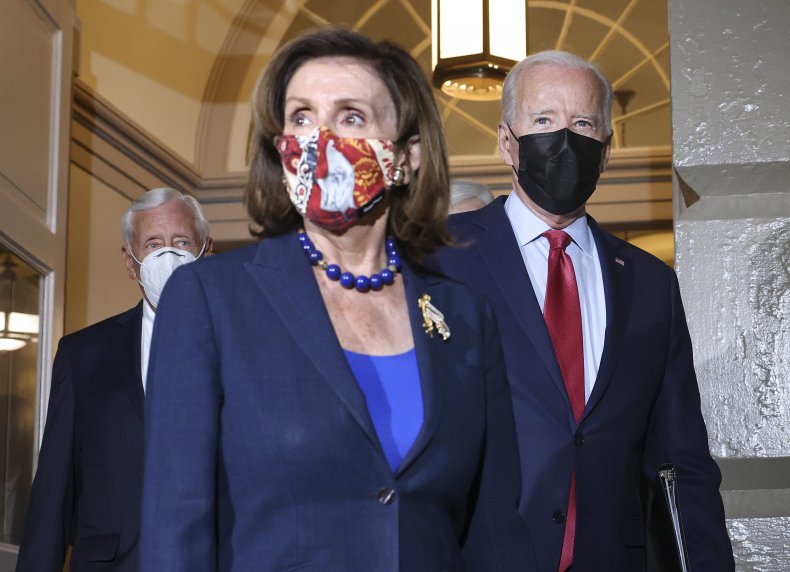 Because the new proposals build off existing immigration programs, Democrats hope the Senate parliamentarian will approve of the new measures in the coming days. The president appeared hopeful that this version of immigration reform will pass, setting aside $100 billion for the program which could take the cost of the bill from $1.75 trillion to $1.85 trillion.
Over the course of the Biden presidency, over 1.4 million migrants have been encountered by U.S. Customs and Border Patrol at the nation's southwest land border. Republicans have called the influx a crisis, with governors like Texas' Greg Abbott calling for enhanced enforcement. In turn, some Democrats have condemned the administration's handling as a humanitarian failing, with leaders like Alexandria Ocasio-Cortez calling for increased aid.
The inclusion of immigration reform into the bill stands as a potential object of division for moderate Senator Joe Manchin, a West Virginia Democrat, whose vote Democrats need to pass the bill. Manchin has stressed bipartisanship over the past several months despite Republicans remaining united in opposition to the bill.
Under current laws, only migrants with green cards or certain work permits can legally hold jobs in the United States. Despite this, the Center for American Progress estimated that undocumented individuals make up 4.4 percent of the nation's workforce. This same report indicated they play a vital role to certain industries, such as agriculture where they comprise roughly 30 percent of the workforce. However, without legal work status, these individuals can become vulnerable to exploitation and abuse.
"You have to create opportunities when there are no opportunities," said Representative Lou Correa, a California Democrat, who has threatened to oppose the bill if it does not have an immigration provision. "This is a big opportunity to get this done."