Milo Yiannopoulos Appeal for Money 'to Get Back on My Feet' Kicked Off Patreon Crowdfunding Site After One Day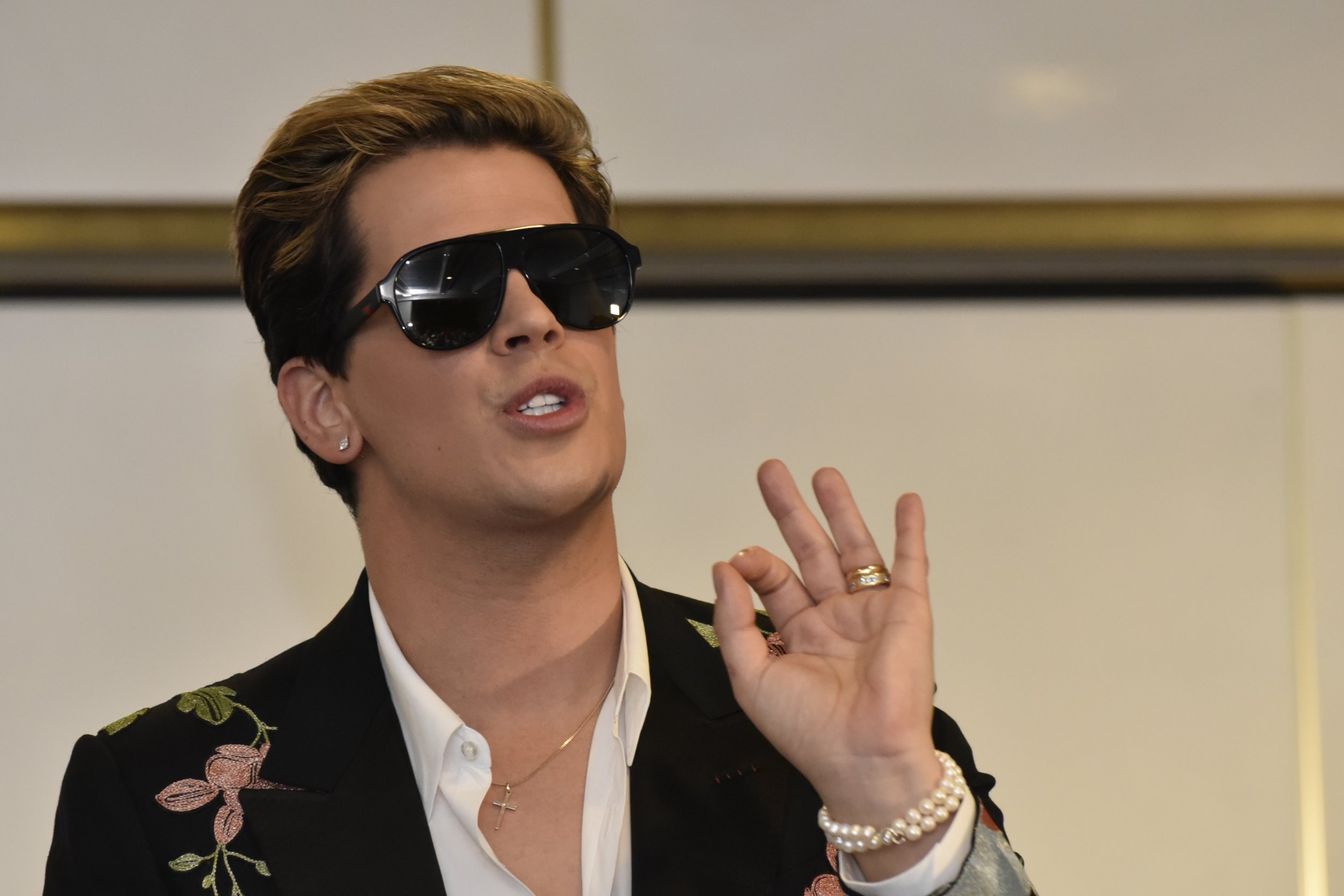 Far-right media personality and activist Milo Yiannopoulos has been banned from a crowdfunding site as his financial woes go from bad to worse.
The controversial commentator revealed earlier this week that he is more than $2 million in debt, but his efforts to relaunch his struggling career are now being further frustrated.
Read More: Milo Yiannopoulos Is Allegedly More Than $2 Million in Debt
Yiannopoulos had hoped to kickstart his comeback using donations from fans, setting up a page on the Patreon crowdfunding site to ask for donations. "I've had a miserable year or two, banned and de-platformed and censored and blacklisted … and now I need your help," he wrote on the appeal page, according to the Guardian.
"I want to get back on my feet and come roaring back in 2019," he explained. "I am one of the most censored and most lied-about people in the world. Even my fans sometimes believe things about me that aren't true, because journalists lie more about me than perhaps anyone else in America."
The 34-year-old British born provocateur said he needed donations to "support my family, pay essential staff and service providers" and said he planned to "assemble the greatest TV show in history."
"After two years of relentless, dishonest attacks on me by the press, I got roughed up and lost my way," the appeal continued. "I've never asked for money like this before. But I need you to help me get back to work. Thanks for considering it, and God bless."
Yiannopoulos managed to gain the support of around 250 fans before Patreon took down the page. On Twitter, the company explained, "Milo Yiannopoulos was removed from Patreon as we don't allow association with or supporting hate groups on Patreon. "
An archived copy of the page showed that Yiannopoulos offered a range benefits for different levels of support. Those donating more than $750 each month, for example, stood to receive an "elite-tier" coffee mug, a handwritten thank you letter and "exclusive invitations to drinks when Milo is in your city (you're buying)."
At the lower end of the scale, those donating more than $2.50 each month are invited to "become a footsoldier in the revolution" as a member of "Milo's Big Gay Army." Additional tiers for those donating more included "Sassy Bitch", "Cheerleader" and "Trigger Squad."
Yiannopoulos—who formerly worked as an editor for Breitbart—is closely associated with far-right organizations. He left his job at Breibart after a video emerged in which he seemed to endorse sex between "younger boys" and older men. Publisher Simon & Schuster then cancelled his book deal.
When the extent of Yiannopoulos's debt was revealed earlier this week, he told the Guardian they were "company debts, not personal" and that he was "doing fine and bringing in $40k U.S. a month."