Minecraft Steve's Victory Pose Has 'Smash Ultimate' Fans Tickled
The highly anticipated release of Minecraft Steve in Super Smash Bros. Ultimate has gone off without a hitch. Well, sorta.
Following the release of Minecraft Steve, Alex, Zombie and Enderman into Nintendo's top-tier fighting game—along with fighter adjustments in the version 9.0 update—players have noticed something off about Steve's victory pose.
In Super Smash Bros. Ultimate, after a match is won, the winning fighter gets to celebrate with their victory pose. Every character has a handful of victory poses that the game selects randomly to use.
One of Minecraft Steve's victory poses sees the blocky character standing still as the camera zooms in. However, it's not Steve himself that is drawing attention, but rather what he's holding.
Now, we know what it looks like, but it's actually a piece of meat that Steve is holding, which, we'll admit, doesn't sound any better. And if you thought that was comical, the internet is definitely having fun with this bit of oversight.
"Minecraft? More like MineSHAFT amiright?" wrote one Twitter user.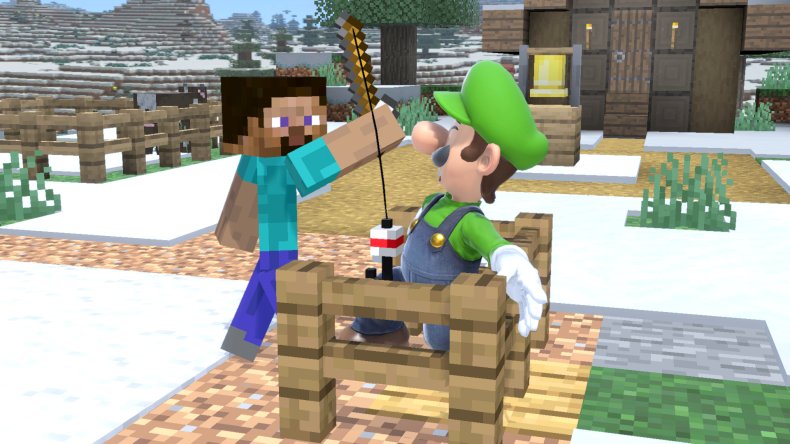 "What shocks me about this is that they had to have viewed this several times before deciding to put it in the game. Did NO ONE really object to this or is Sakurai's team really that innocent?" wrote another.
And the comments, and puns, go on and on.
The significance of meat in Minecraft is not lost on fans of the series. Meat is an important part of Minecraft, as it allows users to restore the hunger bar.
Whether Nintendo decides to patch this victory pose in a future update remains to be seen, but Super Smash Bros. Ultimate players can get a laugh whenever Minecraft Steve gets a dub.
Super Smash Bros. Ultimate is available now for Nintendo Switch. Minecraft Steve can be purchased as part of the Fighters Pass Vol. 2 DLC bundle that includes Min Min from ARMS! and four future characters, or separately on the Nintendo eShop.
The release of Minecraft Steve in Super Smash Bros. Ultimate also marked the release of new Mii Fighter costumes. Bomberman, Creeper, Pig, Diamond Armor, Gil and Travis Touchdown will be available to purchase in the Nintendo eShop to dress up your Mii Fighter as one of these classic video game characters.
Are you enjoying playing as the Minecraft characters in Super Smash Bros. Ultimate? Let us know in the comments section.
Minecraft Steve's Victory Pose Has 'Smash Ultimate' Fans Tickled | Newsgeek