Mini Alexandria Ocasio-Cortez Impersonator Mocks Climate Change and Socialism, Becomes Conservative Favorite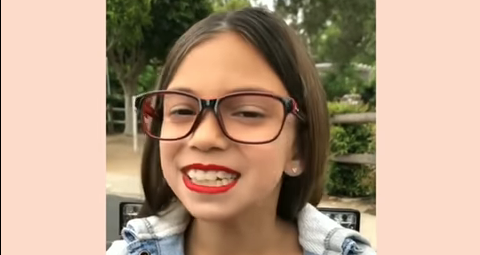 An 8-year-old girl who impersonates New York Democratic congresswoman Alexandria Ocasio-Cortez has become the darling of conservative news outlets.
Ava Martinez of California started posting videos to social media earlier this month as the character Mini AOC. Her jokes and teasing at Ocasio-Cortez's expense typically riff on climate change and socialism while using an exaggerated ditzy voice to deliver the one-liners. Adorned in stylish glasses and deep red lipstick mimicking that of the congresswoman, the child purposefully overuses the word "like" and "so" on her Twitter account, which has attracted more than 36,000 followers despite being created fewer than two weeks ago.
"I'm going to talk about like the three branches of the U.S. government: The Niña, the Pinta and the Santa Maria," Martinez jokes in one impersonation while holding up four fingers. In another video, Mini AOC calls on people in Washington "to watch the most important documentary on climate change. It's called Ice Age 2: The Meltdown.
"That's not me saying it, it's science. The Green New Deal will cost like $93 trillion—do you know how much that is? Me neither. Because it's totally worth it, if sea levels keep rising we won't be able to drive to Hawaii anymore," she continued.
During a Tuesday appearance on Fox Business Network, Martinez said her father and her uncle first gave her the idea to create the videos, citing her likeness to Ocasio-Cortez.
The jokes appear to be somewhat scripted, and there are on-camera clues that the 8-year-old California girl is having plenty of input from her relatives. Her Instagram and Twitter accounts both appear to be operated by her mother, and the account follows an overwhelming number of Fox News handles.
"They thought I looked like her...so they said I should start making videos teasing her," Martinez told Fox Business' Stuart Varney, who regularly touts his support for President Donald Trump.
Written on a marker board behind Martinez during one video is a plea to "free" right-wing Hollywood figure James Woods from a short-lived Twitter ban.
"Socialism is so amazing, like socialism is actually short for social media," Martinez says in another video posted last week. "Did you know that? Like I use social media so I'm a socialist and like three of the most successful countries in the world are socialist too: Venezuela, Facebook and Twitter.
Right-leaning figures on Fox News and conservative sites like Red State have touted Martinez's impression of Ocasio-Cortez and lauded the fact she criticized climate change activists and socialist policies.
Ocasio-Cortez is a frequent punching bag for Fox News pundits and conservatives as a whole, with President Trump even dismissing policy ideas from her in April: "The Green New Deal, done by a young bartender, 29 years old," he complained. Her stances in favor of massive environmental overhaul and democratic socialist policies have placed her squarely in the crosshairs of nearly every right-wing pundit. Her outspoken social media presence and millions of followers have allowed her to push back against critics.
"[The] last guy who underestimated me lost," Ocasio-Cortez told Newsweek in response to Trump's April comments. "That's all I gotta say about that."