Alexandria Ocasio-Cortez Warns Donald Trump: 'The Last Guy Who Underestimated Me Lost'
Responding to fresh criticism from President Donald Trump Tuesday evening that her Green New Deal climate change proposal was "done by a young bartender," Democrat Alexandria Ocasio-Cortez told Newsweek Wednesday that the "last guy who underestimated me lost."
"That's all I gotta say about that," she added.
In an unexpected upset, the freshman New York congresswoman and former bartender unseated incumbent Democratic Congressman Joseph Crowley in her 2018 primary election by roughly 14 percentage points. She then went on to beat Republican Anthony Pappas in the general election by more than 64 percentage points.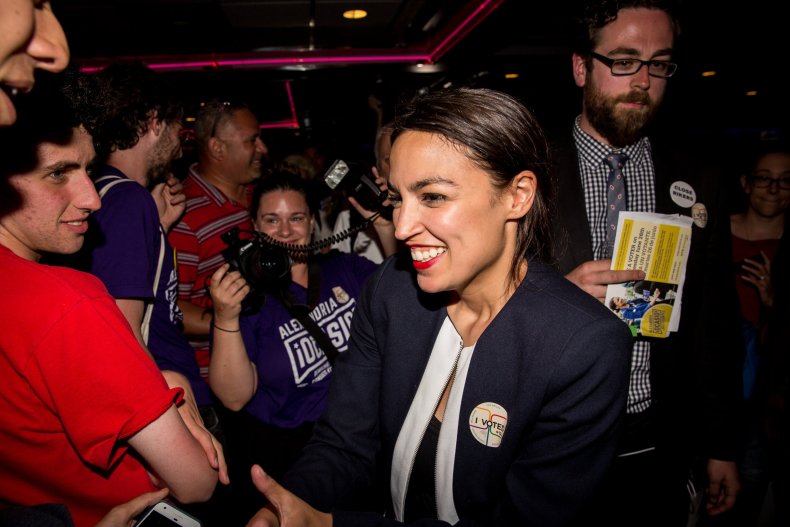 Ocasio-Cortez has faced continued criticism from Republicans and the president for her ambitious climate change proposal, which seeks to achieve net-zero greenhouse gas emissions by mid-century and for the U.S. to operate on 100 percent renewable energy within 10 years—a feat critics say is unrealistic, given the time frame, in addition to overly expensive. In draft documents that were later walked back by the congresswomans' office, the plan called for net-zero greenhouse gas emissions by 2030.
"A young bartender, wonderful young woman, the Green New Deal. The first time I heard it, I said, 'That's the craziest thing,'" Trump said Tuesday evening at a fundraising dinner for the National Republican Congressional Committee.
But he told Republicans not to kill the proposal just yet.
"Don't kill it because we want to be able to run against it," the president said. "If they beat me with the Green New Deal, I deserve to lose."
In a Senate vote last week, which Democrats classified as political showboating by Republicans, while the GOP said it gave Democrats the opportunity to express their support on the record, the Green New Deal failed to advance. In protest to Senate Majority Leader Mitch McConnell putting the nonbinding resolution up for a vote before having hearings or debates, Democrats voted "present," with Republicans voting against it. The final vote was 0-57.
Despite House Democratic leadership showing little willingness to consider the Green New Deal as a whole, Ocasio-Cortez told Newsweek that was not the point of the proposal.
"I think that passing the resolution would be an enormous step. At the same time, I think we've accomplished 90 percent of the resolution's goals, which is a plan," she said. "What we should be debating are the technologies and actual policies that we're enacting. The ones that we should be entertaining are in the resolution itself."
When introducing new legislation aimed at forcing the U.S. to remain in the Paris climate accord, which Trump announced the country was withdrawing from in 2017, House Democrats failed to reference Ocasio-Cortez or her Green New Deal proposals, adding more skepticism to whether moving forward with any of the solutions outlined in the broad plan were being seriously considered by leadership.
"Our select committee is going to be putting together the package of policy proposals that will be largely in the spirit of the New Green Deal [sic]," Democrat Kathy Castor, chair of the House Select Committee on Climate Crisis, told Newsweek. "Particularly, the transition to clean energy, adaptation, mitigation—the problem is we've got to act with urgency, and this is the first step to doing that."
But Ocasio-Cortez indicated confidence that leadership will begin to extrapolate and push forward measures she's already outlined. She also highlighted that if Congress were able to pass her Green New Deal, it's still nonbinding.
"Even if the resolution had a complete clear lane and gets totally passed tomorrow, what happens functionally? Nothing, because what it means is that we're adopting a set of goals," she said. "What the Green New Deal says is that we need to have and propose a solution on the scale of the problem, that we need to come up with plans."