Almost two weeks after the death of George Floyd in Minneapolis sparked worldwide protests, city council members announced their plans to disband the city's embattled police department.
At a rally on Sunday, Minneapolis City Council President Lisa Bender said the council was committed to ending the city's "toxic relationship" with the Minneapolis Police Department.
Disbanding an entire police department isn't unheard of—the city of Camden, New Jersey did it in 2013 and as a result, saw an improvement in the relationship between police and residents as well as a dramatic drop in violent crime.
Scott Thomson, Camden's police chief until last year, oversaw the city's shift to community policing around eight years ago.
At the time, Camden had become synonymous with crime and was considered among the deadliest cities in the U.S. After a rise in homicides in 2012, the city had wanted more officers patrolling the streets, but couldn't afford to hire them, according to Bloomberg.
The following year, the city's police department was disbanded and replaced with a new one covering Camden County that had more officers, but on lower pay, according to a City Lab report.
Thomson said the focus was on rebuilding trust between the city's residents and officers.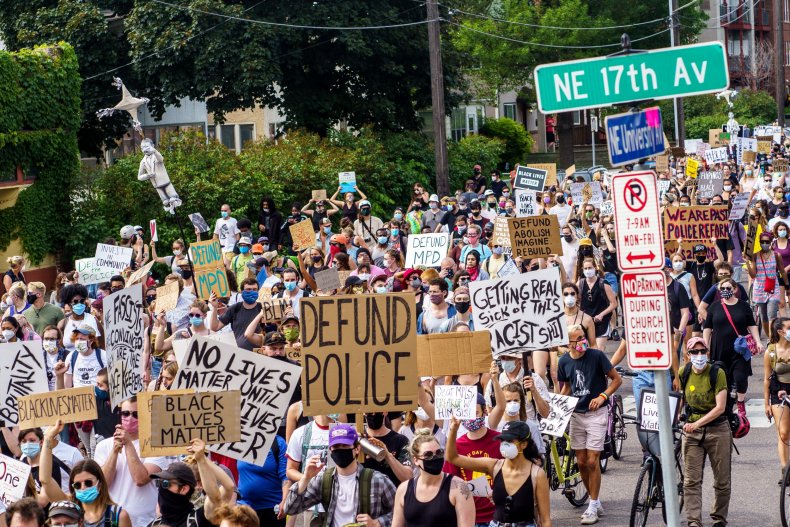 He told Bloomberg that increasing the number of officers on the city's streets had been a "trust-building tactic." As well as a rise in the number of non-crisis interactions between police and residents, he said officers also underwent de-escalation training and got body cameras.
Last year, the city adopted a new use-of-force policy that instructs officers to de-escalate first and fire weapons and use any other force only as a "last resort." Thomson told NJ.com at the time that the policy should be used as a national model.
The remaking of Camden's police department appears to have led to crime rates falling in the city. Camden recorded 67 homicides in 2012, while last year, there were 25, according to Bloomberg.
Now, Camden is being hailed as an example of how police departments can be reformed as protests against police brutality and systemic racism continue across the U.S.
The rallies started in Minneapolis, where Floyd died on May 25 after a white police officer was filmed kneeling on his neck for almost nine minutes as he gasped for air, before spreading across the country and beyond.
The officer, Derek Chauvin, has been charged with second-degree murder and three others have been charged with aiding and abetting.
Despite that, protests have continued as many push to "defund the police" and spend more on what communities need, such as housing and education.
Some protests, including in Philadelphia—just across the Delaware River from Camden—erupted into chaos with police seen deploying tear gas, rubber bullets and other heavy-handed tactics against largely peaceful demonstrators.
But in Camden, demonstrations remained calm and the police chief Joseph Wysocki marched alongside protesters on May 30. A picture of Wysocki, who is white, holding a banner that said "Standing in Solidarity" alongside residents holding "Black Lives Matter" signs went viral.
According to NorthJersey.com, 21 other officers joined the march in Camden.
"There's so much hurt and distrust all across the country," Wysocki told the outlet, adding that he wanted Camden residents to know officers understood their pain.
Yolanda Deaver, a salon owner who organized the protest, said Wysocki had asked her for permission to join the march.
She told British newspaper The Sunday Times that it had set an "example for the nation."
Thomson said the solidarity between officers and Camden residents was "the result of many years of deposits in the relationship bank account," according to Bloomberg.
Gabe Rodriguez, a police lieutenant in Camden, agreed, telling The Times that Thomson had shifted the mentality of the force's members from "warrior" to "guardian."
"You can't protect people you fear," Rodriguez told the newspaper, although he noted that improving the relationship between the city's residents and police had been difficult at first.
But Rodriguez is convinced that Camden can be a model for other police departments across the country. "I believe this can work anywhere," he told The Times. "You just need the will."
The Camden County Police Department and Thomson have been contacted for additional comment.