Minneapolis Police Chief Says George Floyd's Facial Expression Shows Chauvin Used Excessive Pressure
Minneapolis Police Chief Medaria Arradondo testified on Monday that former Minneapolis police officer Derek Chauvin's continued kneeling on George Floyd's neck was not "objectively reasonable" and ran contrary to department policies.
Arradondo took the stand on Monday in Chauvin's trial for the death of Floyd, a 46-year-old man who was declared dead at the hospital after being in police custody. Arradondo rejected an argument from Chauvin's attorney that the former officer was following his training and told a jury that while Chauvin's use of force may have been acceptable at first, it went on for far too long.
When Arradondo viewed a video of the arrest from a city security camera, known as a "milestone" video, he said nothing jumped out of him that was out of the ordinary. However, he acknowledged it was from far away and when he saw the bystander video that went viral, he got a more accurate depiction of what happened.
"Once Mr. Floyd stopped resisting and certainly once he was in distress and trying to verbalize that [Chauvin] should have stopped," Arradondo said. "When I look at the facial expression of Mr. Floyd, that does not appear in any way shape or form that is light to moderate pressure…I absolutely agree that it violates our policy."
The police chief told the jury on Monday that there was an "initial reasonableness" to use the restraint to get Floyd under control. But, once he was face down and handcuffed behind his back, he said Chauvin's continued use of force was in "no way shape or form" part of the police department's policy or training.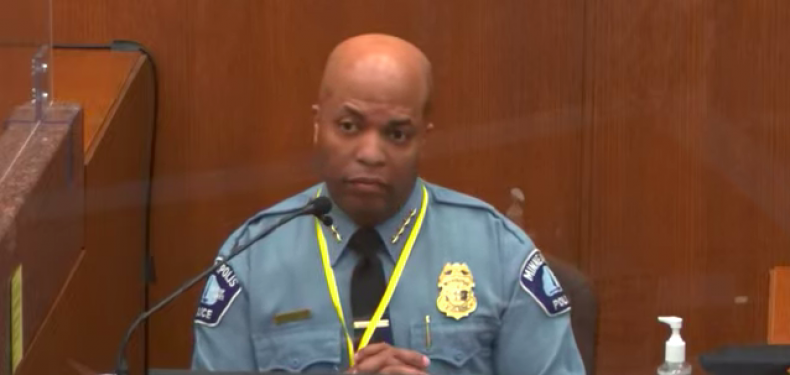 Chokeholds and neck restraints were part of the Minneapolis Police Department when Floyd was apprehended, according to Arradondo, but officers were instructed to not apply direct pressure to the trachea or airway. They're also supposed to use pressure that is "objectively reasonable" and the restraints were not to be used on people who were "passively resisting," according to the policy.
Eric Nelson, Chauvin's attorney, argued on Monday that a person can still be aggressive toward an officer even if they aren't physically threatening them.
The police chief called the training cadets receive today "far better" than what he received in the 1980s and that the continued training over the years is necessary to ensure officers appropriately respond to calls. Part of that revised training is focused on de-escalation tactics and said de-escalation should always be "layered" into the use of force.
"When someone is in our custody regardless of whether they're a suspect, we have a duty to provide for their care," Arradondo said. "[Chauvin's] action is not de-escalation and when we talk about the framework of our sanctity of life and the principles and values that we have that action goes contrary to what we're talking about."
Chauvin was seen in a viral video appearing to kneel on Floyd's neck and faces three counts, including one for third-degree murder. If found guilty of the most serious charge he could face 40 years in prison. He's the first of four officers involved in Floyd's death to face a jury.
In June, Arradondo told the Star Tribune Floyd's death wasn't due to a "lack of training" because "the training was there" and Chauvin "knew what he was doing."
"The officers knew what was happening—one intentionally caused it and the others failed to prevent it. This was murder—it wasn't a lack of training," Arradondo said.
Lieutenant Richard Zimmerman, the head of the Minneapolis Police Department's homicide division, testified last week that Chauvin's actions were not part of officers' training. He added that once Floyd was handcuffed, there was "no reason" for officers to continue using deadly force.
Dr. Bradford Wankhede Langenfeld, the physician who provided emergency care to Floyd, testified on Monday that he believed the lack of oxygen caused Floyd's death. When he arrived at the hospital, Lagenfeld said Floyd didn't have a heartbeat strong enough to "sustain life."
Nelson focused his questioning of the physician on the drugs that were found in Floyd's system, seemingly in an attempt to sway jurors that drugs—not Chauvin's knee—cut off Floyd's oxygen. Lengenfeld agreed that the drugs an autopsy of Floyd's body uncovered could lead to a lack of oxygen to the body.
Nelson's faced criticism for his comments about Floyd's drug use and actions on the day of the police encounter. Representative Ilhan Omar, a Democrat from Minnesota, told CNN's Jake Tapper on Sunday that it's "horrendous to watch the defense put George Floyd on trial." However, she expressed confidence in prosecutors' ability to persuade jurors to convict.
Arradondo acknowledged that as a police officer, there are times that force must be used but said serving with compassion, a motto of the department, is understanding and authentically accepting that officers see "our neighbor as we see ourself."
"It's really about treating people with dignity and respect," Arradondo said.