Minneapolis Police Department Releases Body Camera Footage After Fatal Officer Involved Shooting
The Minneapolis Police Department released some body camera footage recorded during a fatal officer-involved shooting that occurred Wednesday night.
The department shared a graphic, 27-second clip to its website Thursday afternoon, following Police Chief Medaria Arradondo's public pledge to do so the previous evening.
Footage taken from officers' body cameras depicts the moment a man, whose identity has not been formally confirmed, was shot and killed by police at a gas station several blocks from the site of George Floyd's death. The brief video clip shows officers shooting into the driver's seat window of a vehicle, after shouting at the driver to raise his hands.
Police were conducting a traffic stop that involved a "felony suspect," Arradondo said Wednesday, when the deadly shooting took place. Body camera footage indicates the deceased man attempted to flee the area, as a group of police cars surrounded his vehicle. In the video, officers step out of their cars with guns drawn before the man appears to fire one shot from inside his vehicle. Police immediately fire their own guns into the vehicle's window, and the man disappears from view.
Arradondo provided preliminary details about the shooting during a Wednesday night press conference, when he confirmed the department's Bureau of Criminal Apprehension (BCA) had begun to investigate the circumstances that preceded it. The bureau handles investigations that concern officer-involved shootings.
At the time, Arradondo acknowledged that demonstrations had already begun and told local residents that body camera footage would be released publicly on Thursday.
"I want the community to be able to see what occurred," he said. "And I think that that is part of, again, us moving forward...and wanting to make sure that we get the facts out there."
Citing statements from witnesses to the police department, Arradondo said officers fired their weapons in response to an initial shot fired by the civilian who was killed.
Bayle Gelle, a resident of Eden Prairie, a Minneapolis suburb, identified the deceased man as his son, 23-year-old Dolal Idd, on Thursday morning. Gelle told reporters that he "[wants] to get justice" and said Minneapolis police officers searched his home following Idd's death. Police had obtained a warrant to conduct the search, according to Gelle.
In a press release sent to Newsweek on Thursday, the Minneapolis Police Department stated that officers involved in the shooting were "engaged in a weapons investigation" when they initiated the traffic stop. noted its decision to release video footage taken during the shooting came as part of a push to "increase trust" between officers and community members.
"In continued efforts to increase trust with our community, Chief Arradondo has made the unprecedented decision to release officer body-worn camera video within 24 hours of this incident," it stated. "This was done to further aid efforts in understanding and fostering transparency."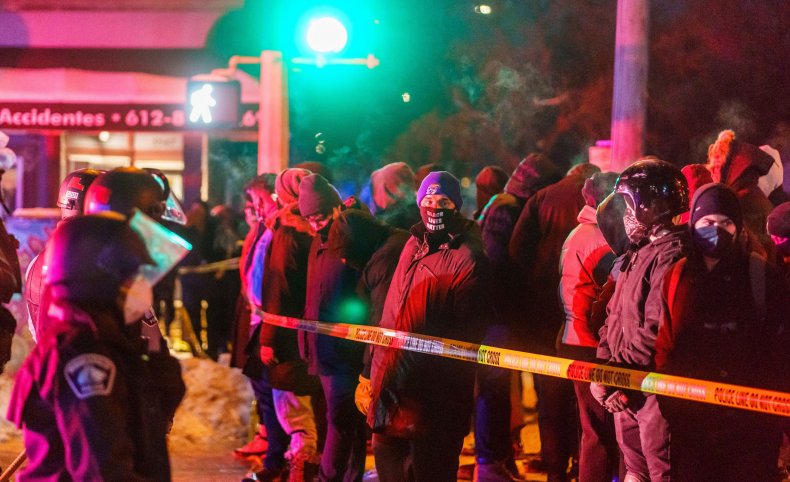 Bystander videos published online in the aftermath of Floyd's passing in May showed former Minneapolis police officer Derek Chauvin pressing his knee into the 46-year-old man's neck for almost nine minutes. Their release sparked global outrage and galvanized an ongoing movement demanding accountability for officers across the U.S., whose conduct leads to a disproportionate number of Black Americans' deaths nationwide.
Wednesday night's shooting marked the first civilian death in Minneapolis involving city police since Floyd's death. Protestors quickly gathered near the scene of the shooting when news surfaced late Wednesday.
Newsweek reached out to Gelle and the Minneapolis Police Department for further comments but did not receive replies in time for publication.