Minneapolis Police Used Neck Restraints 237 Times, Left 44 People Unconscious Since 2015, Records Show
Minneapolis Police Department officers have used neck restraints to subdue at least 237 people since 2015, according to an NBC News report published on Monday.
The report, which analyzed Minneapolis police records dating back roughly five years, also found that officers' use of the disarming restraint tactic caused subjects to lose consciousness in 44 of those instances. Data showed that 60 percent of individuals restrained by police using this method were black, 30 percent were white, and the remainder were Native Americans, NBC News said in its evaluation.
The analysis was released as protests against police violence surged in dozens of United States cities and across the world. Rallies have taken place since early last week following the death of Minneapolis resident George Floyd during an encounter with police on May 25. A video of the incident released shortly afterward showed former Minneapolis police officer Derek Chauvin kneeling on Floyd's neck for more than eight minutes during an arrest for a nonviolent suspected offense. Floyd stopped breathing and was later pronounced dead.
Chauvin and three other officers involved were fired from the Minneapolis Police Department one day later. This past Friday, Hennepin County Attorney Mike Freeman announced during a press conference that Chauvin had been arrested on third-degree murder and manslaughter charges for the actions that led to Floyd's death.
A recent report by The New York Times noted that in recent years various police departments have taken steps to limit or forbid use of neck restraints as a suppression method among their officers, because of the risk of injury to those subjected to it. As NBC News said in its Monday analysis, the Minneapolis Police Department permits neck restraints and chokeholds under certain circumstances.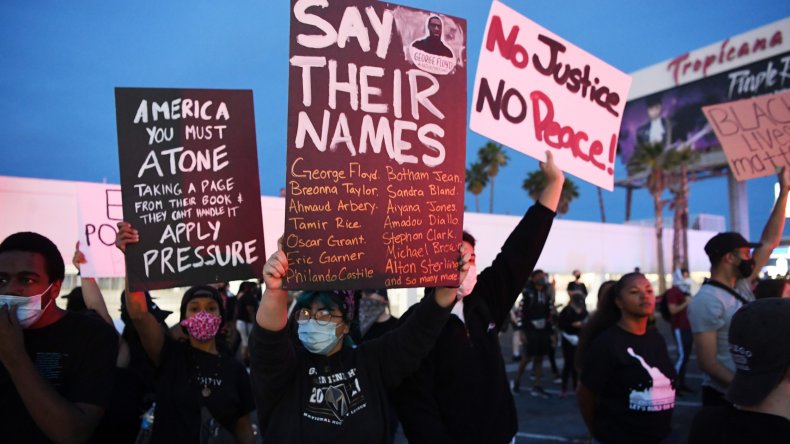 A version of the department's manual published online defines the restraint as "compressing one of both sides of a person's neck with an arm or leg, without applying direct pressure to the trachea or airway."
The instructions list neck restraints, as opposed to chokeholds, as "non-deadly" uses of force, though law enforcement can apply the approach to render people unconscious if they are "exhibiting active aggression" or resisting arrest and if less forceful means of restraint were not effective.
Though the Minneapolis Police Department's original incident report claimed Floyd was resisting officers as they initiated arrest, security footage released by a business establishment in the vicinity last week appeared to show him complying with the officers.
Newsweek reached out to the Minneapolis department for comment but did not hear back before publication.