St. Paul, Minnesota Mayor Says Police Violence That Led to George Floyd's Death Cannot Be 'Part of Our Culture Moving Forward'
St. Paul, Minnesota Mayor Melvin Carter discussed police violence and the implications of George Floyd's death during an appearance on CNN's State of the Union Sunday morning, demanding all four officers involved in the fatal arrest last week be held accountable. In calling for further legal action, Carter spoke about the systemic violence exemplified by Minneapolis law enforcement's treatment of Floyd, which was captured on video.
"If it was just one, you might be able to say, 'Rogue officer. Bad apple,'" he told the news program's host, Jake Tapper. "But when you have four officers in the video all responsible for the taking of George Floyd's life, it points to a culture, a normalized culture that's accepted, that's been accepted and that cannot be part of our culture moving forward."
Videos have circulated online since Floyd's death on Monday, sparking outrage across the country and prompting large-scale protests that have taken place over the past week. The first video showed Floyd, an unarmed 46-year-old black man, struggling to breathe while lying on the ground in handcuffs, as a white Minneapolis Police Department officer knelt on his neck for several minutes. That officer, who has been identified as Derek Chauvin, was arrested on Friday on charges of third-degree murder and manslaughter.
A second video, released on Friday, showed two additional officers using aggressive force to restrain Floyd while another stood guard nearby. Though the police department's original incident report said Floyd resisted law enforcement during an arrest for suspected forgery, security footage also released last week appeared to show him complying with officers.
All the officers involved, including Chauvin, were fired from the Minneapolis Police Department on Tuesday. Only Chauvin has been charged with a crime.
"We all know that the basic charge of a police officer is to help when people are hurt," Carter said on State of the Union. "So, when all of humanity can look at this video and say, 'That's disgusting. That's unacceptable." And yet somehow we have four officers in the video, three of whom sat there and either helped hold Mr. Floyd down or stood guard over the scene while it happened...that is an incredible insult to humanity."
Carter also responded to acts of violence by demonstrators who have gathered to protest Floyd's death at the hands of police. Similar to reports from authorities in other areas of the U.S., some St. Paul rallies resulted in fires, looting and other damages to local businesses over the weekend.
Though Carter said on Saturday that most individuals arrested for destruction of property during demonstrations in St. Paul had come from out of state, he amended the statement later, saying he had received inaccurate information.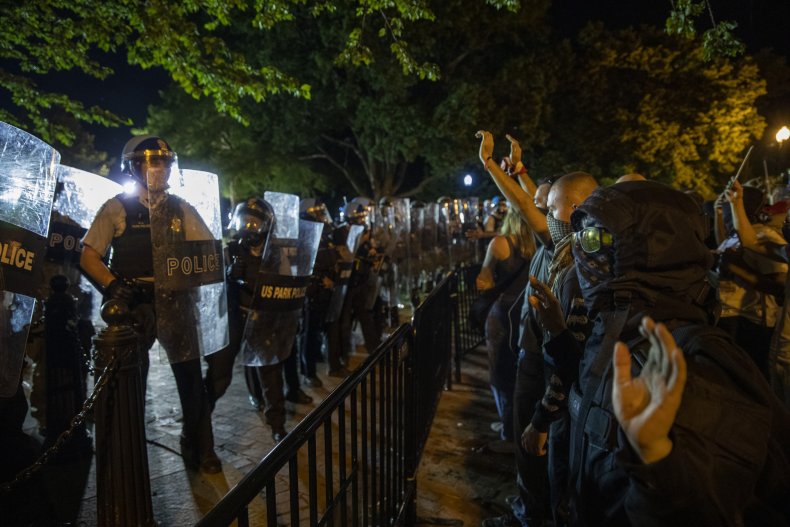 Carter said on Sunday that while he supports protestors' pursuit of justice, it is clear to him that those destroying St. Paul businesses establishments "are not driven by a love for our community," and are not furthering the cause in a productive way. Instead, he encouraged citizens angered by the events that led to Floyd's death to demonstrate peacefully.
"We're asking everybody who's outraged by that to channel this impatience, to channel this frustration, to channel this anger toward not destroying our communities but destroying the laws, destroying the legal precedents, destroying the police union contracts, destroying all of those forces that make it so difficult to hold someone accountable when one of our African-American men's lives is taken in an unacceptable way," he told Tapper, adding: "We are asking for peace, we're not asking for patience."
Newsweek reached out to Carter's office for additional comments regarding George Floyd's death and protests that have taken place in its aftermath, but did not receive a reply in time for publication.