A Minnesota man, who helped burn down the Minneapolis Third Precinct headquarters during last summer's protests, was ordered to pay $12 million in restitution and sentenced to three-and-a-half years in prison.
Branden Michael Wolfe of St. Paul was among hundreds who gathered outside the police station on May 28, 2020, three days after George Floyd was killed in an encounter with police. The crowd ripped down a fence surrounding the building and chanted, "burn it down."
While others set a fire, Wolfe pushed a barrel into the entrance of the police headquarters "with the intent to accelerate the existing fire," according to court records. The 23-year-old also stole several items from police, including police vest; duty belt; handcuffs; earpiece; baton; knife; riot helmet; pistol magazine; police radio; police overdose kit; uniform name plates; and ammunition.
"Mr. Wolfe furthered the destruction that took place in Minneapolis last summer by literally adding fuel to the fire. In addition to the arson, Mr. Wolfe stole body armor, weapons, and ammunition belonging to the Minneapolis Police Department," Acting U.S. Attorney Anders Folk said in a press release. "This sentence underscores the seriousness of Mr. Wolfe's actions and holds him to account."
Wolfe was arrested on June 3, 2020, wearing the police vest and the duty belt and carrying the tactical baton.
Last December, he pleaded guilty in Minnesota U.S. District Court to one count of conspiracy to commit arson. He will also serve two years of supervised release.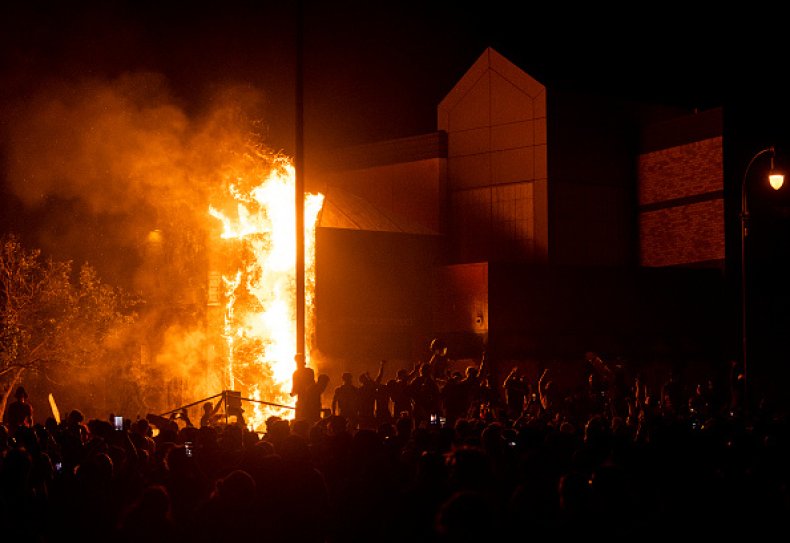 One of Wolfe's co-conspirators, 23-year-old Dylan Shakespeare Robinson, was sentenced to four years in prison and $12 million in restitution last week.
"Robinson, assisted by an unidentified co-conspirator, lit an object held by the unidentified co-conspirator who threw it toward the Third Precinct building with the intent that it would start a fire or fuel an existing fire," the Department of Justice stated.
"On the night of May 28, 2020, Mr. Robinson chose to depart from lawful protest and instead engaged in violence and destruction. The arson at the Minneapolis Police Department's Third Precinct put lives at risk and contributed to widespread lawlessness in Minneapolis," Folks said.
Wolfe and Robinson's other co-conspirators, Bryce Michael Williams, 27, and Davon De-Andre Turner, 25, have both pleaded guilty on one count each of conspiracy to commit arson for their roles that night, but will be sentenced at a later date.
Last summer's protests lasted several nights after Floyd's death. Governor Tim Waltz deployed the Minnesota National Guard after hundred of buildings were damaged and dozens of other were burned to the ground.
A Hennepin County jury found former Minneapolis police officer Derek Chauvin guilty on all three counts of murder and manslaughter last month. He is awaiting sentencing at this time, although his attorney filed a motion for a new trial on Tuesday.