Minnesota National Guard Increases Officers for Derek Chauvin Trial After Daunte Wright Shooting
The Minnesota National Guard is expediting plans to bring in more troops for the closing days of former Minneapolis Police Officer Derek Chauvin's trial following unrest sparked by the killing of Daunte Wright.
As of Monday morning, the Minnesota National Guard had just over 500 officers activated to help with "Operation Safety Net"—a group established by local law enforcement officials established to "ensure everyone can safely have their voices heard before, during and after" Chauvin's trial.
In a Twitter post, the Minnesota National Guard said it always had plans to ramp up its presence as the trial came to a close but was in "the process of expediting those plans to bring additional Guardsmen on duty in response to the events overnight in Brooklyn Center."
The Guard added, "We will continue to assist in protecting lives and property and maintaining peace in Minnesota's community."
Adjutant General Shawn Manke later said in a press conference that he anticipates the number of Minnesota National Guard personnel in St. Paul, Minneapolis and Brooklyn Center will rise to 1,000 officers by the end of the day.
Wright, a 20-year-old Black man, died Sunday after he was shot by a police officer during a traffic stop in the Minneapolis suburb of Brooklyn Center. Authorities said they pulled Wright over for a traffic violation.
Demonstrators gathered in the area shortly after news spread of Wright's death. Photos show those gathered waving flags reading "Black Lives Matter." On one street, someone wrote in chalk: "Justice for Daunte Wright."
A large crowd also assembled outside the police department, where they clashed with members of law enforcement. Officers fired tear gas and rubber bullets as protesters threw rocks and other objects.
Brooklyn Center Police Chief Tim Gannon said during a press conference Monday that he believed the officer who shot Wright meant to use their taser instead of their gun. Gannon also announced that the officer has been placed on administrative leave.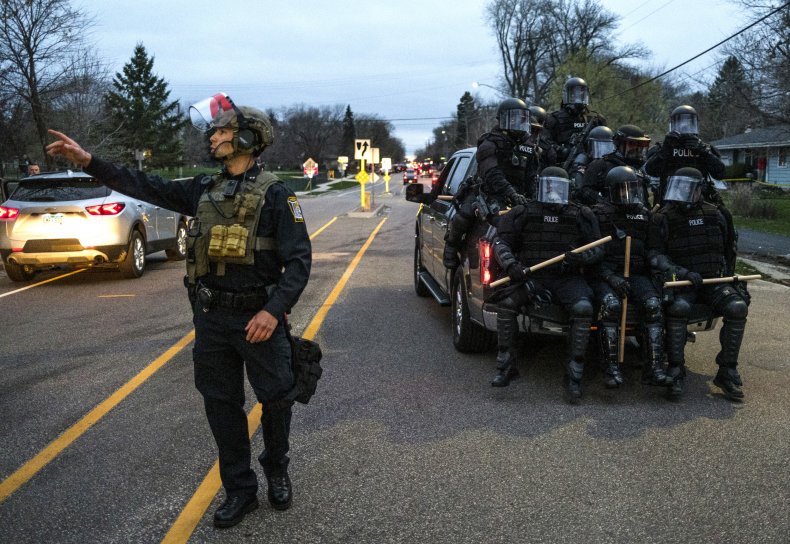 As the trial resumed on Monday morning, Chauvin's attorney asked for the jury to be sequestered because he feared that jurors could be swayed by the unrest following Wright's death. Judge Peter Cahill denied the request, stating that "this is a totally different case.
"That's a separate issue, and [the jury] should treat it as such," Cahill said. "It'd be a different story if it was civil unrest following a different verdict."
Chauvin is charged with second-degree murder, third-degree murder and second-degree manslaughter in the death of George Floyd. Floyd, an unarmed 46-year-old Black man, died after Chauvin, a white 19-year veteran of the department, kneeled on his neck for nearly nine minutes during an arrest in May 2020.
Floyd's death sparked a nationwide reckoning on police brutality and racial injustice. Last summer, hundreds of thousands of people took to the streets to express outrage and call for criminal justice reform.
Benjamin Crump, the Floyd family attorney, responded to Wright's death in a Twitter post on Monday.
"The police have unjustifiably made themselves judge, jury, & executioner. When will this stop?!" Crump wrote.
This story was updated on April 12 to include comment from Minnesota National Guard Adjutant General Shawn Manke.