Minnesota Republican Calls for Opponents to Be 'Stomped on and Run Over' at Gun Rights Rally
A Minnesota state lawmaker appeared to call for political violence against his opponents while speaking at a 2nd Amendment rally on Saturday.
"Some days, you feel like the frog in the boiling water. Just exactly how long are they going to just keep notching it up a degree here, and a degree here and a degree here until you've had enough? That line is for each of us to decide, each on our own terms," Republican state representative Cal Bahr said during a Minnesota Gun Owners Caucus rally on Saturday. "There's a lot of us in this room that have had enough, and it's time to start riding herd on the rest of these people that want to take your rights away from you. They will not go quietly into the good night. They need to be kicked to the curb and stomped on and run over a few times," he added, drawing cheers from the crowd.
He then invoked Paul Revere and the American revolution in his closing remarks.
"The last time that arms were tried to be confiscated from the American public led to a revolution, and it will happen again if they try and steal your arms. So let's make sure we stop all this stuff before it leads to a Second American Revolution."
Governor Tim Walz, a Democrat, denounced the remarks.
"Encouraging violence endangers our communities and undermines our democracy, particularly when the statement is made by an elected official. This type of language is unacceptable and demands condemnation from all political parties," Walz wrote in a statement, according to KSTP TV.
Bahr did not comment to Newsweek prior to publication.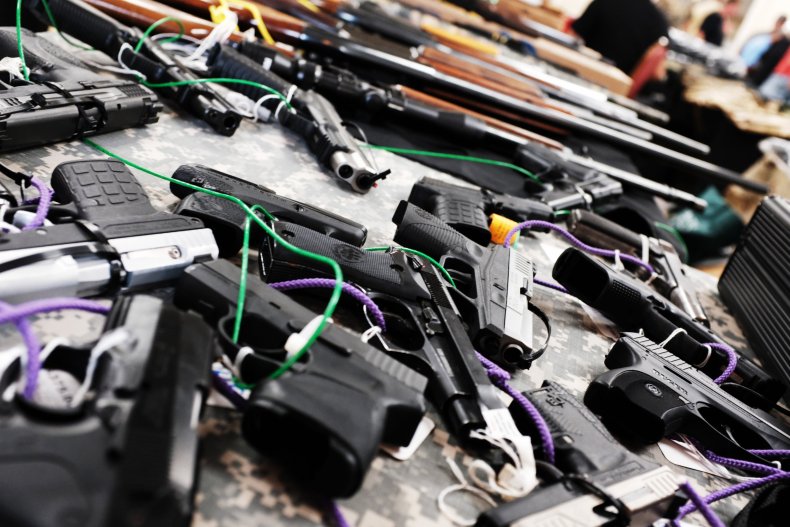 The remarks from Bahr, and the response from Walz, relate to a broader gun control debate occurring in the state, according to The Star Tribune. Democrats in the state house have said they will prioritize gun control legislation to make private gun vendors conduct criminal background checks. The have also said they want to implement a "red flag" law to enable relatives and law enforcement officers to ask a court to take guns from people deemed to be dangerous.
Senate Majority Leader Paul Gazelka has vowed to fight the legislation.
The fight within Minnesota relates to discussion across the country. A 2018 poll from Quinnipiac University found that 97 percent of Americans support universal background checks, but the legislation has not been passed at a national level.
While federal legislation from 1994 requires federally-licensed gun dealers to conduct background checks before sales, approximately 20 percent of transactions are conducted in other settings, according to The Atlantic.
House Majority Leader Nancy Pelosi has vowed to pass gun control legislation, but her efforts have made little headway. At the first House hearing on gun legislation to occur in 12 years, which took place earlier this month, Republican Matt Gaetz shifted the conversation to illegal immigration.