Minnesota School District Ban on 'All Lives Matter' Signs Violates First Amendment: Lawsuit
Attorneys representing students of Minnesota's Lakeville School District have told Newsweek they intend to file a lawsuit against the district on Friday for violating their clients' First Amendment free speech rights.
Doug Seaton, Upper Midwest Law Center president said his clients were discriminated against after being prohibited from displaying "All Lives Matter" signs on school property while "Black Lives Matter" posters were allowed.
The UMCL is a non-profit public interest law firm whose website describes its mission as one that initiates pro-freedom litigation to protect against constitutional violations, government's overreach, special interest agendas and public union corruption and abuses.
Specifically, the pending lawsuit names parents Bob and Cynthia Cajune and Kalynn Wendt, along with a number of other parents who are members of the faith-based grassroots organization Lion 194, as those suing the school district and its superintendent Michael Baumann on behalf of their children.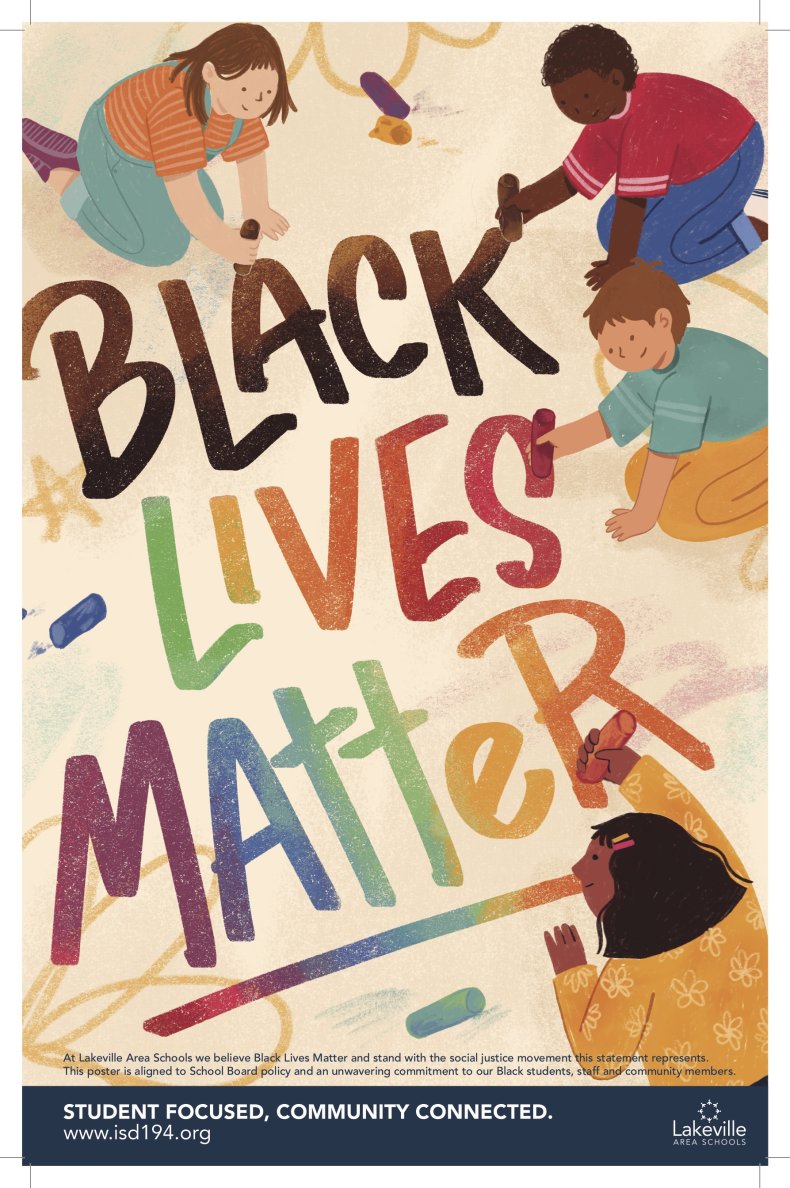 Wendt is the mother of a 9-year-old Lakeview Elementary student who was seen berating the school board in a video that went viral in June. In the clip, the girl, known as Novalee, admonishes the Board for images of "Black Lives Matter" and Amanda Gormon posted on the walls of the school after she was told political posters were not allowed.
According to the lawsuit, Independent School District 194, also known as Lakeville School District, created an "Inclusive Poster Series" in April that included two posters with the political slogan "Black Lives Matter."
According to the lawsuit, the two posters also stated "At Lakeville Area Schools we believe Black Lives Matter and stand with the social justice movement this statement represents. This poster is aligned to School Board policy and an unwavering commitment to our Black students, staff and community members."
But when Cajune, who is a Native American veteran and father to multi-racial children, and other ISD 194 taxpayers asked that alternative ideological viewpoints be presented alongside the "Black Lives Matter" posters, such as "Blue Lives Matter" or "All Lives Matter," they claim the school district refused to allow these rival viewpoints.
Cajune claims school district administrators told him "the inclusive posters were requested by many staff and families in our school communities and was a project included within the district's inclusion work this year" and was "fully supported by our Board of Education."
When he and the other plaintiffs asked about alternative ideological viewpoints being included alongside the Black Lives Matter posters, they claimed they were told the District doesn't approve of "All Lives Matter" or "Blue Lives Matter" posters in the classroom or other school areas and that school teachers or staff were not allowed to wear shirts with these sayings because they were created specifically in opposition to "Black Lives Matter." They said they were told these messages "effectively discount the struggle the Black students have faced in our school buildings and that Black individuals face in our society as a whole."
Lakeville, Minnesota is just 30 minutes outside the city where George Floyd was killed in May 2020.
Seaton said the lawsuit is indicative of other school districts nationwide that are having Critical Race Theory incorporated into their curriculums, whether parents agree with it or not.
"This suit is very important because we find many school districts in Minnesota and throughout the country are imposing this CRT ideology which is fundamentally a racist theory, Marxist derived and hostile to all races," Seaton told Newsweek. "It forces people to view themselves as part of a racial or ethnic group rather than as individuals and pits them against one another on that basis...it's simply not permissible, it's wrong and unconstitutional."
While Superintendent Baumann acknowledged that, to date, the district hasn't been served with the lawsuit, he also called the accusations that have been publicly leveled against Lakeville Area Schools as "unfounded."
"At Lakeville Area Schools we strive to ensure the success of each and every student in our school community. We believe that each and every student has a state constitutional right to a public education that is equal, equitable and free of racism and harassment," Baumann said in a statement received by Newsweek. "We welcome all students and all perspectives. We are committed to creating inclusive and affirming school communities where every student experiences a strong sense of belonging and feels valued."
Lakeville School District is a state and nationally recognized K-12 public school district that serves approximately 11,000 students. It's one of the fastest-growing school districts in the state.
This pending lawsuit is the latest that UMLC said is related to Critical Race Theory "on behalf of victims of CRT bullying and retaliation."
The UMLC has recently filed what it referred to as "parallel EEOC (Equal Employment Opportunity Commission) charges," which included state and federal lawsuits. One is on behalf of Tara Gustilo, a Filipino American doctor who was chairwoman of obstetrics and gynecology at Hennepin Healthcare System in Minneapolis who claims she was demoted after disagreeing with the CRT ideology.
Another case involved Joe and Aaron Norgren, a Native American father and mixed-race son, who both worked for the Minnesota Department of Health Services. They claim they were discriminated and retaliated against on the basis of their race and religion after objecting to mandatory anti-racist training.
"Our clients are bravely confronting CRT-inspired bullying, indoctrination and retaliation, which is not 'training' or persuasion," Seaton wrote in a previous statement referring to these other cases. "They have been insulted, lied about, threatened, demoted and fired, simply for refusing to submit to this ideology."