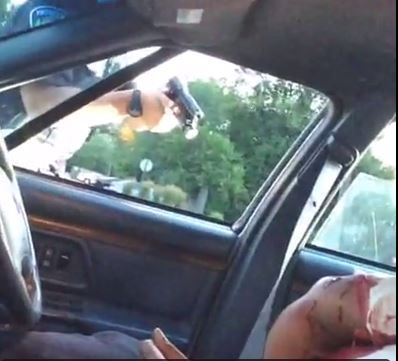 A Minnesota man has died after a police shooting on Wednesday night in an incident broadcast live on Facebook.
Philando Castile, 32, was shot by a police officer in St Paul, Minnesota, and later died in hospital, WCCO-TV reported. His death was confirmed by his mother, Valerie Castile, who said her son was a cafeteria supervisor at a school in the city.
The incident was the second consecutive day that a U.S. police officer shot a black man who consequently died. On Tuesday, two white police officers shot dead Alton Sterling, 37, in Louisiana, after an altercation outside a store.
The Castile shooting in the Falcon Heights suburb of St Paul was filmed by a woman named on her Facebook page as Lavish Reynolds, who claimed to be the victim's girlfriend. In a graphic video broadcast via Facebook Live, Reynolds films Castile in the driver's seat of the car, with a police officer pointing a gun through the driver's window. Castile is wearing a white t-shirt soaked with blood after apparently being shot in the right arm.
It is not clear if the officer in the shooting of Castile was white; Reynolds claims in the video that he was "Chinese."
In the footage, Reynolds says their car was pulled over by the officer for having a broken tail light. Reynolds claims that the officer instructed Castile to show his ID, and that Castile told the officer he was licensed to carry a firearm and that he was in possession of such a weapon. As he went to get his ID out of his back pocket, the officer shot Castile several times in his arm, according to Reynolds.
The officer, who is audibly emotional, shouts expletives and says: "I told him not to reach for it! I told him to get his head up!"
"He had, you told him to get his ID, sir, his driver's license. Please don't tell me he's dead," Reynolds replies.
The video, which lasts for almost ten minutes, then shows Reynolds getting out of the car and being detained by other officers. She is then pictured seemingly in the back of a police car with her young daughter, who attempts to comfort her. "It's okay, mama," the daughter says. "It's okay, I'm right here with you."
Sergeant Jon Mangseth, interim police chief in St. Anthony—which covers Falcon Heights—said he had not seen the Facebook video. "We haven't had an officer-involved shooting in 30 years or more, I'd have to go back in the history books," said Mangseth. "It's shocking, it's not something that occurs in this area often."