Representative Paul Gosar (R-Ariz.) retweeted a doctored anime video depicting him killing Representative Alexandria Ocasio-Cortez (D-N.Y.) only minutes after the House censured him over the video.
Gosar had previously deleted the controversial video, which shows him, using footage from the anime series Attack on Titan, slaughtering Ocasio-Cortez before turning the blade towards President Joe Biden, refusing to apologize but explaining that he had "self-censored" due to a sense of "compassion for those who generally felt offense." However, Gosar's position appeared to have changed quickly after the House voted largely along party lines to censure him on Wednesday.
Gosar retweeted conservative podcaster Elijah Schaffer's tweet of the video within an hour of the House vote. The new tweet was captioned by Schaffer, "Really well done. We love @DrPaulGosar, don't we folks?"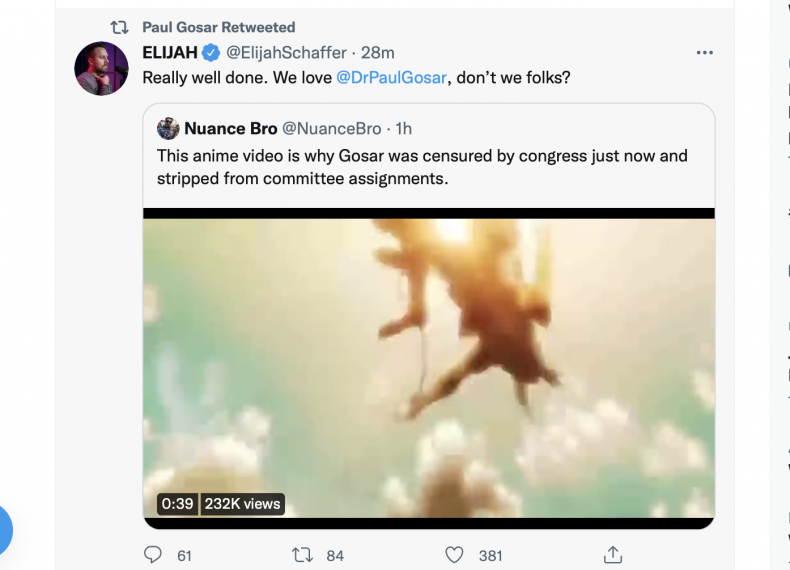 Newsweek reached out to the offices of Gosar and Ocasio-Cortez for comment.
Gosar unleashed a flurry of activity on his Twitter account after the censure vote, thanking his Republican colleagues "for supporting me against the hysterical mob that is running the circus" and praising Representative Lauren Boebert (R-Colo.) for railing against Representative Ilhan Omar (D-Minn.) as a member of the "Jihad Squad" during the floor debate. He also described the vote as "kabuki theater."
"I was surrounded by members of Congress who reject the kabuki theater we saw," Gosar tweeted. "This was an historic first to be surrounded by members in the Well of the House in solidarity against the mob of censors. Everyone knows this censure was theater."
The House voted to censure Gosar by a vote of 223 in favor and 207 against. Representative David Joyce (R-Ohio) was the lone member who voted "present," while Representatives Liz Cheney (Wyo.) and Adam Kinzinger (Ill.) were the only GOP members to vote in favor of the censure.
Republicans largely set their focus on the behavior of Democrats before the vote, with Boebert and House Minority Leader Kevin McCarthy (R-Calif.) both targeting Omar and other progressives instead of Gosar. Ocasio-Cortez denounced Republicans for being unwilling or unable to say that the video was "wrong" during the debate.
"What is so hard?" Ocasio-Cortez said from the House floor. "What is so hard about saying that this is wrong? This is not about me, this is not about Representative Gosar. But, this is about what we are willing to accept."
Gosar issued a statement after the vote that compared his plight to those who were murdered during the 2015 Paris, France, massacre that happened after the satirical magazine Charlie Hebdo published images of the prophet Muhammed.
"I remind everyone that pretending to be upset over a cartoon and wanting to suppress the ideas in a cartoon is what happened to the Charlie Hebdo magazine in France," Gosar said. "All right-thinking people condemned that then, and they should condemn the Democrats now for their violation of free speech."