'Miracle': Landlord Praised Over Rent Discount Amid Rising Cost of Living
A Canadian landlord was hailed an "inspiration" after he randomly gave his tenants a discount on their rent to help cope with sky-high inflation across the country.
Alex Boyd, from Montreal, shared a screenshot of a text message sent from her landlord offering herself and her roommate a reduction on their rent payment, so they had money to celebrate Canada Day this weekend, on social media.
He said that due to rising inflation, which reached a near 40-year high in May, he would decrease their usual payment by $100 each, so they had extra money in their pocket to mark the public holiday amid soaring living costs.
In May, Canadian consumer prices saw their largest increase since January 1983, with the country's annual inflation rate reaching 7.7 percent, according to data from Statistics Canada.
The U.S. also continues to face high inflation amid the war in Ukraine and supply chain issues stemming from the pandemic. In May, the U.S. saw its largest 12-month increase in inflation since 1981, as the inflation rate reached 8.6 percent, according to the U.S. Bureau of Labor Statistics.
'Absurdly Kind and Thoughtful Gesture'
Speaking to Newsweek, Alex said: "Our landlord sent the text out of nowhere. We were really surprised - not because it was out of character or anything - but just because it was such an absurdly kind and thoughtful gesture to offer for seemingly no reason other than out of the goodness of his heart.
"I've lived here for more than a year and my landlord, Jake, and I got along right away and still do. In fact, on several occasions he's sent a quick text just to check in with us and ask how we're doing or if we need anything, and to express his own appreciation for us being "great tenants."
"He isn't a career landlord; he and his wife just own the condo that we rent in Atlantic Canada so we're his only tenants. I almost hate to call him a "landlord"- to us, he's just the nice guy we rent the place from."
The tenants plan to put some of the cash toward getting their landlord a gift, while Alex will put the remaining money towards a trip out of her province to visit family.
"They're only a few hours away, but with the cost of fuel these days, I have to think more carefully about traveling and make sure I'm budgeting ahead", she said.
"My roommate and I are both incredibly fortunate to have good jobs, but there's no denying that the rising cost of living in Canada is still noticeable even for those who consider themselves financially secure."
After wishing his tenants a happy Canada Day weekend, the landlord wrote in the text: "It's so nice having great tenants who respect the place and are as easy going as you both are.
"Times are crazy now and life has gotten so expensive. To help with the matter and make sure you both have a little extra cash in your pocket this weekend so you can do something fun, I just wanted to let you know that I'll only be expecting $1,100 ($550 each) this month for rent.
"I hope you put the extra cash in the pocket to good use and if you ever need anything please feel free to let me know."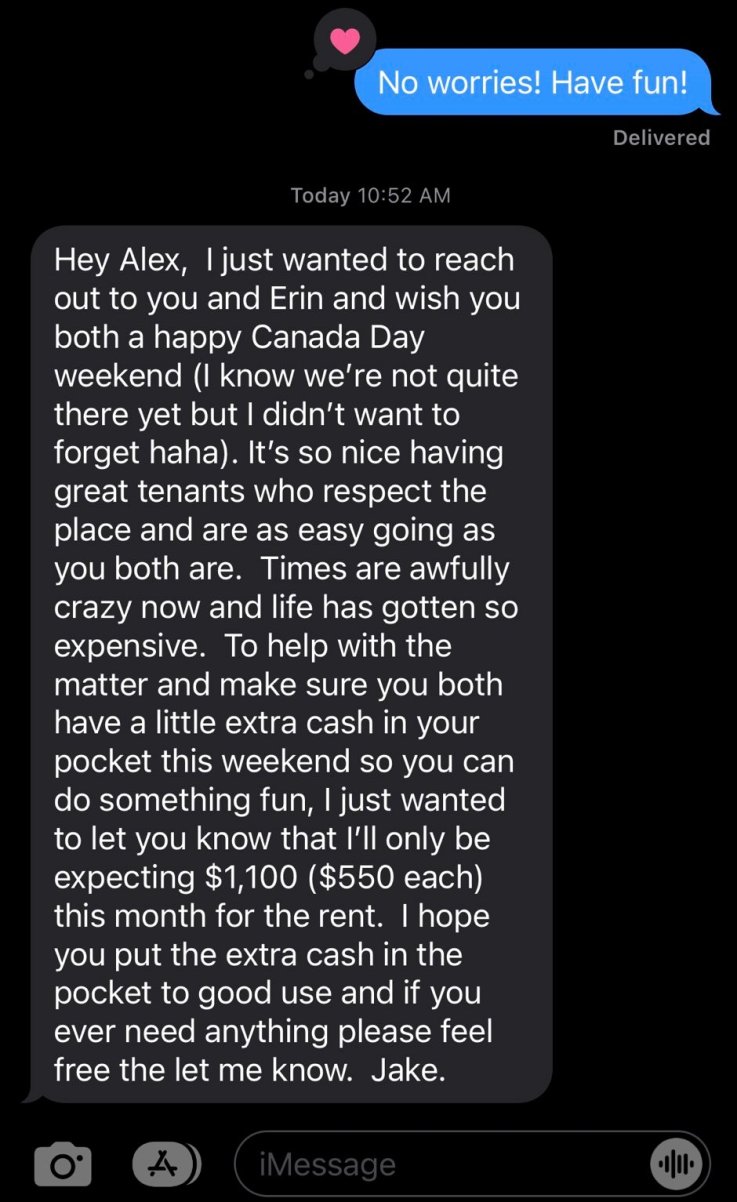 The tenant, named Alex, shared a screenshot a text message from their landlord who offered a reduction on their rent payment so they had money to celebrate Canada Day this weekend.
Alex Boyd
Canada Day is celebrated annually on July 1 to mark the passing of the British North America Act, 1867. The act saw three colonies within the British Empire—United Canadas, Nova Scotia and New Brunswick— unite into one single dominion called Canada.
After sharing the text to Reddit, the post received 18,000 votes and nearly 600 comments from users who said the tenants were "lucky" to have such a generous landlord, while other property owners said they were inspired to give reductions to their own tenants.
One user wrote: "They're lucky to have a landlord like that. I'm lucky enough to have a landlord like that as well, literally the best people, so nice and all I've got to do is keep them informed if there's an issue and they'll roll with whatever is going on."
"Thank you for inspiring me to do this. I have extra good tenants as well, just did something similar, I hope someone else does the same and keep the gift going," said one user.
Another user said: "Chances are you're a pretty good person too OP [original poster]. People pretty often forget that if you're just nice to people they'll also be nice back to you. I hope you keep living a good life!"
"Inspired. I just sent a similar one to my tenant who owes rent tomorrow and had to put 100 gallons of insanely priced oil in. Thanks for the inspiration," wrote another landlord.
One tenant added: "Can only pray for a miracle like this. My kid and I both got hospitalized and asked our landlord for a bit of delay and they exploded."
Alex added: "My favourite thing about this post going viral was seeing so many comments from landlords saying they were so inspired by Jake's generosity that they intend to extend similar gestures to their own tenants.
"Supporting one another and helping out where we can is one of the most effective actions we can take right now, so I'm very happy that Jake was able to set such a great example and inspire others."
She added: "I think the Reddit post resonated with so many people because right now, anyone would be grateful for a little bit of relief. I think a lot of us are trying to cut costs where we can, but housing is one that you just have to suck it up and pay either way, and for many, that cost may actually be rapidly increasing."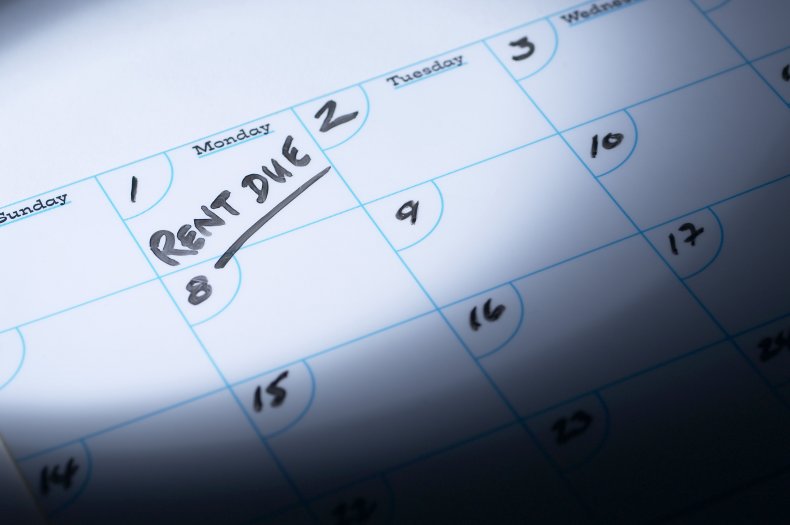 Update 07/01/22 at 8:13 a.m. ET: This article was updated to add further comments from the tenants.