On Podcast, Miranda Cosgrove Shares How She's Supporting Kids' Ideas to Help the Environment
During an appearance this week on The Daily Break podcast by Newsweek, actress Miranda Cosgrove discussed the ways she is encouraging girls everywhere to create strategies for addressing environmental concerns, adding that all her fellow Californians could help with the state's drought crisis by limiting their water use, kids included.
"When you brush your teeth or when you take a shower or you wash your hands, if you're thinking about that and you try to use as little water as possible, I think that can make a big difference," Cosgrove told podcast host Naveed Jamali. "If everybody did that, that would make a really big difference."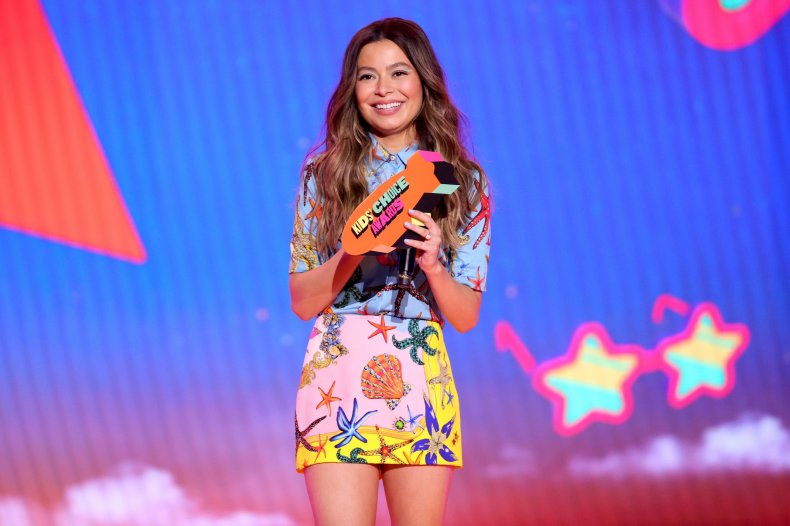 Cosgrove first gained fame in the early 2000s for the roles she played on the Nickelodeon series Drake & Josh and iCarly, the latter of which was recently rebooted on Paramount+. She also hosts Mission Unstoppable, a CBS show that highlights woman innovators in science, technology, engineering and math (also known as STEM).
Recently, Cosgrove has partnered with Girls Save the World, a project from Hewlett-Packard (HP) in partnership with MIT Solve. The project "aims to help provide tomorrow's sustainability leaders with the resources, mentors and support they need to put their ideas into action now," according to HP.
Girls age 13 to 18 are encouraged to share their ideas for how to address environmental issues within their area by January 18. Ten finalists will be picked in March, all of whom will receive "a grant to develop their solutions," and one winner will receive a $10,000 prize, according to HP.
Cosgrove told Jamali she is "really excited" to work on the Girls Save the World project.
"If you end up being one of the 10 finalists and you get your idea funded, it's like you have all these people behind you that are helping you. You have other girls that also have ideas that you get to meet," Cosgrove explained. "I just think that goes a long way—like, feeling empowered and getting to be around other kids and hear their ideas, too, and know that there are all these people out there that are trying to help together. I kind of feel like it doesn't get better than that."
Cosgrove acknowledged kids and adults alike often question the power of their personal impact but said she believes individuals can "make a really big difference."
"I think as long as kids are told that from a really young age, then the world's their oyster—they can do anything," Cosgrove said.
She went on to explain that seeing others demonstrate what is possible, as she said her guests do on Mission Unstoppable, can help open doors.
"It's really inspiring hearing all these different people's stories and knowing that you can basically start from nothing and start from anywhere," she said.