Mired in Ukraine, Russia Sees Clashes Involving Ex-Soviet Sphere Allies
As the Russia-led Collective Security Treaty Organization (CSTO) announced that it would dispatch personnel in response to a deadly flare-up between one of its members, Armenia, and former member, Azerbaijan, another series of clashes erupted between two other parties to the bloc, Kyrgyzstan and Tajikistan.
In a statement Wednesday, Russian Foreign Ministry spokesperson Maria Zakharova said that Moscow "is closely following the tense situation on the Kyrgyz-Tajik border, which escalated again on the morning of September 14 this year as a result of a shootout between border guards."
"Taking into account the existing agreements between the Presidents of Kyrgyzstan and Tajikistan," she said, "we call on both sides to take all necessary measures to return the situation to the political and diplomatic field and jointly suppress any kind of provocation."
"We express our readiness to assist the parties in arriving at a long-term mutually acceptable solution to border issues, using Russia's rich experience in border demarcation, including with its Central Asian neighbors," she added.
That same day, Kremlin spokesperson Dmitry Peskov said that "tensions definitely still exist" between Armenia and Azerbaijan, where clashes have led up to 100 people dead on both sides.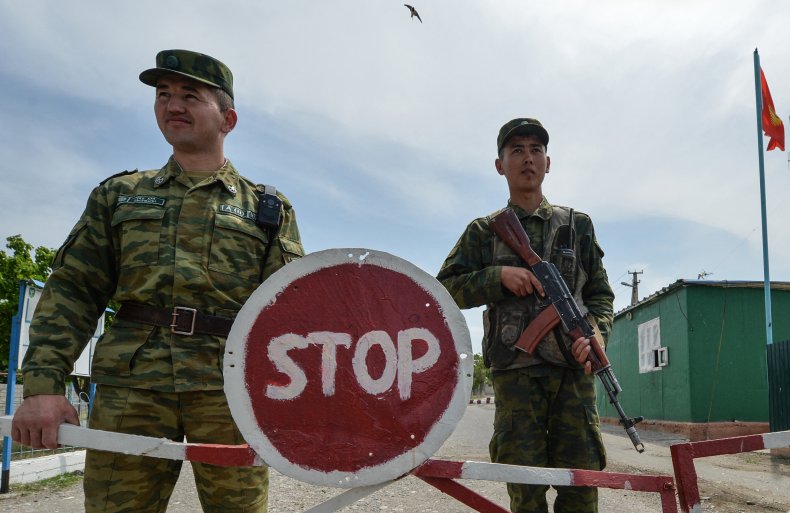 The CSTO's Collective Security Council held a virtual extraordinary session Tuesday in response to the hostilities between Armenia and Azerbaijan. A readout released Wednesday said the group had agreed that CSTO Secretary General Stanislav Zas of Belarus would lead a mission to Armenia involving CSTO Joint Staff chief Russian Colonel General Anatoly Sidorov and representatives of all six CSTO member states.
The CSTO delegation was set to arrive Thursday as Armenia reported an ongoing Azerbaijani offensive along their South Caucasian border, which has seen a number of bloody conflicts over the disputed Nagorno-Karabakh region. In the latest engagement, Baku reportedly fired first after accusing Yerevan of sending troops to mine Azerbaijani positions, a charge that Armenia has denied.
Just as the CSTO prepared to respond to the burgeoning crisis, officials from both Kyrgyzstan and Tajikistan reported clashes between troops along their own disputed border, nearly half of which has not yet been demarcated and even more of which remained contested. Both sides accused the other of initiating the violence, and little detail has emerged in the way of casualties between the two Central Asian states.
Like Armenia and Azerbaijan, Kyrgyzstan and Tajikistan are former states of the Soviet Union, and all four gained independence as the USSR collapsed in 1991. But lingering hostilities over territory have produced occasional episodes of violence that threaten to escalate as Russia remained mired in a war with yet another ex-Soviet republic, Ukraine, in Eastern Europe.
As conflict brewed elsewhere in the former Soviet sphere of influence, Ukraine's counteroffensive has reportedly resulted in some early successes in attempting to wrest back control over territory taken by Russia since the Kremlin launched a so-called "special military operation" against Ukraine in February. Intense fighting has been reported in the southern Kherson and eastern Kharkiv regions, which provide key access to the Crimean peninsula, under Russian control since 2014, and the Donbas, partially taken by pro-Moscow separatists that same year.
Russia launched the war after accusing Ukraine of seeking protection under the nuclear umbrella of the U.S.-led North Atlantic Treaty Organization (NATO), which has expanded to some 30 nations over the years, nearly half of which were once aligned with the Soviet Union throughout the Cold War.
Moscow has continued to play a major role in the post-Soviet space and, in addition to Russia, the CSTO includes Armenia, Belarus, Kazakhstan, Kyrgyzstan and Tajikistan. Azerbaijan, Georgia and Uzbekistan had also signed on to the pact, but declined to renew their membership in 1999. Like NATO's Article 5, the CSTO maintains an Article 4 collective defense clause in which an attack on one country could constitute a response by all if activated.
Armenian Prime Minister Nikol Pashinyan told lawmakers on Wednesday that his nation "addressed the CSTO under Article 4, requesting, among other things, military aid in order to restore the country's territorial integrity."
While the CSTO did deploy peacekeepers in response to nationwide unrest in Kazakhstan in January, the bloc has not traditionally played a frontline role in the Armenia-Azerbaijan conflict.
The feud is rooted in century-long hostilities that erupted most explosively in the late 1980s as the ethnic Armenian-led and internationally unrecognized Artsakh Republic declared sovereignty over the Nagorno-Karabakh region that is internationally considered part of Azerbaijan. As tensions simmered over the decades, another war broke out in 2020, which saw Azerbaijan, supported by Turkey, make significant gains against Artsakh and Armenian forces.
That round of violence ended with a ceasefire agreement and the deployment of Russian peacekeepers, though clashes continued throughout last year. The Armenian Defense Ministry has also accused Azerbaijani forces of firing directly upon Russian military vehicles.
In addition to the CSTO session, the Organization of Security and Cooperation in Europe (OSCE) also convened a special gathering Wednesday at Armenia's initiative in response to the unrest. The OSCE's so-called Minsk Group, co-chaired by France, Russia and the U.S., has led efforts to find lasting peace in the Nagorno-Karabakh issue.
In a statement, Polish Foreign Minister Zbigniew Rau, who is serving as OSCE chair-in-office, said that "the escalation of hostilities at the border between Armenia and Azerbaijan must cease immediately."
"The progress achieved so far by following the diplomatic path must not be squandered," Rau said. "There has been progress over the past 18 months, including agreement between Armenia and Azerbaijan to continue work towards a peace treaty. These clashes jeopardize this progress and put countless lives at risk."
OSCE Secretary General Helga Maria Schmid issued a similar appeal, saying that "hostilities must stop, not least to avoid further casualties."
"Drawing on decades of experience and expertise," she added, "the OSCE stands ready to help."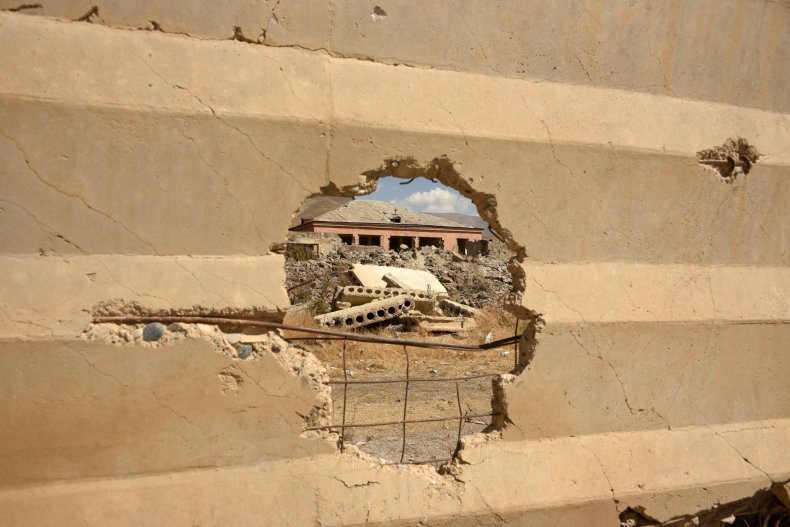 U.S. Secretary of State Antony Blinken also expressed concern Tuesday, saying he urged both Pashinyan of Armenia and Azerbaijani President Ilham Aliyev "to do everything possible to pull back from the conflict and to get back to talking about building a lasting peace between their countries."
Despite the severe strain on relations between Washington and Moscow over the ongoing war in Ukraine, Blinken said he held out hope that Russia could play a constructive role in easing the conflict, even though he expressed concern that the Kremlin might also seek to exploit the issue to its own advantage.
"Whether Russia tries in some fashion to stir the pot to create a distraction from Ukraine is something that we're always concerned about," Blinken said. "But if Russia can actually use its own influence for good, which is to, again, calm the waters, end the violence, and urge people to engage in good faith on building peace, that would be a positive thing."
U.S. officials have yet to weigh in publicly on the clashes between Kyrgyzstan and Tajikistan, but have broadly called for calm in view of past incidents, including a 2021 exchange of fire over water distribution along the Isfara river, which runs through both countries as well as Uzbekistan. Several incidents have taken place since, and the latest violence has once again raised fears of a broader escalation.
Both countries have recently invested in improving their military prowess, with Kyrgyzstan showing off a new base for newly acquired Turkish Bayraktar drones. Reports have emerged that Tajikistan is considering buying the same advanced unmanned aerial systems, which have proven consequential in other conflicts. Azerbaijan's use of Bayraktars was credited with devastating Armenian and Artsakh positions in 2020, and Ukrainian forces continue to employ the platforms effectively against Russian forces.
The unrest in Central Asia came just one day before Kyrgyz President Sadyr Japarov and Tajik President Emomali were expected to attend the Shanghai Cooperation Organization (SCO) leaders-level meeting, which is to be hosted in the Uzbek capital of Samarkand on Thursday and Friday. Also slated to appear are Russian President Vladimir Putin, Chinese President Xi Jinping and the heads of other fellow SCO states Kazakhstan, India, Pakistan, Uzbekistan and prospective SCO member Iran.
Pashinyan and Aliyev were also initially expected to attend, though Pashniyan has since reportedly dropped out as a result of the current tensions along the border.
Newsweek has reached out to the CSTO for comment.