'Mirzya' Director Rakeysh Omprakash Mehra on Challenging Bollywood Norms and the India-Pakistan Conflict
Director Rakeysh Omprakash Mehra is behind two of the biggest Bollywood films of the last decade, Rang De Basanti and Bhaag Milkha Bhaag, both of which are biographical dramas. His latest film, Mirzya, a Romeo and Juliet-style epic romantic drama with elements of fantasy, is altogether more experimental. Straying from the norm, Mehra is rewriting the rules of India's largest film industry—one that is worth an estimated $2bn a year—and targeting a more global audience.
Mirzya is based on the Punjabi folklore of doomed lovers Mirza and Sahiba, whose relationship angers Sahiba's family. In a fateful showdown, Mirza is killed by Sahiba's brothers and she sacrifices herself. Mehra's take combines the traditional folk story through stylish fantasy sequences with a modern-day retelling in which a lowly horse groomsman is reunited with his childhood best friend—whom he loves, and who also happens to be a princess.
Bollywood is not typically known for fantasy fare. Romantic melodramas with colorful song-and-dance numbers, punctuated by a heartrending ballad, are a proven format that works. Biographical movies, as Mehra has himself shown, also play well critically and commercially: Rang De Basanti, about freedom fighters that challenged the British Raj for India's independence at the turn of the century, was nominated for a British Academy award (BAFTA) for foreign language film in 2007 and Bhaag Milkha Bhaag, the inspiring story of Indian Olympic sprinter Milkha Singh, was one of 2013's highest-grossing Bollywood films.
"I want to tell Indian stories to the world," Mehra tells Newsweek. "There will be a departure from the normal culture of what you call 'Bollywood.' You can call me un-Bollywood, if you like. People outside India—not just the West; it could be China—are wanting to listen to stories, if you don't give them interesting stories and get charactered as song-and-dance there's something seriously wrong. Musical is one genre, and then life moves on."
Mehra's quest to create a Bollywood film for the masses beyond just India saw him launch the film at the London Film Festival in October. Mirzya was the gala presentation for the love strand. "It felt correct going that route," the filmmaker says. Appearing on the festival circuit gave the film a more independent feel, although it was in fact produced on a sizable budget of $350m rupees ($5m).
Related: Bollywood Star Shah Rukh Khan on Surprising Career Moves and What He Owes to Women
Mehra also decided to cast unknown actors in the lead roles rather than hire one of the big Bollywood names that usually attracts movie buffs to the multiplex. Lead actors Harshvardhan Kapoor—the son of Bollywood legend Anil Kapoor—and Saiyami Kher both make their acting debuts in this film. "It's what the script demanded, the whole approach to storytelling was new. I wanted audiences to come in and experience something without any expectations," says Mehra.
Finally, the director rejected the common route of having his actors appear on popular Indian reality television shows such as Bigg Boss, an equivalent to Celebrity Big Brother; such a tactic would be sneered at in Hollywood, but has proven effective in India— the likes of Shah Rukh Khan and Kajol guest-starred on Bigg Boss' ninth season. "I didn't want to cheat my audience by going to the popular TV shows to promote. It was very subtle," he says.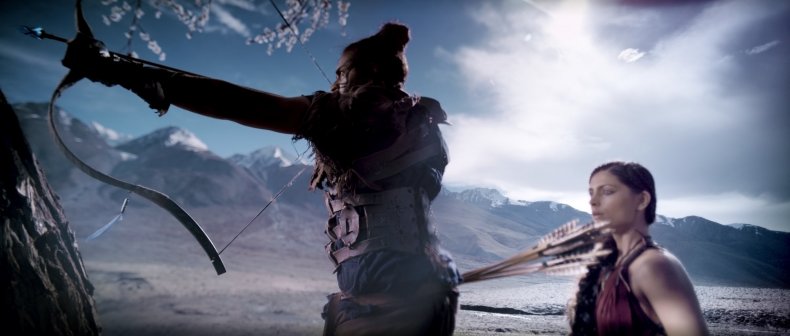 In India, Mirzya has not performed as well as Bhaag Milkha Bhaag or Rang De Basanti. Critical reaction has been mixed, and the film was dubbed a box-office disaster. "There's no anger in me, no denial, there's acceptance of the box-office result," says Mehra. Although the director believes "when you make cinema you make it for the big screen" he feels that Mirzya could be benefited from the changing landscape of streaming and international distribution. Last week, Netflix announced a global deal with Bollywood megastar Shah Rukh Khan that would make his past and future films available to 86 million subscribers. "I hope we have a longer shelf life," says Mehra, noting a 10-year television deal for the movie rights in India and discussions for it to be made available in China—a burgeoning movie market that is rivaling Hollywood—and Japan. "Five years ago, if you don't perform at the box office, you'd be lost. Now there are new avenues and platforms."
As Mehra attempts to build a bridge between Indian cinema and film fans across the globe, there is also a feeling of sadness at the increasingly fragile ties between India and bordering Pakistan, dating back to 1947 when India gained independence from British rule and Pakistan was created. Tensions between the two countries have amplified since September when 19 Indian soldiers were killed in the disputed territory of Kashmir; Indian forces blamed Pakistani militants and the country conducted 'surgical strikes' on the territory.
The conflict has also had an impact on the film industry. The Indian Motion Picture Producers' Association (IMPPA) banned Pakistani actors from appearing in Indian films in October. Pakistan, meanwhile, banned Bollywood films from being shown in theaters—a decision that has now been overturned. The ban on Pakistani actors in India followed ultranationalist groups threatening to violently disrupt screenings of legendary Indian filmmaker Karan Johar's latest film, Ae Dil Hai Mushkil, because it features Pakistani actor Fawad Khan in a lead role. Johar later said he wouldn't work Pakistani actors again, appearing to bow to pressure.
The India-Pakistan conflict, and its impact on the film industry, is a topic few in Bollywood have been willing to openly speak about. But Mehra says, "Both nations need to grow up. When they were created it was painful and not in the best of circumstances… but a lot of water has gone under the bridge."
"We were going to have a beautiful release [of Mirzya] in Pakistan… I was told three days before that distributors had backed out," the filmmaker says. He believes a cultural exchange between the countries is important and, in fact, the folklore of Mirza and Sahiba is rooted in Pakistan. "It comes from the greater Punjab and the borders of Baluchistan."
"I don't think the people of both the countries are looking for peace, otherwise they would have got it," says Mehra. "They would have put enough pressure on all and every agency and said, 'No, we are not going to accept this.' I'm at a complete loss. I'm so sad."
Mirzya screens at Picturehouse Central, Piccadilly, London W1D 7DH, from December 23. For tickets, click here.