Misguided Attacks on Ron DeSantis Are Actually the Ultimate Compliment | Opinion
A new Monmouth University poll reveals what anyone with eyes and ears should already know: Republican voters have deep interest in the 2024 candidacies of former President Donald Trump and Florida Governor Ron DeSantis, and virtually no one else.
Tied at 33% in the survey, the former president—the only announced candidate so far—and the Florida governor tower above former Vice President Mike Pence at 2%, as well as a gallery of fellow anticipated or possible competitors at 1%: former U.S. Ambassador to the United Nations Nikki, Haley, former Secretary of State Mike Pompeo, and 2016 candidates Senators Ted Cruz (R-TX) and Rand Paul (R-KY). It appears Haley will be the first to officially enter a race with so little remaining oxygen, but history teaches that polls a year before any actual primary votes are cast are rarely predictive.
But if there are any lanes to be opened for other GOP hopefuls, it seems there is only one path to blazing such a trail: Peel away voters from a still-popular former president and the only one of his potential rivals with any indication of broad-based national support.
Good luck with that.
For all the conservative love DeSantis has attracted, it is not a certainty that he will seek the presidency in 2024. He has waved off specific questions about his aspirations with the familiar claim that he is laser-focused on his current job, and that other speculation is just a rumor. Some will recall that same claim from George W. Bush in the days between his second inauguration as Texas governor and the formation of his presidential exploratory committee less than eight weeks later.
So in these days leading to a 2024 decision from DeSantis, it is instructive to survey the landscape of reactions to his possible presidential candidacy from various Republicans, from voters to elected officials.
If we are indeed to be treated—some would say subjected—to the spectacle of a Trump versus DeSantis battle royale for the 2024 GOP presidential nomination, there is already evidence that the 45th president will come at the Florida governor with the same brashness he deployed to plow through the large 2016 Republican field. Already fond of referring to him as "Ron DeSanctimonious," Trump redeployed that barb just last week, in a re-post of a random Truth Social user sharing a 20-year-old photo of DeSantis purportedly "grooming high school girls with alcohol as a teacher."
In the photo, a young adult DeSantis is shown with a group of female students during a year when he was teaching at a private school in Georgia. That alone clearly does not constitute evidence of any unsavory behavior, but that did not stop Trump from cheekily posting, "That's not Ron, is it? He would never do such a thing!"
Trump may soon learn that muscling a field of GOP hopefuls with sharp elbows in 2016 is one thing, but that it is quite another to attack the one potential 2024 adversary already greatly admired by his own voter base. The aforementioned Monmouth poll, which gauged voter support for many names, also asked about a potential head-to-head matchup featuring Trump and DeSantis. Trump trailed, 53%-40%.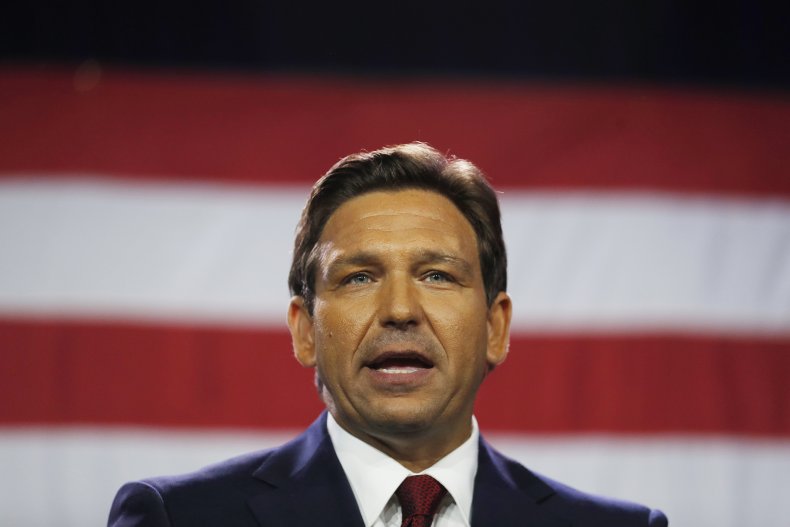 If the appeal of DeSantis is the prospect of Trump policies in a more disciplined package, one would think the former president might recognize the ill wisdom of reminding his voters of the behavioral idiosyncrasies they had to endure along the path to a presidency they generally admired.
Strong borders, a prosperous economy, and constitutionalist Supreme Court justices made Trump's well-known eccentricities more than tolerable to most of his supporters. But the Democratic Party voter base will be motivated to a fever pitch to try to defeat him again, even if their own nominee is a withering Joe Biden or an underwhelming substitute.
Republicans know that the most important characteristic of their 2024 presidential standard-bearer is the ability to win a general election in November. If their choices are a Trump campaign that occasionally derails itself with its juvenility and the familiar DeSantis response that he doesn't spend his time "trying to smear other Republicans," there could be more defections from Trump's base.
Some on the possible 2024 list already seem to be taking specific aim at DeSantis. Former Maryland Governor Larry Hogan's liberalism leads him to a dim view of both Trump and DeSantis. South Dakota Governor Kristi Noem's press team has tried to out-pro-life DeSantis in response to observations that he outshines her in the fight against transgender radicalism.
And New Hampshire Governor Chris Sununu, who is fond of telling interviewers that "a lot of folks" want him to run, may discover limits to his appeal if he continues to disparage the very "culture wars" that have been the major fuel behind the DeSantis ascendancy. It is hard to imagine any Republican gaining much national traction by proclaiming a wish to remain on the cultural sidelines.
Polls will change in this coming year. Different candidacies will rise and fall. The ultimate decisions will be made by voters, and there are many miles to travel before that process even begins. It would be unwise at this early stage to anoint DeSantis or count Trump out. But if DeSantis is gathering data on how many support him, there is significance to be found in examining why the candidates he may run against are already ganging up on him, revealing what increasingly looks like envy—with a side dish of fear.
Mark Davis is a syndicated talk show host for the Salem Media Group on 660AM The Answer in Dallas-Ft. Worth, and a columnist for the Dallas Morning News and Townhall.
The views expressed in this article are the writer's own.