The U.S. Marines' missing F-35B fighter jet could travel for hundreds of miles on autopilot after its pilot ejected mid-flight and the U.S. military appealed for public help in locating the advanced aircraft, according to experts.
Depending on how much fuel was in the aircraft, the F-35 jet could likely travel hundreds of miles without its pilot, military expert and former British military officer Frank Ledwidge told Newsweek on Monday.
"Historically, an aircraft without a pilot can fly a long way on autopilot," added Frederik Mertens, a strategic analyst with the Hague Center for Security Studies.
"Without air-to-air refueling, the F-35 has a range of over 1,000 miles," retired Air Commodore Andrew Curtis, of Britain's Royal Air Force, told Newsweek.
The F-35B Lightning II stealth fighter jet was "involved in a mishap," military officials based in Charleston, South Carolina, said on Sunday. The pilot ejected and was taken to a nearby medical center "in a stable condition," officials from Joint Base Charleston said.
The U.S. Air Force judges a "mishap" to cover a wide range of scenarios, or "any unintended occurrence in the Air or Space Force that results in death, injury, illness or property damage."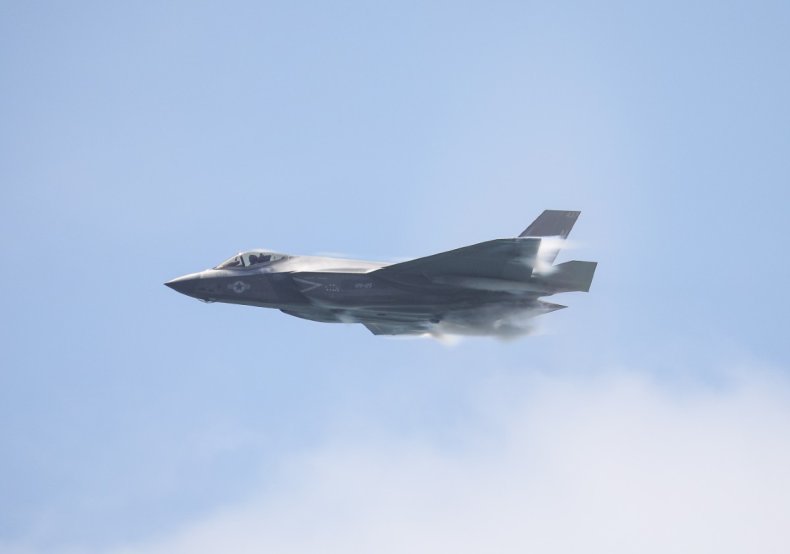 The jet was part of a training squadron with the 2nd Marine Aircraft Wing, and search efforts are focusing around Lake Moultrie and Lake Marion, between Charleston and Columbia, based on the last known position of the F-35, the military base said.
The Lockheed Martin-made F-35 fifth-generation fighters are among the world's most advanced stealth aircraft. They are used by the U.S. Marine Corps, as well as by the British Royal Air Force and Italy's air force, and can take off in very short distances, or vertically. Each F-35 comes with a price tag in the region of $80 million.
A spokesperson for Lockheed Martin told Newsweek that they were "aware of the mishap involving an F-35B from Marine Corps Air Station Beaufort and are thankful the pilot ejected safely."
"We are supporting the government's investigation," the spokesperson added.
"The aircraft is stealth, so it has different coatings and different designs that make it more difficult than a normal aircraft to detect," Jeremy Huggins, a spokesperson at Joint Base Charleston, told The Washington Post on Sunday night.
"Certainly, its stealth features would have made it extremely difficult to be seen on civilian air traffic radars," Curtis told Newsweek.
The jet's transponder, which would help officials find the aircraft, was not working "for some reason that we haven't yet determined," Huggins said.
"Emergency response teams are still trying to locate the F-35," officials said in a statement on Sunday.
A fighter aircraft continuing on in the skies after the pilot has ejected is not unprecedented. In 1989, a Soviet MiG-23 crashed in Belgium after flying hundreds of miles from where the pilot had ejected over Poland.
The U.S. military had asked members of the public to "cooperate with military and civilian authorities as the effort continues," and to contact the Base Defense Operations Center with any information "that may help our recovery teams locate the F-35."
An F-35B crashed in South Carolina in 2018, after which the U.S. military temporarily grounded its fleet of the aircraft.
Newsweek has reached out to Joint Base Charleston for comment via email.
Update 9/18/2023, 11:45 a.m. ET: This article was updated with a statement from Lockheed Martin.