A high school graduating class ring was discovered and returned to its owner nearly 40 years after it went missing.
According to a report from WWSB-TV, diver Shawn Rauch made the impressive discovery while combing the coast of Lido Beach in Sarasota, Florida, with his underwater metal detector. "I just do it for fun," he told the outlet.
While diving in late May, Rauch found a high school class ring. "Went out in search of a wedding ring in 8ft of water, and found my first ever class ring instead!" he shared to the SouthWest Florida Metal Detecting Facebook group. "Graduated in 1986. Now to find the owner..."
In the comments section of the post, Rauch reported that he had traced the ring to Lassiter High School in Marietta, Georgia. Although some commenters theorized what the ring could be worth if sold or melted down, Rauch remained firm in his mission to return the ring to its rightful owner.
Rauch is not the only person who utilizes social media to reconnect people with their lost valuables. Facebook groups like Class Rings Bought to Reunite to Rightful Owners, run in part by administrator Richard Escobedo, exist to help lost rings find their homes.
"I graduated from John F. Kennedy High School in 1982 in San Antonio, Texas," Escobedo shared with Newsweek. "Fifteen years later, my Pride and Joy class ring was stolen from my home. I loved high school and I was in the Mighty Rocket band all 4 years. I was devastated when it was stolen ... It happened in 1997, and the very next day I went out looking for it in pawn shops, flea markets & everywhere used things were being sold."
While Escobedo has yet to find his own ring, he realized in the late 1990s that among the jewelry he was parsing through in pawnshops were other people's class rings. He decided to begin purchasing them himself and finding their owners from 1997 through 2017, before starting his Facebook group in 2019. Along with the help of Shanna F. Pierce, his page is a "team effort" dedicated to purchasing class rings "to reunited them to their owners from all over the world."
"Facebook is amazing! [It's] my go-to platform for researching rightful owners," Escobedo shared with Newsweek. "I find 95%-100% of rightful owners on Facebook. When I'm on it, I use School Alumni groups and especially Family & Friends to reach out to. It really helps my searches A LOT and [has been] very successful.
"The internet has been so helpful. Me that I'm in San Antonio, it would be difficult to locate rightful owners without those platforms."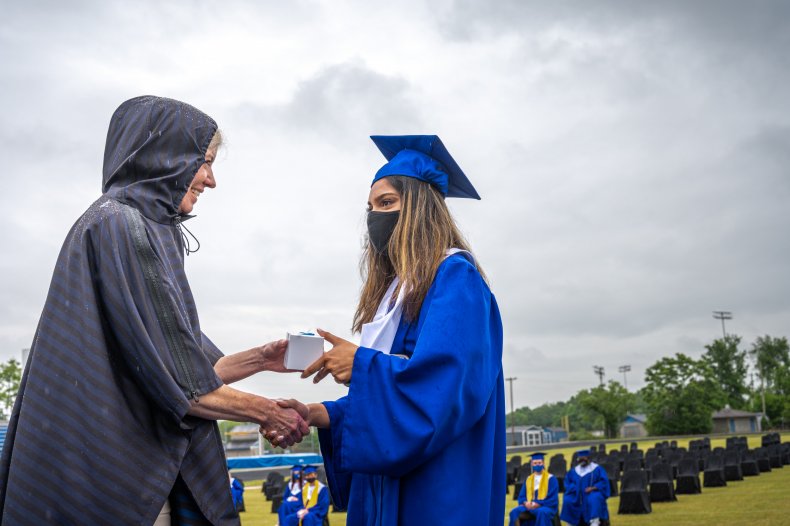 Meanwhile in Florida, Rauch told WWSB-TV that he began searching the 1986 class graduation records for the school available online, and using the initials engraved on the piece, he was able to deduce that the ring could belong to one of three people.
"I searched a high school that he graduated from," he told the outlet. "There were three people in his graduating class that had the same initials."
With the help of some compassionate alumni he found on an online yearbook, Shawn found the ring's owner — Mark Murray of Georgia.
When Murray got the call about his ring that he lost 36 years ago, he could hardly believe it was real. "I can't even tell you the way it makes me feel it, words can't describe it," he told WWSB-TV.
"Thirty-six years ago, I got that ring junior year of high school I had for what, two weeks when I lost it," Murray added. "I remember my father was so mad at me, he spent however much on it, and I lost it in two weeks."
Rauch also detailed his incredible find on his YouTube channel, Detect Florida. In the video, he details how he found the ring and his sleuthing process to ultimately find Murray. He even shared the phone call in which he informed Murray his ring had been found.
"Hey Mark, this is Shawn. I think I found your class ring!" Rauch says.
"You know, my friends have all been contacting me in the last 24 hours or so stating the same!" Murray replies enthusiastically. "That's pretty damn interesting ... I'm just floored."
Rauch was able to mail the ring back to its home, and he told WWSB-TV how being able to reunite treasured pieces of jewelry with their owners brings him such joy.
"It's fun finding gold and diamonds and, you know, Rolex watches. But by far the best part is getting these reactions from people thinking that these hugely sentimental things are finally coming home," he told the outlet.
Like Rauch, Escobedo has also been able to successfully return 80 class rings to their owners. "I feel [it's] my duty to get them off the shelves because a lot of times people sell them and eventually they get melted down and gone forever!" he told Newsweek. "In my group, I give members HOPE! I want to let them know not to give up on theirs. Cause it can be out there somewhere.
"Not sure ... [about ring loss] statistics but almost over 7K members just in my group have lost theirs somehow," he added, noting that he believed there to be millions of rings lost or stolen nationally. "The numbers are crazy!"
Newsweek reached out to Rauch for additional comment but did not hear back in time for publication.
Rauch and Escobedo are not the only men who have done impressive work finding lost pieces of jewelry.
In April, a California diver reunited a husband with his lost wedding ring after recovering the gold band from the bottom of a river. In May, a man recovered a woman's engagement ring two days after it had fallen into England's largest lake. One little fish even discovered a wedding band that snorkelers saw was lodged around its body.