The desperate family of a missing woman who vanished along with her boyfriend during a road trip says she was a victim of domestic violence—as police admit they "believe she is in danger."
Nikki Alcaraz, a 33-year-old mom who is also known as Nikki Cunningham, was traveling across the country from Tennessee to California with her boyfriend Steven Tyler Stratton when the pair vanished in Moriarty, New Mexico, on May 6. There has been a renewed push to raise awareness of the case in recent days. A missing person appeal, shared by Moriarty Police and her hometown police force of Cheatham County Sheriff's Office, stated Alcaraz could be in New Mexico, Arizona, or California, adding: "Due to a history of domestic assault we believe she is in danger."
There has been a rise in domestic violence in recent years, with some experts suggesting Covid-19 stresses and lockdowns may have contributed to creating a "pandemic within a pandemic" or a "shadow pandemic." The rise in violence within homes has been echoed by a sharp spike in murder-suicides, which Newsweek analysis revealed reached a new grim record last year. On average, some 1,200 Americans die in murder-suicides annually, according to research by the non-profit Violence Policy Center. Murder-suicides usually involve an intimate partner, and 95 percent of victims are women.
Alcaraz and Stratton were heading for Orange County with a pet dog to visit family and friends and were not traveling with Alcaraz's two children. The couple was driving a 2013 black Jeep Wrangler with Tennessee license plates.
Alcaraz's family alleges Stratton attacked her while they were in New Mexico, shortly before she vanished. Her brother, Josh Alcaraz, told Fox 10: "He beat her up pretty badly. A truck driver had to pull him off of her, call the police, the police picked him up, took him a couple exits down and dropped him off. She was diagnosed with a traumatic brain injury, and a broken hand or wrist."
Photos shared online of Nikki Alcaraz, show her suffering from a black eye and extensive bruises to her right arm. It is not clear when or where those images were taken.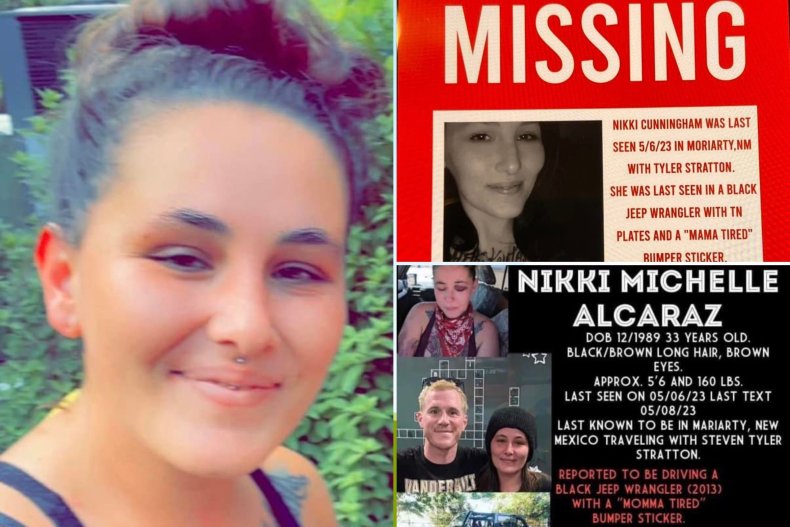 But on May 4, a Torrance County Sheriff's Department report showed Alcaraz with a black eye after witnesses alleged they saw Stratton punch her in the face, according to ABC 7. Stratton claimed he had also been hit during an altercation between the pair, but neither one chose to press charges and they were both released.
Newsweek has emailed Torrance County Sheriff's Department for comment.
Josh Alcaraz said one of his sister's friends from California drove out to New Mexico to help her after the alleged assault, and the friend stayed with her in a hotel overnight. But the next morning, Nikki Alcaraz insisted she needed to go and find her boyfriend. "She left on a mission to find Tyler, and that is the last anybody has really heard [from her]," her brother said.
Nikki Alcaraz, who is 5 feet 6 inches tall and weighs about 160 pounds, was last seen at around 7:00 a.m. on May 6 at a Super 8 motel in Moriarty.
Chief Adan Urbina, of Moriarty Police Department, told Newsweek on Monday that a license plate reader captured the plate of the jeep Nikki Alcaraz owns two days after she went missing; the vehicle was spotted in Flagstaff, Arizona, on May 8.
Josh Alcaraz said anything could have happened to the couple; they may have had a car accident, or broken down in the desert, and he begged the public for their help. "We would like everybody to keep their eyes open," he said. "And if you see the Jeep, if you see him, if you see her, call somebody. Call the police[...] Obviously, worst case scenario is very present in the back of my mind. I'm trying to hold out hope."
Another sibling, sister Toni Alcaraz, told ABC 7 she last spoke to her sister on May 4. "Her eye was already turning black and you could tell she was beat up pretty bad," she said. "I am scared something happened to them, whether they got in another fight or if they crashed her Jeep somewhere."
There have been claims online that Stratton's own family has not raised a missing person's report. Newsweek has not been able to find a police appeal for him specifically, although he is also listed as missing in the appeals for Nikki Alcaraz.
Newsweek has reached out by email to the Cheatham County Sheriff's Office for further information and comment.
Update 5/29/23 11:34 a.m. EDT: This article was updated to include additional information from Chief Adan Urbina of Moriarty Police Department.