Murder-Suicides Reach Record High
Marla Hudgens and her three children were killed in a murder-suicide by her husband in November last year.
Research shows that such incidents are on the rise, with 2022 seeing the highest number of murder-suicides involving firearms on record.
The vast majority of these cases are perpetrated by men and are often linked to domestic violence.
Newsweek examines what else might connect such tragedies—and what could be done to help prevent them.
To the outside world, Marla Hudgens had it all.
A successful law career, a devoted husband and, after struggling with infertility, three beautiful children.
Her close friends were aware that she was thinking of ending her marriage, but none saw any sign of what was to come.
On November 16 last year, Jasen Michael Hudgens killed Marla, 40, and their children—3-year-old Christopher and 6-month-old twin girls, Gwen and Faye—at their home in Phoenix, before taking his own life with a gunshot to the head. Their bodies were found by the babysitter.
"Every time I think about it, it amazes me that he could do that," Mark Humphries, one of Marla's friends, told Newsweek. "Those were his own children, you know?"
It's the kind of tragedy that, Newsweek has found, has reached a new record—driven by societal factors, such as COVID lockdowns, a rise in domestic violence, and the availability of firearms—yet rarely makes national headlines.
Humphries, a member of the board of the Madison Futbol Club, a soccer organization in Phoenix, met Marla when she joined as a coach and board member.
Over the years, he met Jasen Hudgens, who was 44 when he died, on several occasions, including at Christmas parties, and described him as a man who appeared proud of his wife. "He seemed like a gentle guy, soft-spoken," he said, while he described Marla as a woman who "knew what she wanted."
In the days before the crime that shook their community, close friends knew the Hudgens were having marriage trouble but had no sense that Marla was in danger. "We never had any indication from her that she felt scared or threatened or unsafe," one of their best friends, Brett Hagerty, told AZ Family at the time.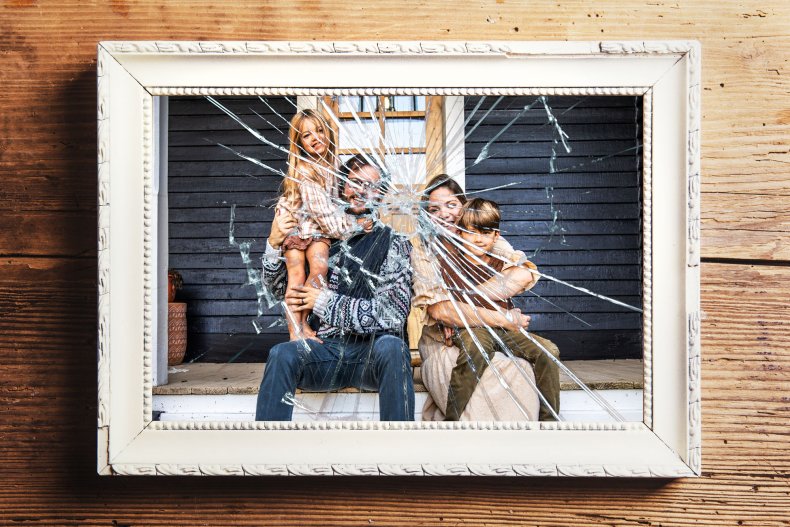 How common are murder-suicides?
Though shocking, murder-suicides are far from rare: some 1,200 Americans die in such incidents each year, according to research by the nonprofit Violence Policy Center.
Although there is no agency comprehensively tracking the toll of murder-suicides in the U.S., what data there is indicates that they are on the rise.
According to the Gun Violence Archive (GVA), 2022 saw the highest number of murder-suicides using firearms on record. Some 670 occurred last year, up from 594 in 2021 and 570 the year before. As of March 9, there have have been 134 murder-suicide incidents involving guns, the GVA reports, meaning 2023 is on course to top last year's total.
The vast majority of murder-suicides are perpetrated by men, often using guns, experts told Newsweek. More often than not, they involve an intimate partner. Of these cases, 95 percent of victims were women, the Violence Policy Center said in 2020. Among the incidents where women were killed by an intimate partner, 92 percent involved a gun.
Family mass killings involving several victims where the perpetrator has died by suicide have also risen in recent years, according to a database compiled by USA Today, the Associated Press and Northeastern University.
Only a few such mass killings ending in suicide have taken place each year since 2006, but last year saw the highest number—10—since 2011. Eleven occurred that year and there were also spikes in 2008 and 2009, when there were nine in each year.
So far this year, a handful of cases of murder-suicide have made headlines. A Utah man fatally shot his five children, his wife and mother-in-law before turning the gun on himself just days into the New Year.
Then, a parish in Louisiana was rocked by two apparent murder-suicides over the course of less than 24 hours. At around the same time, a man murdered his wife and their 12-year-son before killing himself in Massachusetts.
'That's not going to happen to their family'
Still, killings within families rarely get the same level of media attention as mass killings in public places such as schools and churches, James Alan Fox, a criminologist at Northeastern University who helped to compile and maintain the database, told Newsweek.
"Because people don't see that as impacting them. That's not going to happen their family," he said.
Shootings stemming from domestic disputes "happen, unfortunately, with great frequency so they're not going to get covered that much because they're, unfortunately, not that unusual."
Murder-suicides are often complex cases. However, Fox said they generally fall into two categories: murder by proxy and suicide by proxy.
Murder by proxy generally involves a man motivated by anger or resentment at a partner or former partner, and can involve custody disputes. "He kills her out of hostility and anger, but also the kids because he sees them as an extension of the wife and further way to punish her," Fox said.
Suicide by proxy, on the other hand, can be prompted by depression, usually stemming from financial troubles or job loss. "He is miserable, he's suicidal, but he wants to save his family from living in this miserable existence," Fox said. "So he does it not out of anger, but out of compassion."
So, can this help to explain why murder-suicides appear to be on the increase? It comes at a time when violence against women in the U.S. and beyond is rising, following an alarming spike attributed to lockdowns imposed during the COVID-19 pandemic.
For instance, in Portland, Oregon, there was a 22 percent increase in domestic violence arrests compared with the weeks before a stay-at-home order on March 23, 2020, a study in the American Journal of Emergency Medicine said. It also found that the New York City Police Department responded to a 10 percent increase in domestic violence reports compared with March 2019 after stay-at-home orders started there on March 22, 2020.
Nationally, domestic violence and sexual abuse remains alarmingly high, figures show. The National Sexual Violence Resource Center says that 91 percent of the victims of rape and sexual assault are women, and that nearly 1 in 10 women have been raped or subjected to attempted rape by an intimate partner. The prevalence of violence against women during COVID-19 has been described by U.N. Women as a "shadow pandemic."
'Men have been hard hit'
The fallout from the COVID-19 pandemic has had a profound impact, agreed Katherine van Wormer, a professor of social work at the University of Northern Iowa who co-authored Death by Domestic Violence: Preventing the Murders and the Murder-Suicides.
"Men have been hard hit by COVID-19 given the social isolation and unemployment, some staying at home while their wives work. Their identity, more than women's, is tied up in their work," she told Newsweek.
Some may be struggling to pay rent or their mortgage, lost money gambling, or become addicted to drugs or alcohol.
"I see these men as predominantly suicidal," she said. "Some go out and try to get killed by the police; others displace their anger onto their families or former colleagues and want to take them down before they kill themselves."
Mark Zelig, a forensic psychologist, said that when a separation from a partner is imminent, men are "more likely to believe their lives are over."
"They get angry at their female partner for deciding to end the relationship," he told Newsweek. "Sometimes when they become alienated enough, they see those children as being extensions of her, and that's how the children get rolled into these acts of violence."
The warning signs
There is usually some past history of domestic violence in cases of murder-suicide where an intimate partner is killed, said Joni Johnston, a clinical and forensic psychologist who works with violent offenders, including some who have attempted a murder-suicide.
She pointed to a 2015 study in the Journal of Forensic Sciences based on "psychological autopsies" that were completed for 18 homicide-suicide cases in Dallas, Texas. "About two-thirds of them are what we call intimate possessive perpetrators, basically domestic violence perpetrators who wound up killing their spouses or significant others," Johnson told Newsweek. "A lot of them were depressed, they were abusing substances, alcohol or drugs, and they were undergoing some kind of separation."
But many domestic violence perpetrators do not have a criminal record, Zelig noted, and there are pitfalls when it comes to trying to spot the signs that someone may carry out a murder-suicide.
"What are the signs that a relationship is in danger for this sort of domestic violence?" he said. "The problem is the list I would give you would apply to so many people who never perpetrate violence that it's almost useless."
Johnston said it is important to note that most people who are suicidal are "not in any way homicidal."
But when there is a history of coercive control or physical violence, warning signs should be heeded. "If that person has ever put their hands around your neck, and tried to strangle you ... those are very significant risk factors," she said.
"It's almost like a rehearsal, that person is telling you, 'I am willing to kill you.' The violence can progress over time. The hardest thing, of course, is knowing what to do about it ... we know that the most dangerous time is when you're leaving."
Guns in the home
One factor the experts agreed on: murder-suicides occur more often in the U.S. because of easy access to guns. Nine in 10 murder-suicides involved a firearm, according to the latest annual report on murder-suicides by the Violence Policy Center. In England and Wales, two countries of the United Kingdom, which has much stricter gun controls, there were an average of about 16 a year from 2009 to 2019, a study by the University of Manchester found.
"There's no question that that's an important factor, because that makes this crime so easy to accomplish," Zelig said.
Van Wormer agreed. "These men almost always have guns in the home," she said. "Without having a gun nearby, those acts that are impulsive would not happen."
Johnston pointed to the need to close the so-called "boyfriend loophole" to keep guns out of the hands of domestic abusers. Currently, federal law prevents those who have been convicted of domestic abuse against a partner they are married to, living with or share children with from owning firearms, but not those convicted of abuse against a partner they are dating.
"There's still the boyfriend loophole in many states," she said. "The whole gun access to domestic violence perpetrators is just a huge problem."
Anyone seeking help should call The National Domestic Violence Hotline, a free and confidential hotline available 24/7 that can be reached on 1-800-799-7233 or TTY 1-800-787-3224. The Hotline also provides information on local resources. For more information visit https://www.thehotline.org/