Mississippi and Alabama, Hit By Tornadoes Last Week, Facing Another Severe Weather Outbreak
Residents of Mississippi and Alabama are bracing for the possibility of facing severe storms and tornadoes on Thursday, only one week after multiple tornadoes wreaked havoc on the Southern states.
Parts of Mississippi, Alabama and Tennessee are currently at a "moderate" 4 out of 5 risk level for severe thunderstorms on Thursday afternoon and evening, according to the National Weather Service's (NWS) Storm Prediction Center. The risk includes the possibility that "potentially violent" tornadoes could form. As of Wednesday night, the forecast predicted a significant risk for strong tornadoes in central and northern Mississippi, western and middle Tennessee and central and northern Alabama.
Bill Bunting, chief of forecast operations for the Storm Prediction Center, told Newsweek in a statement that "an outbreak of tornadoes and severe thunderstorms is expected Thursday over a large portion of the southeast U.S. and lower Mississippi Valley northward through the Ohio Valley region." In addition to Mississippi, Alabama and Tennessee, Bunting said that the storms and possible tornadoes could extend to "Southern Kentucky, eastern Arkansas, northeast Louisiana, the Missouri Bootheel, and northwest Georgia."
"The risk for tornadoes, in addition to damaging thunderstorm straight-line winds and large hail, will exist throughout the day but be greatest during the afternoon through late evening hours," said Bunting. "Thunderstorms will be fast moving, meaning it will be important to take action when warnings are issued and not wait to visually confirm the danger. Also, multiple rounds of storms will affect some areas, and people should not lower their guard until all storms have passed."
"Now is the time to develop or review your severe weather safety plan, and make sure you have multiple ways to receive Tornado, Severe Thunderstorm and Flash Flood Warnings from the National Weather Service," he added.
Central Mississippi is expected to be at risk during the morning and afternoon hours, with the storm drifting northeast as the day goes on, moving into Alabama and Tennessee during the afternoon and evening. In addition to potentially damaging winds and the risk of tornados, the storm could bring with it scattered showers of large hail exceeding two inches in diameter. NWS noted that the conditions mean the risk level could be upgraded to the highest level of 5 out of 5 in a later update.
"Given the very favorable environment forecast across this region and the potential for numerous supercells, an upgrade to High Risk for multiple strong to potentially violent, long-track tornadoes may be needed in a later outlook update," an NWS bulletin read.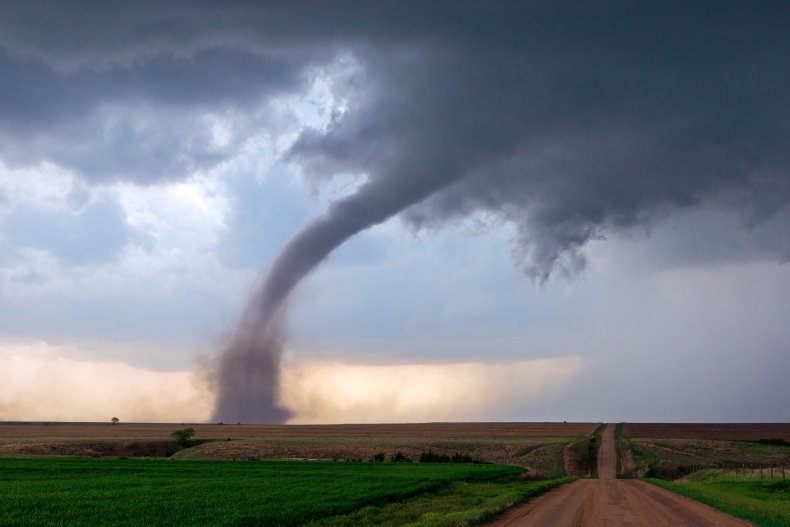 The storm's path means that several cities with sizable populations could be hit with thunderstorms and tornadoes. In Mississippi, residents of Jackson, Southaven and Tupelo should be prepared for the risk. In Alabama, the path includes Birmingham, Tuscaloosa and Huntsville. Severe weather could also hit large Tennessee cities like Nashville and Memphis, with the possibility of tornadoes not being ruled out. The threat in all three states is expected to dissipate by Friday morning.
There were 21 confirmed tornadoes in Alabama and 9 in Mississippi between March 17 and March 18, including one that tracked from Mississippi to Alabama, according to NWS. Last week's storms came after the area was placed under a rare 5 out of 5 "high risk" level on March 17, which diminished to a 4 out of 5 "moderate" risk level on the following day.
NWS received over 120 reports of severe weather during the storms. The storms resulted in least two injuries and dozens of homes either destroyed or damaged. They also left tens of thousands of residents without power for an extended period. Schools were forced to close in certain areas due to large amounts of rain causing flooding, while travelers were forced off roads due to the floods.
Update 3/25, 12:19 a.m.: This article has been updated to include a statement from Bill Bunting, chief of forecast operations for the National Weather Service's Storm Prediction Center.