A Mississippi county coroner said his state's death count from coronavirus could be incorrect, telling residents that possible misreporting has led to "unnecessary fear in the public."
Joshua Pounder, the coroner for DeSoto County in northwest Mississippi, wrote on his Facebook page Thursday night a breakdown of all causes of death in the county in July. He said he felt compelled to act because of the "many facebook google experts and politicians with politically driven agendas driven by money reporting information that is twisted and false to the public."
The post, which has since garnered nearly 3,000 shares, described what Pounder called an "average month in Desoto county," despite the ongoing coronavirus pandemic. The coroner's office recently completed reports for 144 deaths in July, Pounder wrote.
Pounder attributed the highest number of deaths to heart conditions, lung or vascular diseases and strokes, with 67 reported deaths. Pounder wrote that cancer was the second-highest, causing 30 reported deaths in the county.
Of the 11 causes of death Pounder listed, coronavirus was not among them. Instead, the 24 DeSoto County residents who had a positive COVID-19 test at the time of their death were included in the count of total deaths and attributed to causes other than the novel coronavirus, Pounder said.
"All of the individuals who have died that were [positive] for covid at some point have all had major medical problems prior to contracting covid," Pounder wrote, adding that the majority of them were older than 75 and many of the people who died already had a terminal diagnosis of some kind.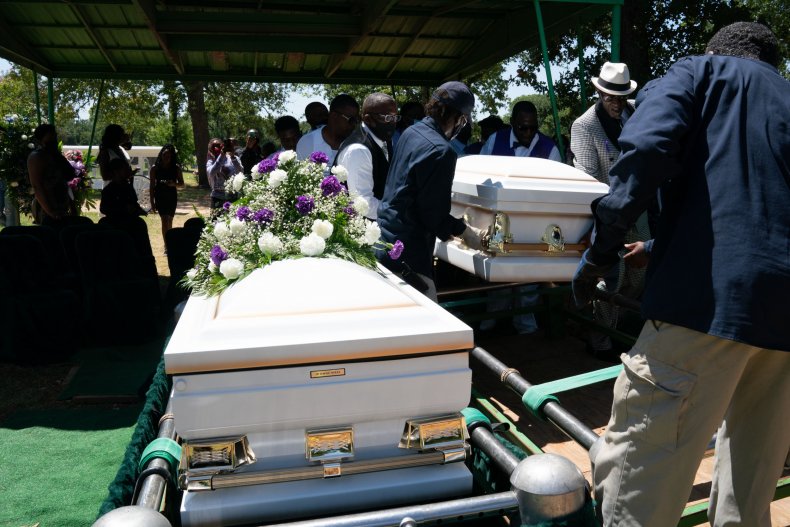 The Mississippi State Department of Health, however, "demands" that anyone who has a positive coronavirus test at the time of their death is reported as a "covid death" without acknowledging the fact that "many of them were terminal prior to a [positive] test]," Pounder said.
It is this misrepresentation that has caused "unnecessary fear in the public" and significant stress, Pounder said. The coroner added that cardiovascular and pulmonary deaths were "drastically up" in DeSoto, which Pounder attributed to stress caused by the pandemic and fear caused by listening to politicians and news reporters give "false information."
"Stress causes high blood pressure and high blood pressure with heart disease or vascular disease cause heart attacks and strokes," Pounder wrote.
Citizens who "see the false information politicians report to the world" and "see what the news reporter who has no knowledge of what he is reporting broadcast to the world" become too afraid to leave their homes and go to the hospital for treatment of a "more serious condition and ultimately have a cardiac arrest at home," Pounder said.
DeSoto County, the state's third-largest in terms of population, has reported 3,574 total coronavirus cases as of August 6—the second-highest amount of cases in the state, trailing only Hinds County, which is home to the state's capital of Jackson. DeSoto has reported 30 total coronavirus deaths since the outbreak began, compared to 117 deaths seen in Hinds.
Pounder wrote that his office was in the process of filing the 144 death reports with the state. DeSoto County's coronavirus death count will presumably become higher once the 24 COVID-attributable deaths from Pounder's office are added.
In an emailed statement to Newsweek, Liz Sharlot, a spokeswoman for the Mississippi State Department of Health, wrote that deaths are reported to the department in a "number of fashions," including directly by hospitals, physicians and nursing homes.
"Many of the deaths have chronic underlying medical problems that impact their health and risk related to COVID-19," she wrote. "Additionally, death certificates that indicate COVID-19 as an underlying cause of death or a significant condition contributing to the death of the individual are reviewed further to determine potential additional deaths," adding Pounder is "not a doctor of any kind."
Experts are predicting that Mississippi will become the nation's next hotspot for the virus, as new cases are continuing to rise. Ashish Jha, director of the Harvard Global Health Institute, warned August 1 that while coronavirus testing is down in the state, cases, hospitalizations and deaths are all on the rise. Mississippi reported 1,210 new cases and 26 deaths on Saturday, however, none of those deaths were in DeSoto County.
While Pounder expressed sympathy for families dealing with loss and acknowledged that "covid is real and we should protect the elderly and frail," he wrote that "life for the average healthy majority must go on."
Newsweek contacted Pounder for comment, but did not hear back in time for publication.
Update (08/11/20, 4:35 p.m.): This article has been updated to include a comment from the Mississippi State Department of Health.