Mississippi Health Official Says COVID Death 'Coming for a Lot of People' Amid Complacency About Pandemic
Mississippi public health officials are anticipating an uptick in coronavirus deaths because of the state's complacency regarding the pandemic.
"We're at a really tenuous position right now, and we've become a little bit numb to the deaths," said State Health Officer Thomas Dobbs during a Mississippi State Medical Association Zoom meeting last week. "And it's coming for a lot of people. A lot of Mississippians are going to lose loved ones that they could've had many decades to live with. And some of them are going to lose kids too."
Dobbs then shared a story about one of his relatives, who is in her 60s, who recently lost a close friend to COVID-19.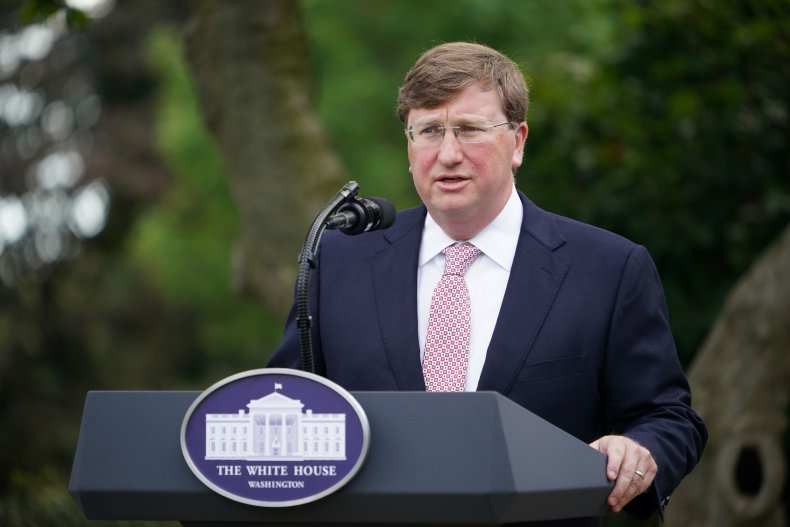 "They were planning to take care of one another as they aged and spend their senior years together," Dobbs said. "And one of them got COVID-19 and died in the hospital. And that's what drives me crazy. This didn't have to happen."
He continued: "Our complacency with this really keeps me up at night, because now her best friend is gone, and whole decades of a wonderful life together are erased because of a single moment of infection."
Though Governor Tate Reeves has encouraged Mississippians to wear masks and practice social distancing, he allowed the statewide mask mandate issued on August 4 to expire on September 30.
Now, the seven-day case average is more than double what it was in September, according to the Mississippi Free Press. Over the past week, Mississippi reported over 7,900 new coronavirus cases and 102 deaths. The seven-day daily average is 1,138, just below the state's peak of 1,202 average daily cases during the summer.
Hospitalizations have also been on the rise. In early October, the state hit an all-time low, with 393 hospitalizations and 125 patients in intensive care unit beds. However, as of November 15, 723 Mississippians are hospitalized with the virus, including 180 in ICU beds, according to data from the Mississippi State Department of Health.
Despite the surges in both virus cases and hospitalizations, Reeves has not indicated plans for another statewide mask mandate.
"Governor Tate Reeves has been aggressive in keeping Mississippians healthy and safe," Bailey Martin, the governor's press secretary, told Newsweek on Tuesday. "We've worked closely with Dr. Dobbs, and he has been a tremendous partner."
Martin continued: "Governor Reeves continues to monitor COVID-19 data across the state daily and has moved to put specific counties under mask mandates to help slow the spread of this virus.... He continues to encourage Mississippians to wear a mask, practice social distancing and keep gatherings small."
Reeves has, however, reinstated mask mandates for 22 of Mississippi's 82 counties where case numbers are highest. Those counties are Hinds, Madison, Pontotoc, Tate, Winston, Itawamba, Montgomery, Benton, Carroll, Covington, DeSoto, Forrest, Harrison, Humphreys, Jackson, Lamar, Lauderdale, Leflore, Lee, Marshall, Rankin and Yalobusha.
Other states, including Washington, Iowa, North Dakota and Michigan, have also imposed new restrictions, with the goal of limiting the spread of the virus. Philadelphia has instated a new round of restrictions on indoor and outdoor gatherings ahead of the upcoming holidays.
The U.S. has over 11.2 million coronavirus cases, according to data from John Hopkins University, exceeding the cases reported in all other nations. As of Tuesday morning, more than 247,400 people have died from COVID-19 in the nation.
The Mississippi State Department of Health didn't respond to Newsweek's request for comment in time for publication.
This story has been updated with a comment from Mississippi Governor Tate Reeves' press secretary.