Mississippi's Largest City Sees Third Week Without Water For Many, With No Return In Sight
Some residents in Jackson, Mississippi – the state's largest city – have entered a third week without access to clean water after severe winter weather ravaged through much of the South.
As of March 3, some in the city of 160,000 are still being told to boil tap water before using it, after unprecedented freezing temperatures and storms disrupted much of the city's water system over two weeks ago.
The severe weather caused several water treatment plants to fail and mains to burst, resulting in a significant drop in water pressure. By February 19, most of the city's residents were reported to be without access to water needed for drinking, bathing or flushing toilets.
On March 1, Jackson Mayor Chokwe Antar Lumumba tweeted that the city has "made some strides" restoring water service, but acknowledged that more work needs to be done.
"We won't be satisfied until every resident has this basic need restored to them," he said, without giving a clear timeline of when those restorations would occur.
For more reporting on this story, see below from Newsweek's Daniel Villarreal:
The storm also highlighted major vulnerabilities in the city's aging water system, as extreme cold put stress on its pipes and water reserves.
"It's a very expensive system to repair. It is expensive to change out hundred-year-old pipes that will cost literally more than a billion dollars to replace our entire system," Lumumba said on February 18.
"The only remedy that we have is time. Time to fill those tanks, time for the ice to melt so that we can make the repairs to the breaks within the pipes and the distribution system all across the city," he added.
When asked if the water issues could have been avoided, Lumumba told reporters, "Our infrastructure was not (designed) to endure the types of temperatures we've endured, especially for the timeframe we've endured these temperatures."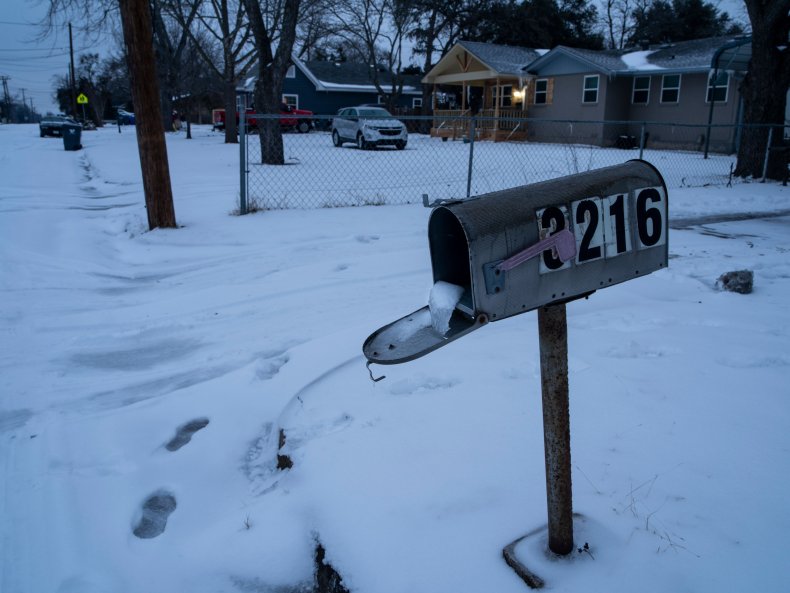 For more reporting from the Associated Press, see below.
A key focus of city crews this week is filling the system's water tanks to an optimal level, officials said in an update late Tuesday. Workers are also continuing to fix dozens of water main breaks and leaks throughout the capital city.
City officials on Wednesday planned to continue distributing water for flushing toilets at several pick-up points.
But they have given no specific timeline for when the crisis will be resolved, nor have they said how many residents remain without water. It is difficult to estimate how many customers remained without water Wednesday, said Michelle Atoa, a spokeswoman for the mayor's office.
Jackson's water system "has basically crashed like a computer and now we're trying to rebuild it," Public Works Director Charles Williams said at a recent briefing.
"We more than likely have more than a $2 billion issue with our infrastructure," he said.
Melanie Deaver Hanlin, who was without water for 14 days, was flushing her toilets with pool water and showering at friends' homes. She said serious updates need to be made to Jackson's water system.
"The problem needs to be fixed, not patched," she said. "That's the issue now — poor maintenance for far too long, and Jackson residents are paying the price."