Missouri Flooding Map Updates: St. Joseph Mandatory Evacuation Ordered Due to Missouri River Level
A mandatory evacuation has been issued for the city of St. Joseph and Buchanan County in Missouri, as well as parts of Kansas, according to government officials.
Areas behind the L-455 levee system on the Missouri side, and the area protected by the R-471/460 levee on the Kansas side, are being evacuated, with the Missouri River expected to reach 32 feet by Friday afternoon, according to the city of St. Joseph's Facebook page.
The page says that while the federal levees are in good condition, residents are urged to be cautious and begin evacuating.
"Residents and businesses should take steps to start the evacuation process immediately," the city's government said in a statement Friday. "The St. Joseph Police Department is going door to door to notify those in the affected areas protected by the levee on the Missouri side."
The Missouri State Highway Patrol tweeted a video on Friday showing the rising river water under a U.S. Highway 36 bridge.
On Thursday, the National Weather Service's Missouri Basin River Forecast Center tweeted that there was a flash flood warning in St. Joseph until 8:15 a.m. CDT Friday, as severe flooding continues to affect parts of the Midwest.
"River crest forecast of 31.5 feet indicates a levee on the Missouri River will overtop, causing flash flooding of the area," the service tweeted.
Evacuations were also ordered in Kansas. Residents of Elwood, Kansas, were evacuated due to rising river levels, KMBC reported. The National Weather Service of Kansas issued a flash flood warning until 2:15 p.m. CDT.
Other parts of the Midwest have been affected by severe flooding because of a storm called a "bomb cyclone." Earlier this week, 130 people in Lewis and Clark Village in Missouri had to evacuate because of flooding, The Kansas City Star reported. The town of Craig, Missouri, was evacuated on Tuesday because a levee around the town was breached.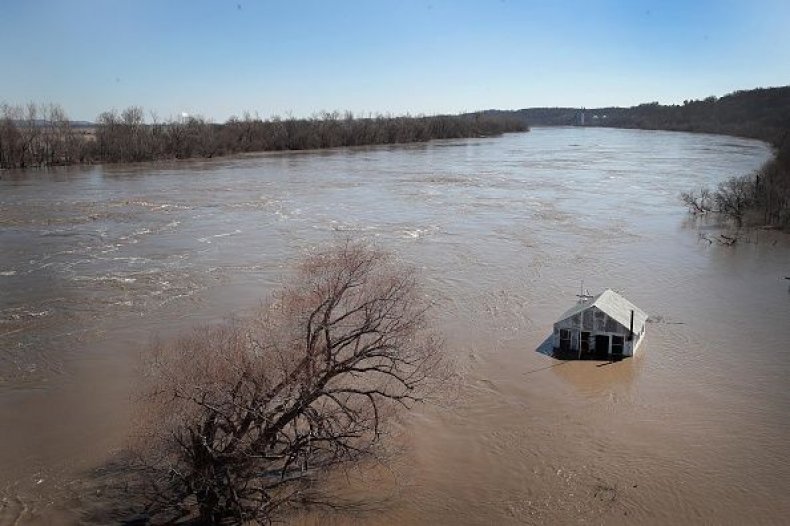 This is a developing story. Please check back for updates.