Josh Hawley Faces Lincoln Project Onslaught As Missouri Senator's Donors Turn Off Money Tap
The co-founder of the Lincoln Project, the conservative super-PAC that opposes Donald Trump, has said his group will launch a campaign aimed at choking off donations for Missouri senator Josh Hawley.
The lawmaker faces growing condemnation for his backing of President Trump's unsubstantiated claims of election fraud and has been accused of fuelling the unrest that led to the insurrection in the U.S. Capitol last Wednesday.
In a tweet on Tuesday, Steve Schmidt said the Lincoln Project would be "buying full page ads in Missouri papers listing all of the @HawleyMO donors demanding their money back."
He added: "We will also be buying advertising focusing on the continuing financiers of Hawley's insurrection and sedition."
The move to target Hawley's donors spells the latest financial blow to the lawmaker.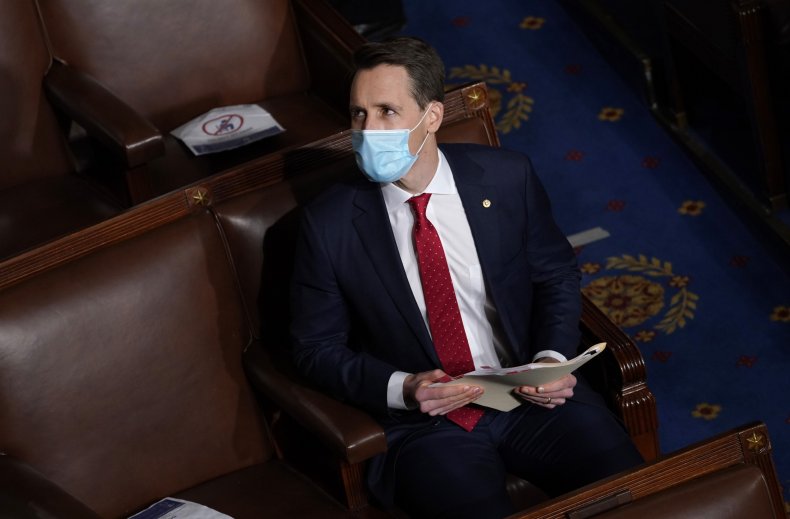 Three Missouri companies that regularly fund Hawley have said they will stop campaign contributions. St Louis law firm Bryan Cave Leighton Paisner said it had "paused" political contributions "following the extraordinary events last week at the U.S. Capitol."
Electric power company Ameren also said it would pause contributions because of "the troubling events on January 6," the St. Louis Post-Dispatch reported. In addition, the financial services firm Edward Jones, which is one of Hawley's biggest contributors according to the Center for Responsive Politics, said it would pause donations.
The political action committee of Hallmark, which is based in Kansas City, Missouri, has requested a $3,000 donation back from Hawley, Popular Information reported.
Last week, Missouri businessman David Humphreys, whose family has spent more than $6 million dollars funding Hawley's campaigns, disavowed the senator and accused him of inciting the fatal riot.
Humphreys, president and CEO of Tamko Building Products, called Hawley an "anti-democracy populist" whose "inflammatory and dangerous tactics" meant he should "be censured by his Senate colleagues."
Another Lincoln Project founder, Reed Galen, told St. Louis Public Radio on Tuesday that his group would run attack ads against Hawley until he resigned or was expelled from the Senate.
A Lincoln Project ad released this week describes how lawmakers such as Hawley and Sen. Ted Cruz of Texas had "brought this shame to America," adding: "You supported this and you will be held accountable. This disgrace is all yours."
Newsweek has contacted Hawley's office for comment.
In a statement last week, his office said the senator would "never apologize for giving voice to the millions of Missourians and Americans who have concerns about the integrity of our elections. That's my job, and I will keep doing it."
The graphic below by Statista shows how Americans feel about the removal of Trump from office before the inauguration of President-elect Joe Biden.