Josh Hawley Megadonor Demands Censure of Senator, Adding Fresh Wound to 2024 Hopes
A Missouri businessman who spent millions of dollars funding Sen. Josh Hawley's political campaigns has disavowed the lawmaker in a damning statement, accusing him of inciting the riot in the U.S. Capitol and calling for his censure.
The president and CEO of Tamko Building Products, David Humphreys, had been a major donor for the Missouri Republicans, with his family giving $4.4 million of the $9.2 million that Hawley raised for his campaign to become attorney general in 2016.
His family also donated about $2 million to independent groups who backed Hawley's bid to become a senator in 2018.
But in a statement to the Missouri Independent, Humphreys expressed his disgust with Hawley for backing President Donald Trump's claims of election fraud, accusing him of fuelling the unrest on Wednesday that had fatal consequences at the heart of American democracy.
Humphreys said he publicly opposed Trump in October 2016 because "you have to look in the mirror and recognize that you cannot possibly justify support for Trump to your children."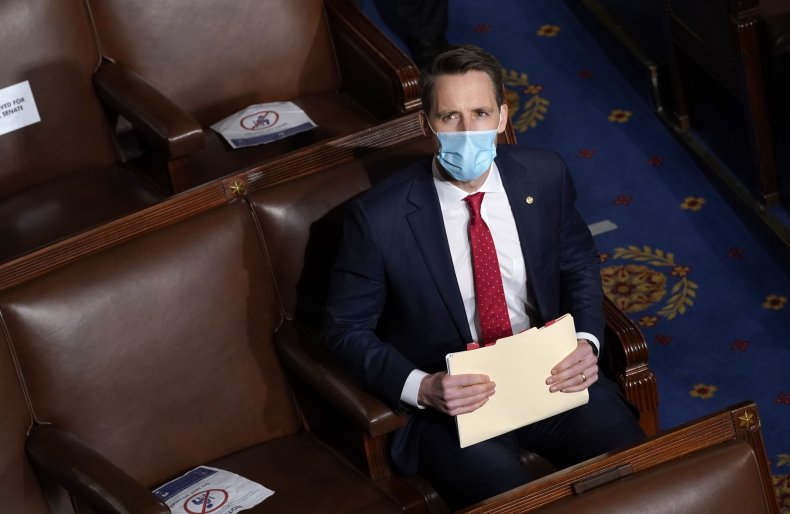 He went on: "I need to say the same about Missouri's U.S. Sen. Josh Hawley, who has shown his true colors as an anti-democracy populist by supporting Trump's false claim of a 'stolen election.' Hawley's irresponsible, inflammatory and dangerous tactics have incited violence and further discord.
"Hawley should be censured by his Senate colleagues for his actions which have undermined a peaceful transition of power and for provoking yesterday's riots in our nation's capital.
"We owe it to our children and grandchildren to protect our country and its constitutional underpinnings," he added.
Newsweek has contacted Hawley's office for comment.
Many are lining up to criticize Hawley—a chorus of condemnation that could hurt his presidential chances in a 2024 race in which he was positioning himself to inherit the mantle and support base of Trump.
His mentor, former Sen. Jack Danforth, told the St. Louis Post-Dispatch that supporting Hawley and trying to get him elected "was the worst mistake I ever made in my life."
"What he's doing to his party is one thing. What he's doing to the country is much worse," Danforth added.
Meanwhile, publisher Simon & Schuster said on Thursday that it would cancel the publication of Hawley's book The Tyranny of Big Tech, "after his role in what became a dangerous threat to our democracy and freedom."
Fellow Missouri lawmaker, Rep. Cori Bush, has called for Hawley's removal from Congress, tweeting: "You have blood on your hands."
In response to Bush's comments, Hawley said in a statement to Newsweek: "I will never apologize for giving voice to the millions of Missourians and Americans who have concerns about the integrity of our elections. That's my job, and I will keep doing it."
The graphic below by Statista shows how Americans feel about the use of violence to promote political goals.