'A Mistake': Top GOP Senator Warns Trump Over $2,000 Stimulus Checks
Senator Roy Blunt, chair of the Senate Republican Policy Committee, warned President Donald Trump in Thursday remarks that attempting to change the bipartisan COVID-19 stimulus package would be "a mistake" after the president urged lawmakers to raise the $600 stimulus checks to $2,000.
The COVID-19 relief bill passed through both chambers of Congress this week after months of deadlocked negotiations as millions of Americans remain unemployed, face eviction and struggle to have adequate food. Although the White House reportedly told Republican lawmakers to back the bill, Trump expressed opposition to the package in a Tuesday video message describing it as "a disgrace."
In addition to calling for significantly larger stimulus checks for most Americans, the president blasted billions of dollars in funds going to foreign countries and other federal government priorities. These measures were included in a $1.4 trillion omnibus government funding bill included with the $900 billion COVID-19 stimulus package to save time. Most of that spending actually came from the Trump administration's own budget item requests.
"There's been some apparent misunderstanding about what's in the regular appropriating bill and what's in the COVID relief bill, and generally the regular appropriating bill includes things the administration asked for," Blunt, who represents Missouri, told reporters on Thursday.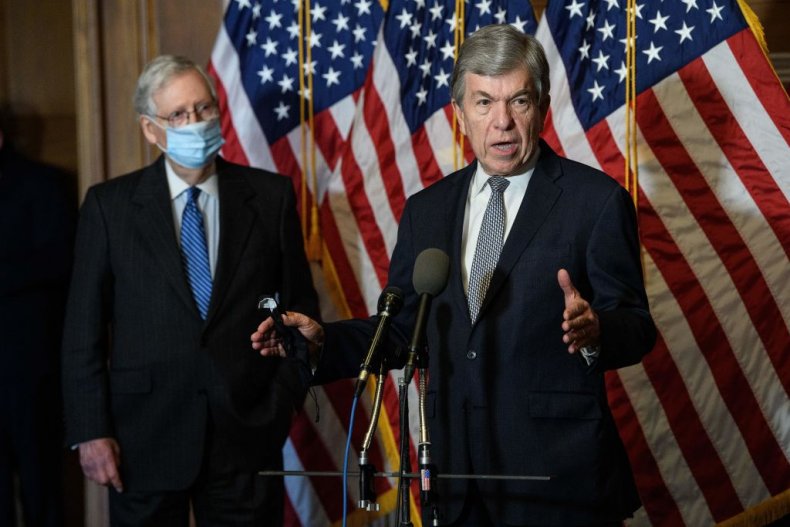 The GOP senator went on to add: "It took us a long time to get to where we are. I think reopening that bill would be a mistake." Blunt said that "the best way out of this is for the president to sign the bill, and I still hope that's what he decides."
Newsweek reached out to the White House for comment but did not immediately receive a response.
Democratic lawmakers quickly rallied behind the president's call to raise stimulus checks from $600 to $2,000. Progressive lawmakers pointed out that they'd urge Congress to provide significantly higher direct payments to Americans for months before the legislation was approved by the House and Senate. On Thursday, House Democrats attempted to pass a measure that would dole out $2,000 checks but that move was blocked by House Republicans.
"Today, on Christmas Eve morning, House Republicans cruelly deprived the American people of the $2,000 that the President agreed to support. If the President is serious about the $2,000 direct payments, he must call on House Republicans to end their obstruction," Speaker of the House Nancy Pelosi, a California Democrat, said in a Thursday statement after the bill failed.
Pelosi plans to bring a stand-alone bill for $2,000 stimulus checks to the House floor for a roll-call vote on Monday, but she also expressed her hope that Trump would sign the current legislation to ensure relief gets out quickly to struggling Americans and to ensure the government remains funded.
Other Republicans have raised concerns about Trump's opposition to the latest package as well.
"I understand the frustration of the president. I understand the presentation but blindsiding folks and doing this at the last second to me is not conducive because the American people are the ones who lose in this fight," Representative Tom Reed told CNBC's Squawk Box on Thursday.
Meanwhile, some GOP senators have reiterated their opposition to any stimulus payments at all.
"I think giving money to people, though, who are already working—look, my kids are working and don't need a check. They're not rich, but they don't need a check. And most working Americans don't need a check right now," Senator Rand Paul, a Kentucky Republican, told Fox News on Wednesday.